Open House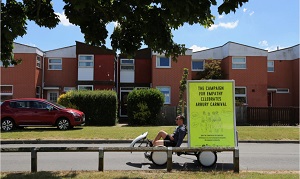 Open House: The difference made through working together, explores the significance of Kettle's Yard's socially engaged community programme Open House. Taking place between 2014 and 2021, Open House has established a number of distinctive characteristics in the form of ambitious and innovative engagement models that have developed and evolved through working collaboratively with artists and communities at a hyperlocal level.
The evaluative research looks back at the entirety of the programme, in order to understand its impact, value and significance; the difference it has made to all stakeholders involved. Furthermore, the research considers how the values and methodologies of Open House might inform and shape future practice across Kettle's Yard. The project addresses the following research question:
What difference has working collaboratively through

Open House

made to the communities of North Cambridge, the staff and volunteers of Kettle's Yard, University of Cambridge, and the Open House artists? What does this mean for the future trajectory of Open House?
Moreover, the research uses Open House as a springboard from which to explore and attend to larger questions in the museum and gallery sector. In particular, the project asks – what roles can museums and galleries play to be relevant and meaningful in the world, and how can they be truly useful to communities? (Image credit: Campaign for Empathy: A Message, Enni-Kukka Tuomala, 2020, Kettle's Yard, photograph by My Linh Le)
The full research report Open House: The difference made through working together (PDF 4.70MB) can be downloaded here.
An ethical framework for collaborating with communities (PDF 1.79MB) was co-produced as a result of this collaboration, which offers new ethical insights and presents ways in which museums and galleries can become more useful to, and more used by, local communities.