Everywhere and Nowhere: exploring histories of disability across the National Trust
Visit the Everywhere and Nowhere extended project website to find out more about the research collaboration.
Everywhere and Nowhere is a collaboration between the National Trust and the University of Leicester's Research Centre for Museums and Galleries that explores little known and previously untold histories of disability from across Trust sites and collections. Our approach places experience and expertise around disability at the heart of a collaborative research process to investigate how stories related to the lives of disabled people in the past can be ethically researched and presented in new ways. Our aim is to build and share richer and fuller histories about the Trust's sites, their collections and the people who lived and worked there; by highlighting gaps and omissions, we raise questions about the stories cultural institutions choose to tell and those they overlook or choose to silence.
Researching disability history is a complex endeavour. For a whole range of reasons we very often know less about the lives of disabled people in the past than we do about non-disabled people. Negative and stigmatising attitudes can mean that our archives are partial and it can be difficult, but not impossible, to build a full picture of both the lives of disabled people – in their own words – and the social norms and attitudes that shaped their experience. Contemporary attitudes towards disability also play a part in obscuring or distorting the past. Historic connections to disability may be viewed as unimportant or omitted for fear of causing offense. Disabled people from the past are often presented in narrow, reductive and dehumanising ways or through the use of persistent and commonplace negative stereotypes. A fresh look at historical records can sometimes reveal those same lives filled with opportunity and autonomy, influence and adventure, love and joy.
In the absence of information about the lives of disabled people in the past, there is a risk that cultural institutions can present objects and stories in ways that erase disabled histories or reproduce untruths and are harmful to the lives of disabled people today; leaving little room for empathy, understanding or human connection.
Everywhere and Nowhere aims to tell stories linked to disability in ways that are as respectful and ethical as they are engaging and enlightening. Developed with disabled collaborators and experts in disability history, our research to date suggests that connections to disability are indeed everywhere, threaded through our heritage buildings and landscapes, the lives, collections and historical records attached to them. The stories we share here begin to address long standing omissions, drawing disabled lives and experiences into view.
The Everywhere and Nowhere film, launched in January 2023, spotlights 10 stories, objects and sites with connections to histories of disability from across the Trust. It has been developed collaboratively with artist Christopher Samuel and filmmakers Belle Vue Productions. An Audio Described version of the film can also be accessed here.
Shaped by the findings and learning from the research collaboration, the Everywhere and Nowhere: Guidance for ethically researching and interpreting disability histories (PDF, 3.5MB) is available to download and read. The guidelines share new ethical and inclusive ways of researching and (re)presenting stories connected to disability and the lives of disabled people.
Join in the conversation at #EverywhereAndNowhere and complete this short survey to share your views on the project and heritage organisations telling more inclusive stories.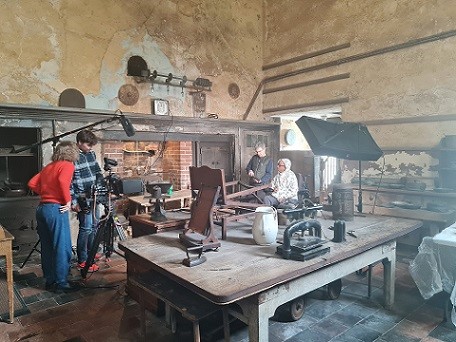 Filming on location at Calke Abbey National Trust
Everywhere and Nowhere is a collaboration between the National Trust and the Research Centre for Museums and Galleries (RCMG), part of a wider strategic partnership between the Trust and the University of Leicester, supported by the Economic and Social Research Council Impact Acceleration Account; the University of Leicester's Wellcome Trust Institutional Strategic Support Fund, facilitated by Attenborough Arts Centre; and the National Trust.





Thanks to all of the individuals and organisations who shaped and supported Everywhere and Nowhere: Cina Aissa, Zoe Atalay, Mark Barrett, Jessie Binns, Ceciel Brouwer, Hannah Burton, Heddwen Cadwallader, Dave Camlin, Rachel Conroy, Matthew Constantine, Tom Coombe, Alison Cooper, Ana Copeland, Cesare Cuzzola, Derbyshire Records, Sophie Everest, Fell and Rock Climbing Club, Paul Forecast, Shannon Fraser , Liz Girling, Sebastian Graham, Tate Greenhalgh, Chris Golightley, Julie Griffith, Eleanor Harding, Andy Hardman, Richard Hargreaves, Rebecca Harvey, Siobhan Hayes, Tony Heaton, Dawn Hoskin, Jenni Hunt, Sally-Anne Huxtable, Victoria Ive, Benjamin Knowles, Isabelle Lawrence, Mhairi Lawson, Michelle Leake, Suzanne MacLeod, Hollie Maides, Julieanne McMahon, Nick Mattingly, Robert Meakings, Denise Melhuish, Ahmed Mudawi, Meredith Peruzzi, Katie Petraitis, Sarah Plumb, Emily Price, Public Records Office Northern Ireland, Remark!, Susan Rhodes, Cicely Robinson, Christopher Samuel, Richard Sandell, Katherine Sharpe, Alexandra Shaw, Chris Sherwin, Heather Smith, Angela Stienne, Christina Taylor, Amy Townsend-Lowcock, Rebecca Wallis, Neil Watt, Anna Wigley and Barbara Wood.