Management Studies
Management Studies
BA, 3-4 years
This is for you if... you are fascinated by the way society is organised, in particular, the ways human beings relate to one another, and the ways in which people, persuade, encourage and expect others to do what they want.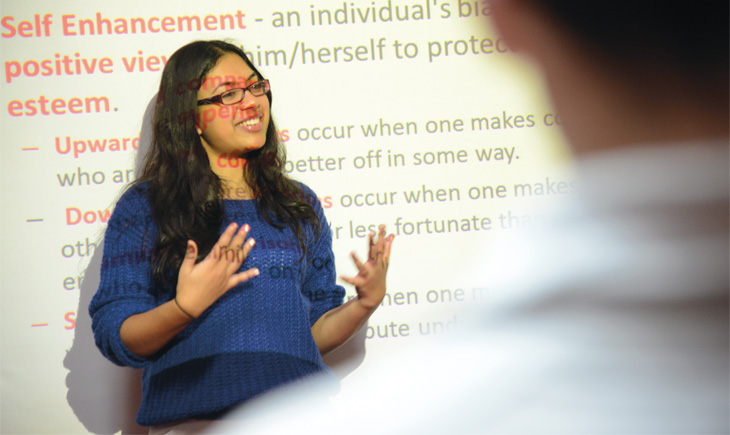 Course Description
Organisations have an enormous impact on all of us, whether we are customers, employees or citizens. We are born in, educated in, work in, and die in organisations. These organisations are all managed to a greater or lesser degree.
This degree in Management Studies offers you a programme of learning which will expose you to the realities of management and the managerial experience in both the public and private sectors. The course covers the relevance of both management theory and practice for the solution of problems in international, national and local contexts. It also explores situations in which management has failed and in which management failures have actually contributed to social, economic, political or environmental problems.
We are known for the 'Leicester Model' of management studies – an approach that challenges the status quo and seeks to give voice to those individuals, groups and societies who are traditionally overlooked in global management and organisational processes. With our distinctive approach to the study of management, you can be certain that we will provide you with a wealth of exciting learning experiences.
Our courses are intellectually challenging. They will provide you with an in-depth understanding of contemporary management techniques, and will allow you to develop the skills to become an effective and socially responsible manager in local and global arenas, whether in public, private or third sector organisations and enterprises.
What's the difference?
All four of these degrees have a common first year so that you get a solid grounding in Management theory and practice. You will also study the same core modules in each of these degrees but the specialisation takes place in your second and third year when you will choose specifically Finance, Marketing or Organisation Studies related topics for your option modules and dissertation, according to the degree/pathway that you are studying.
If you choose to specialise in either Finance, Marketing or Organisation Studies, four out of your six option modules must be from that specialist pathway. Your dissertation must also be on a topic related to your specialism.
Why Leicester?
Our multi-disciplinary approach to management draws on anthropology, cultural studies, economics, sociology, politics and psychology – as well as traditional management theories.
Our small group teaching means you will have a greater opportunity to participate in debates and receive more personal feedback on your progress.
We are ranked in the top 10 for Business and Management Studies by the Guardian University Guide 2014.
We are a member of the Association of Business Schools.
Course Structure
Year 1
Year 1
Your first year modules will introduce you to the three core areas that make up management studies: accounting and finance, marketing and consumption, and organisation studies. You will learn about the political-economic environment in which organisations exist, and the way in which ethical questions and the history of management education shape our understanding of management practice. Weekly small-group tutorials will provide a space in which to explore important current issues, using the analytical tools learnt in your lectures.
Modules
Economics for Management
Foundations of Knowledge
Foundations of Management
Information Management
Introduction to Accountancy
Introduction to Marketing
Understanding and Using Statistical Information
Modules shown represent choices available to current students. The range of modules available and the content of any individual module may change in future years.
Year 2
Year 2
In the second year you will deepen your understanding of the core areas of management, as well as the wider environment. Modules in research methods will help prepare you for your final year dissertation, whilst two optional modules (selected from a wide range) will allow you to focus on subjects that particularly interest you. At this point you may choose to specialise in finance, marketing or organisation studies.
Core modules
The Business Environment
Consumer Research
Financial Management
Dissertation Preparation
Organisational Behaviour
Research Methods
Option modules
Choose two option modules from:
Corporate Social Responsibility: Theory and Practice
Crisis Management
Global Branding: Theory and Practice
Human Resource Management
International Marketing Communications
International Finance
Managing Diversity
Operations Management
Stock Market Analysis and Equity Valuation
Work placement
If you choose the optional Year 3 module, 'Critical Management in Practice', you will undertake a six-week work placement in the summer between your second and third years. This placement gives you the opportunity to critique management practice by grounding arguments in your own observations of professional management practice.
Previous students have been placed in a variety of sectors including marketing, finance, accounting, operations, procurement, sales, or even shadowing directors. Recent host employers have included DHL, Enterprise and Argo.
In some cases it may be possible to take a full year out of your studies to undertake a placement.
Modules shown represent choices available to current students. The range of modules available and the content of any individual module may change in future years.
Year Abroad or Placement Year (optional)
Year Abroad or Placement Year (optional)
You have the option of spending a year studying abroad at one of our partner institutions or working in an industrial placement. Alternatively, you can opt to continue studying at the University and complete your degree in three years.
Placement Year
A placement year is a fantastic opportunity to gain experience of a working environment within the sector of your choice. It is normally a paid position, more than offsetting the additional cost of your extra year.
Eligibility is dependent on your academic performance in Years 1 and 2. If you are accepted onto the programme you will be responsible for securing your own placement, with support from the School. Please note that being accepted onto the programme does not guarantee you a placement.
During your placement year you will be supported by the School of Business Placement Team. This will include communication with you and your manager and a visit to your place of work. You will also undertake written work to capture your learning from the placement experience which will include reflection on your personal and professional development and your academic understanding. This work will be assessed to allow you to gain recognition for your placement year.
Your placement effectively begins in Year 1 when you will be introduced to various opportunities to develop your skills, your understanding and experience. In Year 2 you will be supported through guided sessions, such as:
Introduction to the placement year scheme
Researching placement opportunities
Making successful applications
Effective interview techniques
Preparing for my placement
A placement year is an excellent opportunity to learn more about the types of professions you can choose after you graduate, and can also point you towards postgraduate studies that may help you on the path to your chosen career.
Year Abroad
If you want to, you can spend your third year studying abroad at one of our partner institutions. Eligibility is dependent on your academic performance in Years 1 and 2.
Studying abroad is not just for people who are interested in travelling and meeting new people. It is about acquiring life skills that are becoming increasingly significant for a wide range of jobs in our modern globalised society. Whether you go on to work in the private sector, the state sector, a non-governmental organisation or become self-employed you will find the experience invaluable. Find out more from our International Office.
Please note that a year spent abroad still incurs a tuition fee, but this is much lower than for a normal year at Leicester. See our Fees and Funding section for details.
The School of Business has links with European universities, administered through the European Erasmus scheme. If you attend one of these, you may be eligible for an Erasmus grant if you comply with European Commission rules and regulations. If you are eligible for a loan from Student Finance you can apply for a travel grant from them. During your second year at Leicester you will receive appropriate language training.
For the latest information on the future of the Erasmus scheme at UK universities please see our Brexit microsite.
We have links with the following universities:
Modules shown represent choices available to current students. The range of modules available and the content of any individual module may change in future years.
Final Year
Final Year
In your final year, there are two compulsory modules. One will further extend your understanding of key debates in and issues around strategy. The second extends your critical awareness of management as a set of behaviours and responsibilities. A dissertation – a major piece of independent research supported by one-on-one supervisions with a member of faculty – and four optional modules will give you the chance to explore in more depth the subjects and issues that most interest you.
Core modules
Critical Analysis for Management
Strategy
Plus your
Dissertation
Option modules
Choose four option modules from:
Doing Qualitative Research: Analysing Qualitative Data
Analysing Quantitative Data
Business Ethics
Doing Qualitative Research: Collecting Qualitative Data
Consumer Culture: Globalisation, Materialism and Resistance
Corporate Finance
Critical Management in Practice
Cyberpsychology at Work
Derivative Pricing 1
Derivative Pricing 2
International Business
Managing Knowledge in Organisations
Cultural Producers of Taste
Organisations in Economic Context
Ecology and Sustainability
Survey Research for Management Studies
The Management and Shaping of Innovation
Modules shown represent choices available to current students. The range of modules available and the content of any individual module may change in future years.
Additional Information
Accreditation
The BA in Management Studies (including its three variants) can lead to additional postgraduate professional qualifications from organisations such as the Chartered Institute of Marketing, the Chartered Institute of Personnel and Development and the various professional accountancy bodies. These organisations may grant you exemptions on the basis of the modules that you study on your degree.
Major/Minor Degrees
Major/Minor options allow you to create your own degree. You can concentrate on one subject as your Major (75% of your course) while broadening your knowledge with a Minor subject (25% of your course).
Why not complement your Major with a subject that you enjoyed before, or which has vocational elements that can boost your career prospects? Alternatively, you may want to try something completely new that you've always been interested in, like a language.
Find out more
Teaching and Assessment
In a typical week you will attend approximately six hours of lectures and a similar number of seminars. You will also attend a number of small-group tutorials in which contemporary issues are discussed, drawing on the tools and theories taught in other parts of the curriculum.
During your second year, you can choose option modules, allowing you to pursue your particular interests. In your final year, you will complete a substantial dissertation, conducting a detailed interrogation of a particular topic of interest. You will be supported by a dissertation supervisor and a writing consultant. Your dissertation is an opportunity to make a genuine contribution to existing scholarly and/or professional debates.
At Leicester you will be encouraged to engage with an international faculty of leading management scholars and students.
As well as exams and essays, you will also undertake some assessed group-work, including presentations and reports.
Research Stories
Entry Requirements
A/AS-levels: ABB. Two AS-levels may be considered in place of one A-level. General Studies accepted.
EPQ with A-levels: BBB + EPQ at grade B. Two AS-levels considered in place of one A-level. General Studies accepted.
GCSE: Mathematics and English Language at grade C.
Access to HE Diploma: Pass relevant diploma with some credits at distinction.
International Baccalaureate: Pass Diploma with 30 points, with grade 4 in SL Maths.
BTEC Nationals: Full Diploma with DDM, plus GCSE requirements as above.
Other national and international qualifications considered.
If you do not meet the entry requirements for this course, you can apply for either the International Year One or the International Foundation Year run by our dedicated International Study Centre. The ISC provides academic and English language support to help you progress to your chosen undergraduate degree at the University of Leicester.
Second Year Entry may be possible with suitable qualifications.
Selection Process
Applicants are not normally interviewed. If you receive an offer you will be invited to visit the School of Business.
English Language Requirements
IELTS 6.5 or equivalent. If your first language is not English, you may need to provide evidence of your English language ability. If you do not yet meet our requirements, our English Language Teaching Unit (ELTU) offers a range of courses to help you to improve your English to the necessary standard.
International Qualifications
Find your country in this list to check equivalent qualifications, scholarships and additional requirements.
Countries List
Fees and Funding
Starting in 2016

£9,000 per year
The fee for a year abroad is £1,250, rather than £9,000.

Find out more about scholarships and funding.

Starting in 2016

£14,630 per year
The fee for a year abroad is £3,657.50, rather than £14,630.

Find out more about scholarships and funding.
Career Opportunities
The third year option module Critical Management in Practice offers you the chance to take a six-week summer placement. The module is designed to encourage students to critique management practice by grounding arguments in their own observations of professional management practice. Placements take place between the second and third year of study. Students have been placed in a variety of sectors ranging from marketing, finance, accounting, operations, procurement, sales or even shadowing directors and learning to become a valued team member.
Moreover, the University Career Development Service receives many hundreds of graduate career opportunities (including some work placements) and the School of Business is very active in making sure that our students are made aware of them. Students are supported if they wish to take a full year out of their studies to undertake a placement - a recent example of this has been a student annually taking a full year placement with the City Council for a management related internship.
An increasing number of our students go onto further study with us by enrolling on one of our master's degrees or, in some cases, a PhD.
Careers
Our Career Development Service is here to support you, with advice on interviews, CVs, work experience, volunteering and more. From Freshers' Week to Graduation and beyond, they are here to help you reach your professional goals.
| Course | Qualification | Duration | UCAS Code | Availability |
| --- | --- | --- | --- | --- |
| Management Studies | BA | 3 years full-time | N200 | Apply Now |
| Management Studies with Year Abroad | BA | 4 years full-time | N200 | Apply Now |
Course
Management Studies
Qualification
BA
Duration
3 years full-time
UCAS Code
N200
Availability
Course
Management Studies with Year Abroad
Qualification
BA
Duration
4 years full-time
UCAS Code
N200
Availability