Katie Boyes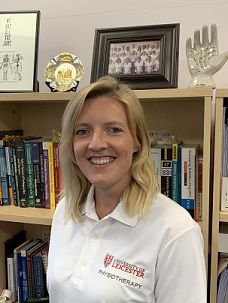 Katie qualified as a physiotherapist in 2011 from Leeds Beckett University and then gained her first rotational physiotherapist post at Sheffield Teaching Hospitals NHS Foundation Trust. She completed 6 monthly rotations in orthopaedics, general surgery and ITU, MSK outpatients, neurosurgery, community and women's health. She then followed her passion and specialised within MSK. Initially Katie worked within occupational health for 2 years, assessing and treating the hospital and community staff with MSK conditions. She then returned back to treating the general public in secondary care, completing yearly specialist rotations in spinal, lower limb and finally ilizarov frame patients. Katie completed her MSc Manual Therapy at Sheffield Hallam University part time alongside full time work from 2015-2019. She successfully gained membership with the MACP.
In 2019, Katie lived and worked abroad in Doha, Qatar for 1 year at the world renowned orthopaedic and sports medicine hospital, Aspetar. This was an invaluable experience working in a world class facility treating upper and lower limb conditions in the female athlete and recreational athlete rehabilitation department.
In 2020, Katie returned to the UK and followed her passion for teaching. She will teach part time at the University of Leicester to allow her to continue to work clinically.
Research interests
Lower limb MSK functional rehabilitation
Spinal MSK functional rehabilitation
Cognitive functional therapy and the integration of the biopsychosocial approach