Mathew Morris BA MA ACIfA
Project Officer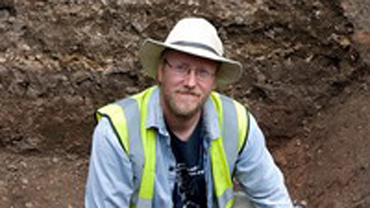 mlm9@le.ac.uk
Mathew is a Project Officer at ULAS with over a decade of archaeological experience, having excavated a wide range of rural and urban archaeology across the Midlands, from the prehistoric period through to the Second World War. His specialisms include urban archaeology, community archaeology and Roman and medieval archaeology.
Mathew graduated from the University of Leicester in 2003 with a BA in Archaeology and an MA in Landscape Studies, joining ULAS in 2004. Notable projects include a massive multi-period urban excavation (Highcross Leicester) that included excavation of Roman town houses, commercial buildings, two lost medieval churches and medieval cemeteries; a Roman cemetery (Western Road, Leicester). and the first excavated section of the Lower Icknield Way (Aston Clinton, Buckinghamshire). In 2012, he directed the successful archaeological search for the lost grave of King Richard III. Recently, he has been digging up more Roman buildings and mosaics in Leicester, at the former Southgates Bus Depot and All Saints' Brewery sites and is currently leading the archaeological work for the Leicester Cathedral Revealed project.
He has co-authored the most comprehensive book ever written on the archaeology of Leicester - 'Life in Roman and Medieval Leicester' (2021) and three popular archaeology books: 'Visions of Ancient Leicester' (2011), 'Richard III: The King under the Car Park' (2013) and 'Roman Leicester: Life in the Roman World' (2018). He is actively involved in promoting archaeology to the general public, regularly providing talks to local societies, and is a Committee member of the Leicestershire Fieldworkers, and a Branch Leader for the Leicestershire Young Archaeologists' Club. He also currently leads the Castle Hill Community Archaeology Dig and the Bosworth Links Community Dig.