Adrian Weston MBE
We have learned, with regret, of the death of Mr Adrian Weston, who was a member of the University Council from 1999 to 2008.
A Leicestershire native, educated at schools in Thringstone and Ratcliffe on the Wreake, he spent two years in the Royal Air Force as a Pilot Officer in Fighter Control, mostly in Germany, where the RAF played a central role in the Cold War. Deciding that his future career lay in law, he took a Masters in Jurisprudence at Queens College, Oxford where his lifelong enthusiasm for sport developed into a passion for hockey.
In 1958 he became an articled clerk with a Leicester firm of solicitors, Harvey Clarke & Adams, where he stayed for 41 years, eventually retiring as Senior Partner at what had by then become Harvey Ingram LLP. Initially specialising in leases of retail shop units and liquor licensing law, he later moved to corporate work, particularly mergers and acquisitions. He finally stepped down from the Solicitors' Roll in 2002.
He served as non-executive director of Atkinson Design Associates Ltd, Pensions Bank Ltd, Everards Brewery Ltd and Primalux Ltd and was a member of the RAF Club. He was a Governor of Leicester High School for Girls and Ratcliffe College, serving for seven years as Chairman of Governors at the latter.
A keen sportsman, he was a member of the Leicestershire Golf Club and Vice-President of the Leicestershire County Cricket Club. But his passion was always for hockey. In the Leicestershire County Hockey Association he served as Captain and Secretary in the 1960s, and then as Vice-President for 34 years, at the end of which he was elected an honorary Life Member. He was also Vice-President of the Midland Counties Hockey Association and Executive Chairman of the English Hockey Association. In addition to all this, he served sequentially as Chairman of first Leicester Sports and Recreation Advisory Council and then Leicestershire Sports and Recreation Advisory Council
In 2015 he was awarded an MBE for services to the community and charity in Leicestershire.
During his nine years on the University Council Mr Weston sat on the Investment Committee, Purchasing Sub-committee, Business Activities Group and Estates Strategy Group, providing excellent financial advice at all times.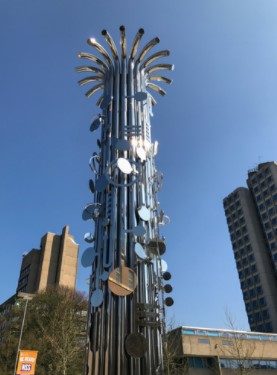 In 2017 he generously commissioned and donated to the University the stainless steel sculpture 'Adagio' which stands in Centenary Square. The sculpture by John Sydney Carter, based around elements of brass musical instruments, was commissioned in memory of Adrian's wife Bridget, who passed away in 2014 and who had been a keen supporter of Sir Bob Burgess' work to add sculptures to campus.
In 2009 the University awarded Adrian Weston an Honorary Doctorate of Laws. In his oration, Professor Gordon Campbell said: "At Council meetings Adrian chose to sit directly facing the officers of the University, which was useful for fixing them in the eyes when he wished to make a point. The semiotics of his interventions were always a delight to observe. As he spoke his eyes sparkled and his face was animated by a warm smile; the substance of his words, however, was sometimes a firm corrective and sometimes a firm word of advice, which was invariably coupled with an offer of assistance. His expertise in taxation was also given freely, and that has helped donors to the University to give in tax-efficient ways. His greatest triumph in this sphere was the fund-raising for the David Wilson Library, and our pride in that building is in a sense an expression of our gratitude to Adrian, who in significant part made it possible."