Sculpture
The Sculpture programme suitable for KS1/2 is in two distinct parts.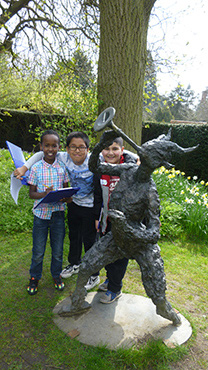 The first session is based around the University of Leicester's permanent sculpture exhibition. It starts with an introduction in which shape, form and setting are discussed. Groups then go to look at all the sculptures. Each group will be given an information card that gives detail about each artist and their work. Children choose a sculpture to sketch within its setting and recording the material from which it is made and choose another sculpture from which to make a detailed drawing of one part. Then, inspired by everything they have seen, they sketch a design for their own sculpture and make it from clay which they can take it home at the end of the day.
The second part of the day is a session that focuses on the artistic use of natural materials. It starts by finding out how such materials can be used to form pictures, patterns and three-dimensional shapes. Examples of works from different artists are given. The children are then given a bag and invited in groups to collect materials from around the Garden to make their group sculpture. Groups choose their own setting and design a natural sculpture together. Time is allowed for groups to look at each other's work.
Availability: All year
Age group: KS1 and KS2
Numbers: One /two classes (about 70 children) per day
Duration: a full school day (for one class a half day is possible doing one of the two sessions)