Archaeology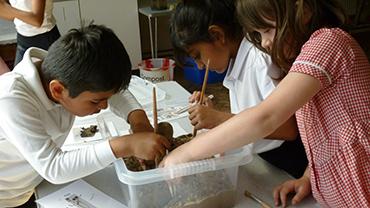 For KS2 looking at what we can learn about history from archaeology.
The Archaeology programme is designed to help children's understanding of how we can use evidence from archaeological discoveries,
The programme starts with an introduction about archaeology and what we can learn from the evidence we find backed. To give this context we look at a timeline of Britain since the last Ice age and the different periods of history with a focus on the era the children are studying if required and examples of famous digs.
Children then work in five groups and complete all the activities by the end of the day.
They search through discovery boxes and from the objects found, try to work out which of four sites they came from.
Identify seeds using Easi-scope microscopes that project the image onto laptops
Everyone goes on a trail around the Botanic Garden to see various plants and learn about how they have been used by people in different times. This includes the herb garden and finding traditional methods for curing illnesses.
Children design and colour a patterned piece of cloth using dyes made from fruits
They use found objects to make shelters for Playmobil figures
Numbers: One or two classes
Timing: All day
Lunch: Lunch can be eaten outside or in the classrooms
Staff: A member of the Botanic Garden teacher team will lead your Archaeology day