Life Cycles
We offer a selection of Life Cycle activities for KS2. Choose five from a selection of eight activities to create a day looking at Plant and Animals life cycles. Each activity is about thirty minutes.
Plant life cycles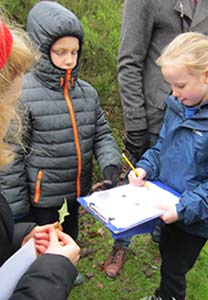 Find examples of parts of the plant life cycle. Search around the Botanic Garden for examples of different stages of the flowering plant life cycle sketching examples of a shoot, bud, flower, seeds/fruits.
Clay seeds. Each child designs a seed that demonstrates how it will be dispersed. They then make it from clay to take back to school
Helicopter seeds. Make paper helicopter seeds and then test their effectiveness and how they spin. For year 5/6 children make different types of helicopter seed models and investigate which best represents a real helicopter type seed.
Tree identification. Find six special trees and, using a special designed booklet, identify them and decide whether the seeds are dispersed by wind, animals or humans
Classification. Yr3/4 Collect a selection of leaves and classify them as lobed, entire or compound or year 5/6 find plant, animal and fungi examples in different classification groups
Squirrels. Hide raisins around part of the site and later try to find them. Calculate the number lost and link this to how it helps certain plants disperse their seeds
Animal life cycles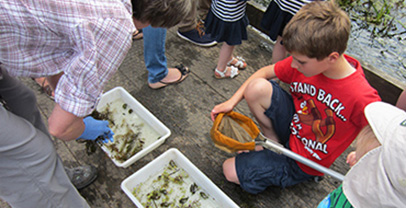 Pond dip in our species rich pond and discuss the life cycles of the animals found. This could include dragon-flies, newts and snails
Hunt for land based mini beasts. These can be identified using our charts and bug pots and magnifiers to look at them closer
Our teacher will deliver a targeted introduction depending on the age of the children and the activities chosen and a plenary drawing together what has been learnt during the day.
Age Group: KS2
Availability: March to October for all activities. Nov - Feb activities 1,2,3,5,6
Numbers: One or two classes
Duration: A 20-30 minute taught introduction followed by 30 minutes for each of the five activities