Associate Professor Helen McIntyre
Personal details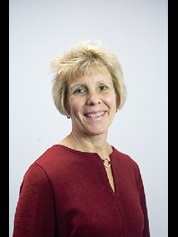 Programme Lead - Midwifery with Leadership MSci
+44 (0)116 373 7354
School of Healthcare, George Davies Centre, Leicester, LE1 7RH
My teaching career commenced in 1994 as a lecturer practitioner prior to starting as a lecturer in 2002 and subsequently senior lecturer in 2004 in the UK and internationally.
Areas of interest include:
Clinical skills
Infant feeding; development and achievement of UNICEF BFI accreditation
Anatomy and physiology
Normality in physiological and complex midwifery
Global maternal and child health
Application of theories of learning into midwifery teaching and praxis.
Qualifications
University of Liverpool, BSc (Hons) Physiology, 1987
University of Nottingham, MSc Health Care Policy & Organisation, 1996
University of Nottingham, PGC in Continuing Education, 2003
University of Nottingham, PGD in Midwifery Education, 2004
University of Nottingham, DHSci, 2013
Higher Education Academy, Senior Teaching Fellow, 2018
University of Liverpool, Registered General Nurse, 1988
Sheffield School of Midwifery, Registered Midwife, 1991
Clinical experience
Midwifery experience has involved all aspects of midwifery care within the acute sector including clinical leadership roles. Infant feeding clinical support and postnatal care continued once working in academia.
Nursing experience included surgical and medical treatment of gastrointestinal illness and care of the elderly.
External roles
Member of the clinical and academic NIFN meetings
Periodic Reviewer and External Examiner Experience
Reviewer for the journal Midwifery
Commissioned writing for the Mother and Baby Academy
External examiner and programme reviewer at the University of Manchester
Research
Undergraduate quantitative research: Assessing firstly the contribution made by muscarinic cholinergic nerves in stimulating gastrin release and acid secretion in response to distension. Secondly to obtain information of the effect of distension, chemical stimulation and vagal stimulation on gastrin release and acid secretion.
Postgraduate Masters qualitative research: "An ethnographic study of organisational culture in a Midwifery Education Department merging with a University". The dissertation topic related to the understanding of culture within the organisation and how this may help or hinder its ability to change. Wider issues surrounding organisational structures, professionalism, academic recognition and gender were discussed. The analysis did demonstrate differences in culture between the two organisations and it was felt that safeguards would be required to maintain the uniqueness of midwifery.
DHSci qualitative and quantitative research: The first longitudinal evaluation of the introduction of UNICEF, Baby Friendly Initiative Education standards which were launched in 2002. The University of Nottingham was the third university to achieve Baby Friendly Status in December 2008. Helen explored the theory practice gap that may exist in this field using a case study methodology as some areas are clinically BFI accredited and others not. Ethics approval and research and development approval from five local NHS Trusts were gained.
Current: Commissioned a skin-to-skin under-garment with BCU Technical Fashion Department. It is presently being trialled with term babies and soon to be trialled with preterm infants in collaboration with Dr Shalini Ojha at The Royal Derby Hospital Foundation Trust. See IRAS for further details.
Funding has been provided via BCU and RDH charity funds.
Supervision
Two students presently being supervised and progressing well.
Publications
Khan K and McIntyre H (2016) Literature review of hospital postnatal care MIDIRS Midwifery Digest. 26(2):217-223, JAN
Khan K and McIntyre H (2016) Postnatal experiences of women and midwives in the hospital setting MIDIRS Midwifery Digest. 26(3):345-352, JAN
McIntyre H [2010] Every woman counts - reducing maternal mortality. Practising Midwife May Vol 13, No5, p34-37
McIntyre H [2011] Midwifery Taster course for prospective midwifery students British Journal of Midwifery, Vol 19, No1, p57-60
Jan R, Mohammed Y and McIntyre H [2011] Implementing midwifery led care in Pakistan. Practising Midwife May Vol 14, No6, p32-34
Wightman H and Aslam R [2012] The Midwifery Test Book – co-author of normal physiology questions
McIntyre H (2015) 20th Anniversary of the UNICEF Baby Friendly Initiative UK MIDIRS Midwifery Digest. 25(1):93–97, MAY
McIntyre H (2017) Infant feeding curriculum review to ensure Baby Friendly Initiative accreditation. MIDIRS September
McIntyre H and Fraser D (2018) 'Hands-off' breastfeeding skill development in a UK, UNICEF Baby Friendly Initiative pre-registration midwifery programme MIDIRS Midwifery Digest; 28(1): 98–102.
McIntyre H and Fraser D (2018) Baby friendly Initiative university education standards create positive changes in midwifery students' reported knowledge , three year case study. MIDIRS Midwifery Digest Vol28, no 2, 219-226
Bailey R, McIntyre H and Harvey M (2017) Piloting Kangaroo Mother Care in the Community: Dyadic Responses to a Novel Innovation Facilitating Skin to Skin Contact. MIDIRS Midwifery Digest, vol 27, no 4
McIntyre H and Marshall JE (2020) Optimal Infant Feeding. In Marshall JE and Raynor MD (2020) Myles Textbook for Midwives (17th ed), Edinburgh, Elsevier, pp 670-714
Conference Presentations (national and international)
Birmingham City University- 2017 Suboptimal care in infant feeding disclosed during research....what to do? at 'It's a family Affair' Researching with Families Postgraduate Regional Event Programme.
Trinity College Dublin - 2013 'Theory or Practice learning reigns supreme in BMid students undertaking a UNICEF – BFI midwifery curriculum?'
UCLAN - 2013 Poster presentation -'Tipping the balance in a BFI accredited infant feeding curriculum - theory or practice: a case study'
RCM - 2012 'Hands off' the breast at first saves nine down the line.'
NICER - 2012 conference - 'Have incorporation of BFI Education standards into a pre-registration midwifery curriculum impacted on infant feeding practices?'
ICM conference Symposium - South Africa [2011]"Tackling research methodologies and concepts from conception to reality: five perspectives".
Karachi - RCOG biannual conference [2010].
Presentations on:
The role of the Midwife in reducing maternal mortality
Does it matter how a baby is fed?
Midwifery Education [in the UK]
Chair of debate on 'This house believes that routine episiotomy should remain'.
UCLAN - 2009 Achieving accreditation at the University of Nottingham [McIntyre, Cullen, Ellis]
ICM Conference Glasgow [2009] - Midwifery Taster course
UCLAN - 2007 Infant Feeding BFI curriculum [Cullen, McIntyre, Ellis]