Law (Graduate Entry)
LLB, 2 years
This is for you if... you already have a degree and want to complete a law degree at a more academic and advanced level than the Graduate Diploma in Law of the Common Professional Examination.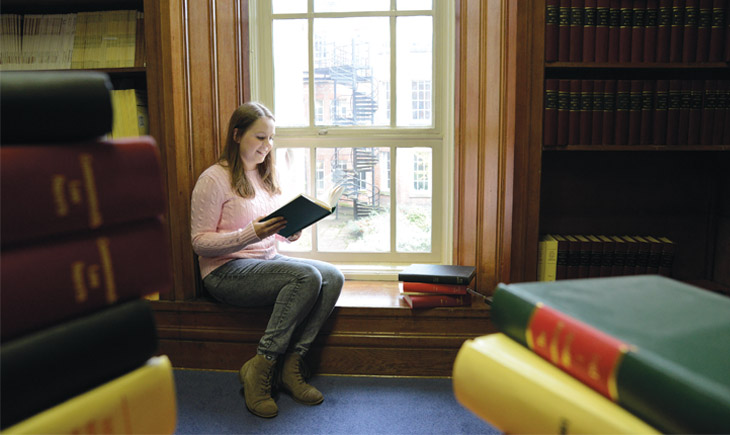 Course Description
NB. This course was previously known as Law Senior Status.
As part of the University of Leicester's commitment to being a leading academic institution, we regularly review and update our degrees and modules to ensure that they reflect the most up-to-date research, knowledge, ideas and teaching practices, as well as taking into account student feedback. We also have to take into account the availability of key teaching staff where this will impact on the delivery of the course. As a result, if there are major changes to the course that you have applied for, we will contact you as soon as possible and will ensure that any disruption to your studies is minimised.
This two-year course is an intensive qualifying law degree for those who have already completed a degree in another subject. You will gain an understanding of the seven fundamental subjects:
Law of Torts
Constitutional and Administrative Law
Law of Contract
Criminal Law
EU Law
Land Law
Equity and Trusts
As well as these key areas you will gain essential legal skills and learn to approach cases from a legal perspective.
In order to condense the LLB in Law into two years, option modules are not included. You will study only the modules required for a qualifying law degree as well as introductory modules to ground you in law as an academic subject.
Canadian applicants
We offer a two-year LLB (JD Pathway) degree exclusively for Canadian applicants. Leicester Law School has nearly 300 Canadian students, more than any other UK law school.


Key Facts
UCAS code

M102

Start date

September 2018

Department

Law

Contact

Admissions enquiries
+44 (0)116 252 5281
ahladmissions@le.ac.uk

Course enquiries
+44 (0)116 229 7764
law@le.ac.uk
Why Leicester?
Our dedicated law reference library is a traditional wood-panelled room with quiet study spaces and additional copies of the main law reports, statutes and journals.
You can gain meaningful work experience during your degree with the Legal Advice Clinic, which lets you work closely with a supervising solicitor and barrister.
Leicester Law School is ranked fourth for graduate employability in England. (Guardian League table 2018)
The Student Law Society is a large and dynamic body which organises  debating, mooting, negotiating and client interviewing opportunities as well as social activities.
Course Structure
Year 1
Year 1
In your first year you will study the fundamentals of the legal system and develop your legal skills, as well as studying three of the seven foundation subjects (contracts, torts, and constitutional and administrative law).
Modules
Analysing the English Legal System
Law, Justice and Society,
Modules shown represent choices available to current students. The range of modules available and the content of any individual module may change in future years.
Year 2
Year 2
In your final year, you will build on your knowledge by studying the four remaining foundation subjects.
Modules
Modules shown represent choices available to current students. The range of modules available and the content of any individual module may change in future years.
Teaching and Assessment
Teaching consists mainly of lectures and small group tutorials of 8 students, with introductory subjects being workshop based. You will also engage in independent study.
In the tutorials, you will engage with the lecture subjects in depth and learn through pair/group work, student presentations, and debates. The tutorial is a good way to deepen your understanding of a subject, which will be brought to life through critical reflection on the content of the law. There are usually no more than eight students in each tutorial, giving you an opportunity to participate fully and have your voice heard. As the groups are small, you will get to know your tutors well during your studies.
With two lectures in each module per week and a tutorial once a fortnight, you will have approximately 12 contact hours a week whilst studying with us. The Law degree is research based, so you will spend lots of time engaged in self study or working in study groups.
We use web-based and electronic course materials to supplement traditional teaching methods and support student learning. There is easy access to computers both in the Law School itself and in the David Wilson Library next to the School. Our lectures are now recorded and uploaded to Blackboard, our virtual learning environment. You will also be able to access information about your courses and tutorials electronically.
Assessment methods include assessed essays and exams.
Research Stories
Entry Requirements
To qualify for Graduate Entry you will need a bachelor's degree with at least a high 2:2.
Canadian applicants: Usually a CGPA ranging from B+ to B-, depending on the institution from which you have applied.
No LNAT required - Unlike some universities, at Leicester we do not require applicants to have taken the National Admissions Test for Law. We are not convinced that LNAT scores provide any information we cannot get from your exam grades and school report.
Other national and international qualifications considered.
Selection Process
Applicants are not normally interviewed. If you receive an offer you will be invited to visit the Leicester Law School.
English Language Requirements
IELTS 7.0 or equivalent. If your first language is not English, you may need to provide evidence of your English language ability. If you do not yet meet our requirements, our English Language Teaching Unit (ELTU) offers a range of courses to help you to improve your English to the necessary standard.
International Qualifications
Find your country in this list to check equivalent qualifications, scholarships and additional requirements.
Countries list
Career Opportunities
Two dedicated law careers tutors are on hand to discuss career options, upcoming opportunities and give advice about different firms.
Our Law Fair is held annually and attracts over 40 law firms and other graduate employers, as well as providers of the LPC, BPTC and LLM qualifications.
We host a wide range of external speakers every year, representing the whole legal profession.
You get the chance to develop your legal skills during the course:
The Legal Advice Clinic allows you to advise non-law students on legal issues (with support from academics and local solicitors).
The Miscarriages of Justice Project enables you to work on real-life potential miscarriages of justice, with a view to referring cases back to the Criminal Cases Review Commission.
Your professional competencies can be enhanced by getting involved with the debating, client interviewing, negotiating and mooting activities, organised by the Student Law Society.
A law degree is also an excellent stepping stone to graduate roles in a wide variety of employment sectors. Many employers regard law graduates as well rounded with highly transferable skills like problem solving, constructing arguments, research and time management.
This programme is a qualifying law degree and so will prepare you for the next step towards becoming a legal professional. If you wish to qualify as a solicitor or barrister in England or Wales after graduation you will need to complete the LPC (Legal Practice Course) or BPTC (Bar Professional Training Course) along with a training contract as a trainee solicitor or pupillage as a trainee barrister. Applicants wishing to become lawyers outside of England and Wales should consult the appropriate country's legal statutory body to check the requirements. Information for Canadian applicants.
Careers
Our Career Development Service is here to support you, with advice on interviews, CVs, work experience, volunteering, and more. From Freshers' Week to Graduation and beyond, they are here to help you reach your professional goals.
| Course | Qualification | Duration | UCAS Code | Availability |
| --- | --- | --- | --- | --- |
| Law (Graduate Entry) | LLB | 2 years full-time | M102 | Apply Now |
Course
Law (Graduate Entry)
Qualification
LLB
Duration
2 years full-time
UCAS Code
M102
Availability
Not what you're looking for?