Leicester's buildings and places
Unsurprisingly when we asked for nominations for Our 100, the bricks and mortar of the University and the surrounding area featured heavily.
Below are the places and spaces you told us meant the most to you.
The Fielding Johnson Building
A grand building at our centre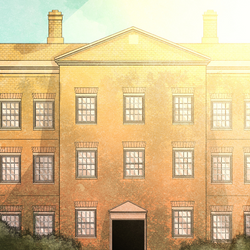 The 19th-century Fielding Johnson Building was the University's first home.
Originating in 1837 as the County Asylum, it became a First World War military hospital. After this closed in 1919, it was bought by worsted spinner Thomas Fielding Johnson, who donated it to the campaign to start a university college in Leicester.
When the College first opened on 4 October 1921, works were still not complete and the first students recalled constant building going on. It remained the only teaching building on site until the 1950s.
While it has been much altered, historic fragments, including graffiti from when it was the asylum, survive.
It remains the historic heart of our campus.
The Library
Lives of Leicester libraries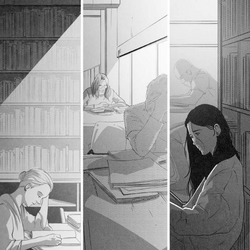 The first library held entirely donated books, on makeshift shelves built from cubbyholes from when the Fielding Johnson Building was a hospital. Located above the main entrance, it was overseen by an Honorary Librarian.
Our first professional librarian was Rhoda Bennett, who had been one of our first students. In 1946, she appointed poet Philip Larkin as Assistant Librarian, a post he held until 1950.
After the Second World War, the University College expanded rapidly; a new Library wing was built, which is now the Harry Peach Law Library.
Twenty-five years on, temporary buildings at the back of the Fielding Johnson Building were cleared to make way for an award-winning, glass-fronted library – and Larkin returned in 1975 to open it.
Today's David Wilson Library is a 2008 reinvigoration of this.
Botanic Garden
A wonderful world of plants for learning and leisure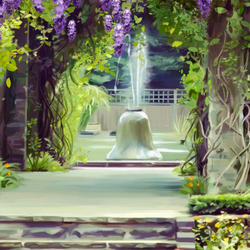 A garden of interesting and rare plants was established in Leicester's grounds by 1924. Planned before the college opened, it received donations of seeds from Kew Gardens and the University of Cambridge and became a useful resource for botany students.
After the Second World War, the University bought houses in Oadby to house its growing student population, and the Botanic Gardens were re-established there. They were later expanded and features such as paving in a Fibonacci sequence added.
In 1995, it was named the Harold Martin Botanic Garden after a former Registrar.
The garden, open free to the public, is used for research, teaching and events. Approximately 165,000 school pupils have taken part in educational activities there since 1993.
Paternoster lift
An amazing, scary, non-stop paternoster lift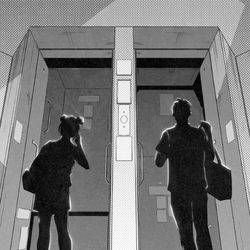 A paternoster lift, with non-stop open cars, carried people up and down the Attenborough Tower for nearly 40 years until 2017.
Quick reflexes and agility were needed to hop on and off, and Leicester's paternoster was a huge source of fun and trepidation.
"I recall the first time I saw this amazing continually moving elevator and the fact one could simply walk into and out of the moving boxes with no barriers," recalls alumnus Richard Acton.
"Although I never tried it, the trick was to ride over the top then do a handstand coming down so that it looked like cells stayed in the same direction!"
Brookfield
Founder's house rescued to become a place to learn business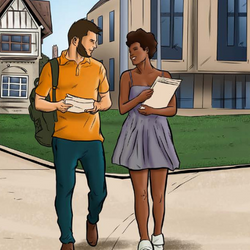 The 19th-century home of Thomas Fielding Johnson, one of our founders, has a new lease of life as the School of Business after being saved by the University.
Brookfield House, designed by architect Joseph Goddard and decorated by interior designer Joseph Armitage, was the home of Thomas Fielding Johnson and his wife Agnes (pictured) from 1869.
His son gave the house to the local diocese for a bishop's residence. During the Second World War, it was passed to the British Red Cross Society, and later sold to the Leicester Royal Infirmary and used for nurse and midwifery training.
By 2011, Brookfield was at risk of demolition but was saved after the University bought the house and its grounds in 2013.
Oadby Halls of Residence
A student village, Edwardian houses and newly built halls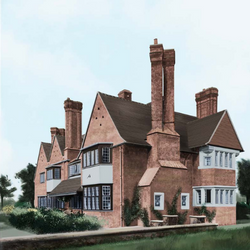 Student numbers rose greatly after the Second World War, so the University bought homes for them in Oadby.
The first included Edwardian buildings called Hastings House, Beaumont House (illustrated) and Shirley House, in what became Oadby Student Village.
Before then, female students lived in a hostel on the campus and male students had to take lodgings.
Digby, Latimer and Herrick Houses soon followed and, by the mid-1950s, an accommodation masterplan was in place, which led to more halls being developed.
"I lived in Oadby Student Village during my first year," says student Lavina Dhillon. "The team members were always kind and helpful. They even provided free food on many occasions. Who doesn't love free food?"
Percy Gee Building (Students' Union)
The Students' Union gets its grand new home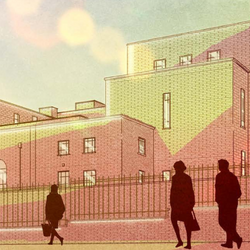 The Students' Union gained its own home when the Percy Gee Building was opened by the Queen and Prince Philip in 1958 amid "a mood of infectious friendliness and gaiety," the University reported.
Designed by T Shirley Worthington, it was "one of the most magnificent buildings in Leicester", according to the Leicester Evening Mail.
Columns were made of travertine marble and neoclassical chandeliers graced the oak-panelled Great Hall. It included "a games room, squash court, seminaries, a devotional room, common rooms and dining halls", marvelled the paper.
"Percy Gee really is the heartbeat of the campus and it's where some of my fondest memories of University occurred," says Martin Cullen.
It was refurbished in 2011, then extended and reopened in 2021.
The Engineering Building
A stunning, practical place for engineers of today and tomorrow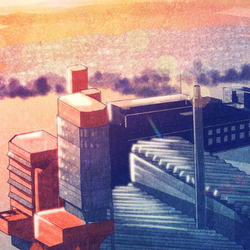 The grade II* listed Engineering Building is one of the world's most famous works of postwar architecture. Every aspect of its design reflects and facilitates the engineering work going on inside it, with its form reflecting its function. It was named 'The Shack' by the first students to use it in 1963.
While opinion was strongly split over its design, thousands of people came to see it, and Historic England ranks it as one of the country's best postwar buildings.
Aircraft carriers inspired architects James Gowan and James Stirling, plus engineer Frank Newby, to design two joined towers above cantilevered lecture theatres.
The rippling diamond-shaped waves of the large glass roofs face north, as direct sunlight could affect sensitive instruments. The distinction between its two types of glass can be seen only at night.
Bennett Building roof collapse, June 1973
Crash — down comes the ceiling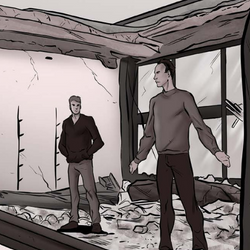 It was a near miss when a ton and a half of ferro-concrete roof beams crashed to the floor of the Reading Room in the Bennett Building.
This incident, along with other failures at schools in Camden and Stepney, led to the banning of this type of calcium aluminate cement concrete in new structures.
A student had left only moments before – so could confirm no one was buried under the debris – and an examiners' meeting due to be held there had been rescheduled.
For a year and a half, staff were scattered around the University. Books and papers remained in the Bennett Building and could be accessed only with difficulty, and research output was hit.
In January 1975, staff and students returned to a rebuilt and strengthened Bennett (and Physics) Building, and recovery began.
Charles Wilson Building
A bold, modernist building to make the University stand out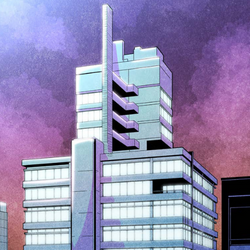 The University's push for visibility included commissioning architect Denys Lasdun in 1961 to design a bold building that would stand out on Leicester's skyline.
The modernist architect's high-impact design for the Charles Wilson Building displays Brutalist bare concrete, jutting layers and cubic towers reminiscent of his National Theatre in London.
It was to have six storeys but four more were added before completion in 1967, giving it its unique shape. It was named after Sir Charles Wilson, the University's first Vice-Chancellor.
The 'social building', it brought leisure space to the campus. Staff and students have praised the coffee bar with pineapple cream cakes and "particularly good flapjacks", the prayer room used by the Islamic Society and the badminton court. Lasdun also designed Stamford Hall.
College Hall, 1960-2005
College Hall, a 'cut above' the other halls of residence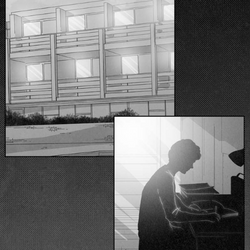 Designed by Sir Leslie Martin and Trevor Dannatt, College Hall was opened for women students in 1960. It featured balconied bedrooms, a library, dark room, laundry, common room and, as Lady Adrian said when opening it, was "marvellously suited to its purpose."
At the time, student Judith Paine wondered: "Could any college do better?"
Male students once dropped a boulder in its pond, which remains on site since it became College Court in 2013.
"College Hall is a fine example of the architecture of the period," says alumnus Colin Hyde, who now works here. "Its design seemed to be a cut above most of the other halls. With the Attenborough Arboretum behind it, this forms a lovely part of Leicester."
College House and Knighton Hall
Principals' homes, famous graffiti and ghostly guests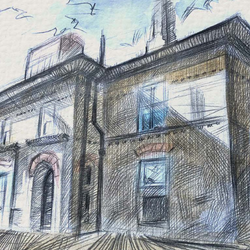 The University's Principals lived first in College House, then Knighton Hall. College House was built in 1872 as a home for the asylum's medical superintendent.
When the site became the University College, College House became the official residence of Principals Robert Rattray then Frederick Attenborough until 1947. On its side remains some graffiti by the Attenborough children.
Knighton Hall, bought in 1946, has been the official home of our Principals and Vice-Chancellors ever since. First to occupy it was Principal Attenborough during 1947-51. It has a 16th century core, a Georgian facade and Jacobean rear.
It is rumoured to have a secret passage to the nearby church and to be haunted by a ghostly coachman and Grey Lady.
Campus extension, 1957-68
The buildings that embody our mid-century aspirations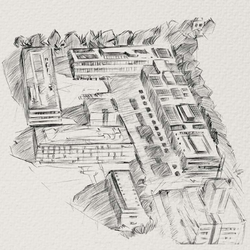 In 1950, the University College bought part of Victoria Park so it could accommodate increasing student numbers.
Architect Sir Leslie Martin designed a masterplan for this new section, as well as for halls of residence sites at Oadby.
Stretching from the Charles Wilson Building (1967) in the south corner to the Adrian Building (1966) in the north, it is a harmonious quadrangle of buildings and plaza-style walkways that are so distinctive of mid-century design.
It also includes the Archaeology and Ancient History Building, originally for Chemistry (1960), the George Porter Building (1961), Physics and Astronomy Building (1961), Rattray Lecture Theatre (1962) and Bennett Building (1965).
This first main campus extension embodied our "genuine sense of dramatic excitement about life and work in our new buildings".
Victoria Park
A place of nature, rest and recreation
Victoria Park is one of the green lungs of the University. It's where people go for lunch, to socialise and play sports, and is often part of a walk to campus.
The 1920s Arch of Remembrance, the city's War Memorial designed by Sir Edwin Lutyens, was sited to form an entrance route to the new University College; the last verse of Blake's Jerusalem (beginning "I will not cease from mental fight...") is inscribed intentionally on the side facing the campus.
"Coming from abroad I was amazed to see such a beautiful park next to such a large university. It is the perfect place to dilute student stress," says Malinda S S Weerakkody Arachchige.
Jane the Dinosaur
The roaring success of Jane the T.rex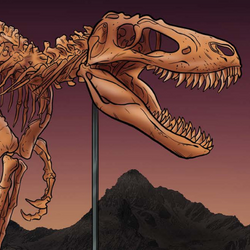 A 21-foot long T.rex, Jane, has pride of place in the Department of Geology foyer.
It is a cast of the most complete subadult skeleton of a T.rex ever found. The 66-million-year-old dinosaur died aged around 11 years old and could have run at 20-30mph.
The cast, unveiled in 2008, was commissioned from a company that worked on Jurassic Park.
"When visiting, one cannot help but notice the huge T.rex. It shows the ambition of the department," say alumni Fiona and Chris Preece.
"For those graduating from the department, it is a must-have photo and, for visitors, something they will remember forever. Jane is a legend!"
Campus bookshop, 1958-2016
Where students bought textbooks before the internet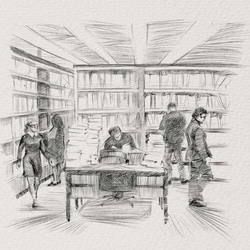 A bookshop first opened on campus in September 1958, mainly thanks to the efforts of Jack Simmons, our first Professor of History, and Leslie Sykes, who was then Professor of French.
The first bookshop, in the Charles Wilson Building, soon grew and specialised in arts and social sciences. Another was opened in the Maurice Shock Medical Sciences Building, which specialised in medicine, education, science and engineering – and gramophone records.
The bookshops were merged in the redeveloped Library in 2008. After this shop closed in 2016, the space was redeveloped into the interactive Digital Reading Room, reflecting the development of our digital campus.

Our 100 artwork was commissioned from Amrit Birdi and AmCo Studio Ltd and is ©AmCo Studio Ltd unless stated.