Student life
From Open Days, to Student Union gigs and fundraising to graduation ceremonies, all of student life is represented in Our 100.
The Rag, since 1930
Rag Week: a high-spirited way to raise money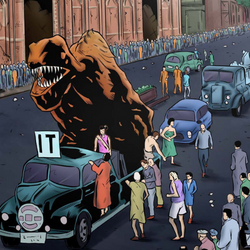 Over the years, Rag has raised millions of pounds for charity.
Rag at Leicester started in 1930, with a 'pancake riot' and torchlit procession from Town Hall Square to the campus, followed by a masked ball. Lucifer, the Rag magazine, was first produced in 1935.
Activities included processions with floats (including the 'It' monster from 1957), pram races and the Rag Revue. Raids on other universities and kidnappings were popular, as were three-legged pub crawls.
Rag made students visible to local people, who they entertained with pranks and spectacle in the name of charity.
In 2005, a special Rag raised over £50,000.
The Students' Union
Empowering and championing students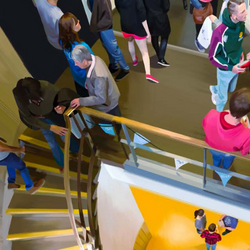 The Students' Union appears to have been founded in 1922-23, and had a sports club and a dramatic society (which still exists). Its first president was Nellie Bonsor, and its second the author CP Snow.
It gained its own home when the Percy Gee Building opened in 1957, and many high-profile musicians played there.
"The Union expanded my experience in so many dimensions," says alumnus Chris Smith. "I met people from backgrounds I had never encountered, and participated in activities, building confidence and experience in trying something new. Even if it did not always go well. I immersed myself in a range of music that is the soundtrack to my life today."
The Redfearn Bar, 1958-2009
The social hub that was the Redfearn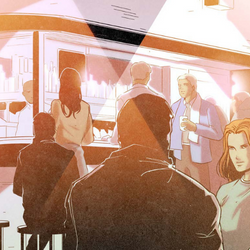 It did not take long for the Redfearn campus bar to become the hub of social life. It opened in 1958 after the Students' Union campaigned for a fully licensed bar in the new Percy Gee Building.
"In the days before social media, it's hard to overstate the importance of a student-owned place to meet, study, party and find a warm welcome as a bright-eyed fresher," says Rob Hicks.
The Redfearn was extended in 1998 and last orders were called there in June 2009.
Hicks adds: "It was the social hub of the University, often imitated by off-campus bars, but never matched."
Students' Union rock gigs
Legendary acts feed a musical appetite that never wanes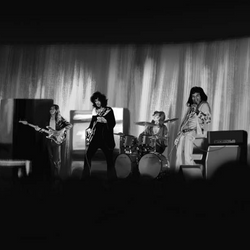 From piano playing or a gramophone for 1920s 'hops' to post-war jazz and O2 Academy opening with Professor Green, live music is central to student life.
Headliners of the 1960s and 1970s included the Rolling Stones, Cream, The Who, Led Zeppelin, Deep Purple, Elton John, Slade, The Kinks, The Jam, Iron Maiden and Motörhead.
Later came Adam and the Ants, The Smiths, The Ramones and Radiohead, and a Stone Roses gig halted by a collapsing lighting rig.
Queen played Stamford Hall in 1972 (pictured). Alumnus Roger Cornish recalls being told they would "be hugely successful".
"The volume was truly physical – many moved outside – but Freddie Mercury drove the performance with athletic and hypnotic enthusiasm."
Graduation day
A day of celebrating students' achievements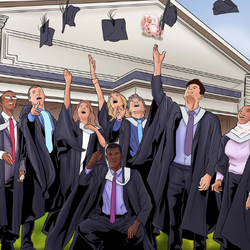 Graduation is the ceremony where degrees are conferred.
"My graduation ceremony was and will always be a memorable day. Being part of the graduating class with graduates from other countries was all so real," says Mirina Sackie.
'Graduation' comes from the Latin gradus which roughly means 'step-taking' – a step towards entering the teaching world of the university.
Students have been graduating from universities since medieval times. The caps and gowns worn by graduands derive from clerical clothing of the time, and were later made more distinctive by coloured linings and hoods denoting subjects and levels of qualification.
Sports facilities
Sports games, successes and stars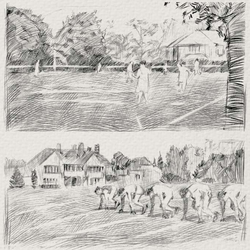 Our early students played sports in tennis courts and in Victoria Park. Then, in 1950, Manor Road sports track, one of the best at the time, was opened.
Leicester successes included winning the University Women's Table Tennis Championship in 1959 and the 1963 Inter-University Women's Athletic Sports Trophy. The Rifle Club regularly performed admirably in university championships.
Our sports stars include rugby union player Terry Price, and Paralympian Danielle Brown – one of our sports centres is named after her.
Student Martha How was nominated for our Sports Personality of the Year award, which she won in her second year. The award was presented by Rachael Heyhoe Flint, "a real hero of women's cricket", she says, adding: "I played cricket at University when women's cricket was very difficult to find."
Catering
The enormous job of feeding a university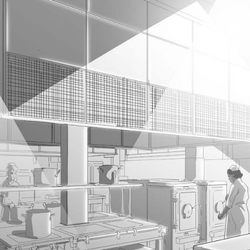 From coffee and cake to formal dinners, vending machines and cafeteria, Catering does it all.
Do you remember Crush Hall's serving hatch? The coffee boycott of 1957? Ticket-for-coffee systems? Fancy some 'University pudding'?
Wartime students called Miss Robinson's cooking "the best in the city". Halls of residence originally provided full board but, unlike today, there was little choice.
Modern, expanded facilities came with the new Percy Gee Building in 1957 (kitchens illustrated). Alumna Lynda Wight recalls its "pizza, chips and beans" in the 1970s.
Elizabeth Webb was a resident cook at College Hall from 1964 to 1969, before later studying here: "In 1969, I was married, and my wedding reception was held in the College Common Room – I did much of my own catering!"
Open Days
Opening our doors to welcome future students, alumni and friends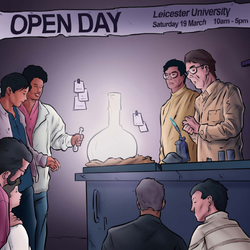 Since Leicester's first days, it has opened its doors to founders, friends and supporters.
The 1920s campus was regularly opened to the public to show progress, renovations and gardens and demonstrate what donations had achieved.
An Open Day in 1953 featured a glassblowing demonstration, X-ray experiments and music in the Beaumont Hall gardens.
Displays, experiments, films and talks were on offer at what appears to have been the first Open Day for prospective students on 15 March 1969. The student societies there included judo, ballroom dancing and debating.
Today, Open Days welcome would-be students to the campus to see everything for themselves and to help them decide whether Leicester is the place for them.
Our Alumni
The Alumni Association — lifetime membership of our community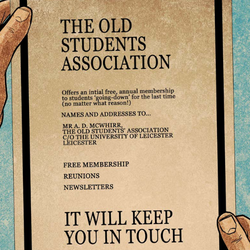 Once you graduate, one chapter of your University story closes but another opens as you join the Alumni Association.
Formed by Principal Rattray in 1923, the Old Students' Association comprised alumni who wanted to stay connected to each other and the University.
Though small until after the Second World War, it was tightly knit, and arranged reunions, sports events and fundraising campaigns and supported the University. Today, it is a diverse and global network of people who all have Leicester in common.
"The Alumni Association promotes relationships between alumni, the University and students," says Association Chair Martin Cullen. "It supports alumni on their career journey, and runs events to bring them together and build a community."
Highfields Adventure Playground
Playground brings adventure to city children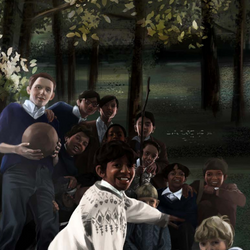 Students were behind the creation an adventure playground in one of Leicester's poorest areas.
Highfields Adventure Playground, in Spinney Hill Park, was set up "to lure the children out of the derelict buildings, off the streets and away from the traffic into a world of old drums, boxes and tyres where they can pull things apart, build them up again, climb and tunnel without risk".
The students, who came up with the idea in 1968, worked with the City Council and other local and national bodies. A local engineering firm donated design services, and the Lord Mayor of Leicester opened the playground in 1971.
University Societies
Societies where students pursue a huge range of interests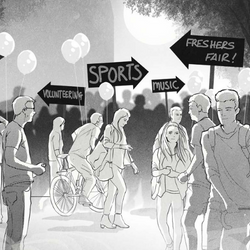 Societies for drama, athletics, debating, French, geography and music were founded in our first year – despite there being so few students.
CP Snow is thought to have been behind the chess club and the student magazine. Soon there was a Film Society, Rambling Society, Folk Dancing Society, the Vaughan Players and many more. Hundreds more have formed since and many were nominated for Our 100.
An alumna and staff member recalls Leicester University Student Television Society in 2007: "The LUST office was down a damp corridor that smelled a bit. You always got a warm welcome and, for a shy academic type, that was a big deal. We were never quite sure of what we were doing but, by some miracle, made a few short films. I learnt some video editing skills, picked up writing tips and found a friend who still responds to a random text. The old LUST has a dusty, dark, scrappy little corner of my heart."
"My father revisits his old lecture theatre, 45 years on..."
Keeping Leicester in the blood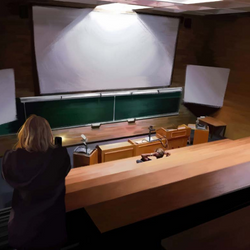 "My father and I visited the University of Leicester in September 2018 and discovered the Physics Department was the same as when he studied for his bachelors degree in 1975," says student Lizzy Mumby.
They found her father Simon's former lecture theatre and Lizzy photographed him there (shown).
"He told me about sitting in lectures and glancing at the clock (now replaced), wondering when he would have time to play badminton in the Charles Wilson hall, which still exists.
"This moment highlighted that Leicester has so much history, which was important for me when choosing a university. I look forward to making my own memories with links to the past."
The AccessAbility Centre
Goes the extra mile to support disabled students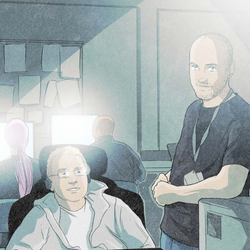 The AccessAbility Centre offers support and help with study skills to nearly 2,000 students with disabilities every year. When it was founded in 1993 as the Study Support Centre, it assisted fewer than 50 students with a third of today's staff numbers. Its development reflects changes in legislation and higher education that are helping thousands of disabled students reach their fullest potential in both education and employment. Shown above is alumnus Alex Squire (graduated 2015) with his PA, Charlie. "My favourite part of the University is the AccessAbility Team because they always go the extra mile to make sure we're all accommodated," says Casey Barrett-Gibson.

Our 100 artwork was commissioned from Amrit Birdi and AmCo Studio Ltd and is ©AmCo Studio Ltd unless stated.