People and unsung heroes
A famous first family of Leicester, our first professors, the unsung admin, technical and backroom staff and student friends. Its always been the people that have made the University.
Here are just a few who made it into Our 100.
The Attenboroughs
A famous family at the heart of our history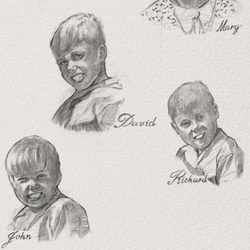 Summing up the Attenborough family's 90 year connection to the history of the University is near impossible.
Frederick Attenborough became our second ever Principal in 1932. He was the driving force behind the then University College gaining its Royal Charter and full University status. His wife Mary helped to welcome 50 Basque refugees to Leicestershire and the family adopted two Jewish refugees from Berlin during the Second World War.
Their children David, Richard and John grew up on campus and Sir David still frequently returns for events and to show support. Our illustration shows the family whilst at Leicester.
You can read and hear much more about the family on our website including Frederick's grandson and Lord Richard's son, the renowned theatre director, Michael Attenborough
Making History: Professor Jack Simmons OBE (1915-2000)
Historian and Pro Vice-Chancellor who helped develop a young University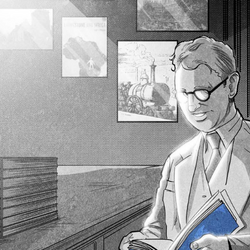 A transport historian helped drive Leicester to its University status.
Jack Simmons was one of ten professors appointed in 1947 who steered the college through the process. The first Chair in History, he also served as Acting Vice-Chancellor and Pro Vice-Chancellor.
He was instrumental in setting up Leicester University Press, a campus bookshop, local BBC Radio Leicester, and also Centres for Victorian Studies, Regional and Local History and Museum Studies. He published New University about Leicester in 1957, and was our first Honorary Archivist following his retirement.
Locally, he chaired the Leicester Local Broadcasting Council and was Leicestershire Archaeological Society president.
He was the academic brains behind John Betjeman's campaign to save St Pancras Station.
The Wives' Club
The society created by women for companionship and support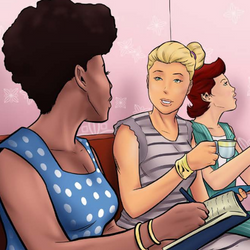 A University wives' club may seem anachronistic now but, in the early days, it provided much-needed support to women in the wider University community.
The Wives' Club – later the Wives' Association then the Women's Society – formed by chance.
It was a Thursday, and the wife of a new staff member had knocked on the door of the home of Mrs Jean Humphreys, who was married to our Professor of English, for some guidance on settling in.
The knock at the door continued each Thursday after, forming a tradition and a social network.
The 'Thursday girls', as they are fondly remembered, met for social and educational activities, and organised events to support the University and each other.
Unsung workers
Vital staff who keep the campus running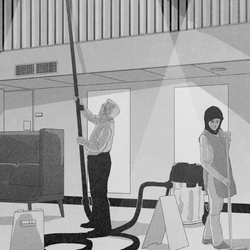 Often working behind the scenes, the porters and cleaners are essential to the smooth running of the University.
"The world-class research and teaching in this University depend on the commitment and quiet dedication of these services," says Dave Pidgeon from Estates and Digital Services.
"The porters and cleaners have a crucial role in ensuring the campus and its facilities are fit for purpose, clean, open and accessible, and welcoming.
"From 7.00am, porters and cleaners will open buildings and rooms, prepare teaching areas, and clean and tidy the campus. Teaching staff then have the best possible environment to begin changing lives."
During the pandemic, they were critical workers and kept our campus safe.
The Inaugural Professors, 1946-48
The first professors brought scholarship and cake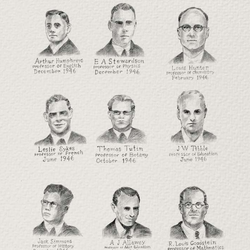 After gaining our first Government funding from the University Grants Committee in 1945, the University College could expand and appoint its first Professors.
An authority on hydrogen, Louis Hunter was appointed to the first Chair, in Chemistry, in 1946.
Between 1946 and 1948, ten professors were appointed in rapid succession: as well as Chemistry, there were Chairs in Adult Education, Education, History, English, Physics, French, Botany, Mathematics and Economics. Arthur Raleigh Humphreys was made Professor of English in 1947.
"Deeply learned in 18th-century literature, he was the epitome of scholarship," recalls Peter Harris.
"By the 1960s, we were having sit-ins at the University. He was always not just courteous to his long-haired charges but also deeply supportive.
"Cherished memories include group tutorials in his home. We had tea and cake. Most of us were a long way from home and this domesticity was comforting."
Our technicians
The technicians who keep teaching and research going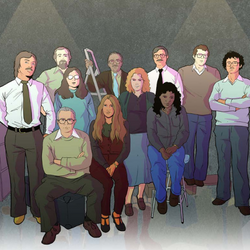 Teaching and research both rely on the skills of technicians. They are specialists – our image shows Geology technicians from the 1970s – and have performed demonstrations for generations of students.
However, while many assistants and 'lab boys' (and girls) worked here from its earliest days, few appear in the archive and they have not always felt valued. Low pay was partly addressed after 60 Leicester technicians joined a national strike in 1965.
The first Chemistry technician was Albert Cobble (known as just Cobble) "a great multi-talented, including glassblowing, asset", recalled alumnus Frank Rodwell.
Alumnus Allard Johnson recalls Cobble winning many a game of Solo during wartime firewatching nights. "Cobble, whose first name seemed to be secret, was the students' friend," he said.
Our administrators
The administrative heart of the University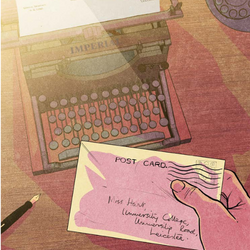 The earliest staff – hired before the College opened – were administrative.
The Secretary (now called the Registrar) was the first official employee. Walter Gibbs was crucial to getting the University College project off the ground.
The first female member of staff, Una Hart, was employed in a clerical role from December 1920 and remained here until retiring in July 1949.
She was a linchpin of the early days, a friend to students and essential to the College's everyday running.
Invisibly, her touch is behind each letter, file and minute book. Our illustration imagines her original desk, with an Imperial typewriter, a candlestick telephone and actual documents from our archive.
This is to thank administrators who keep the University world turning.
Professor Peter Sylvester-Bradley (1913-1978)
A sense of scientific adventure imparted by our cycling professor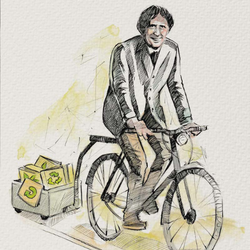 Peter Sylvester-Bradley led his growing Geology Department to national and international recognition for its research diversity that encompassed tectonics, geochemistry, geophysics and palaeontology.
The first Professor of Geology, he developed undergraduate and masters degree courses in geophysics, mining geology and mineral exploration alongside more traditional subjects.
He delighted in sharing his sense of scientific adventure, and held coffee evenings with speakers for students at his home. "Never believe your lecturers or what is in the text books," he told them.
He was an early adopter of the green movement, abandoning the car in favour of a bicycle and trailer to get to university.
Terry Garfield and the departmental staff common room
The powerhouse of our staff social club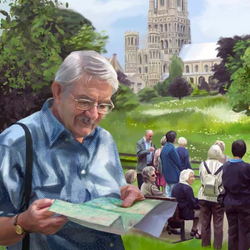 Terry Garfield was a member of the Geography Department from 1946 to 1992, beginning as a junior lab assistant and rising to Chief Technician.
As well as being a founding member of the Society of University Cartographers, he helped found our Departmental Staff Common Room (DSCR).
"The DSCR was set up to encourage technicians, administrative, library, secretarial and other support staff to have social interactions with similar colleagues in non-academic roles at the University," explains former colleague, Mary Bettles.
This staff social group organised events including visits to Ladybird Books, factories making pork pies, and many heritage sites (their trip to Ely Cathedral shown).
Most importantly, as former colleague Hilary Whitbread says, it provided "a community, a family, within the University."
Albert Kinder (and his dogs)
Operating an adapted switchboard for 25 years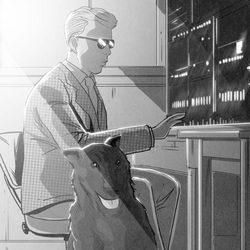 After wartime service and facing blindness from disease, Albert Kinder trained as a switchboard operator. "I found it very difficult to get a job. I had to advertise for this job, and they all said it would be too big for me," Kinder told the Leicester Mercury when he retired in 1975. The University gave him the opportunity to prove them wrong, by employing him from the late 1950s to run our switchboard. It was the largest one in the country worked by a blind man. He applied homemade markers to the plugs and sockets so he could identify them. With guide dogs Sheba and Eliza at his side, he routed millions of calls to and from every department in the University.
Professor Sir Geoff Palmer
A great of global grain and racial equality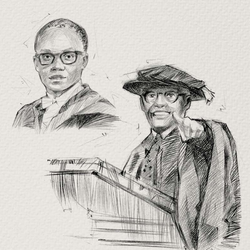 Sir Godfrey (Geoff) Palmer OBE studied Botany at Leicester and graduated in 1964. Shortly after, he discovered the barley abrasion process that has revolutionised the world of brewing. Instrumental in the development of sorghum as brewing material and food in Africa, he also helped to secure Britain's first exports of barley to China. Geoff became Scotland's first Black University Professor in 1989 and is a prominent campaigner for racial equality. He was knighted in the 2014 New Year Honours for services to human rights, science and charity. After a distinguished academic career there, he is now Chancellor of Heriot-Watt University. He was awarded an Honorary Doctorate from Leicester in 2016 and returned to speak at our 'Silences in the Archives' event in 2021 about statues and slavery.
"The people that made a difference to me"
People and connections that make Leicester what it is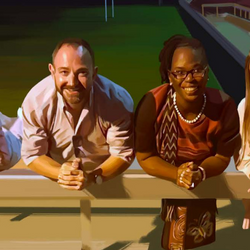 Whatever your experience of Leicester, it will have been shaped by those you met here.
Countless people nominated their closest friend, wisest mentor, or most inspiring colleague.
We couldn't include them all so this entry recognises and thanks all those who have made a difference to others over the past century.
This illustration is based on a photograph sent in by alumnus Matthew Jensen, who nominated "my cohort buddies".
"We had ample opportunity to work together, share experiences and become friends. We are a family now. These connections will last a lifetime and I am very grateful for that," he says.

Our 100 artwork was commissioned from Amrit Birdi and AmCo Studio Ltd and is ©AmCo Studio Ltd unless stated.