The pioneering women of Leicester
The University of Leicester has been home to female pioneers since its foundation, our first scientists were women and taught and studied on an equal footing.
That tradition has continued throughout our history.
Our early female scientists
Women led in science teaching from our beginning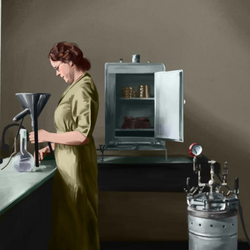 Ever since we opened, women have studied and taught the sciences and gone onto research on an equal basis with men.
The first science staff were women: Charlotte Measham taught Botany in 1921 and was joined by Dr Ethel Miles Thomas, who founded the Botany labs in 1922.
Zoology got its own department in 1937, led by Dr Anne Hosker. She was active in research, aided by a young Sir David Attenborough who collected newts for her.
The University encouraged women to apply here. The illustration is from a 1938 prospectus photograph showing Florence Shaw, a Chemistry research student who went on to become a key staff member.
We continue to recognise the potential of our women in science.
Olive Banks (1923-2006), first female professor
First woman professor was an early sociology of education expert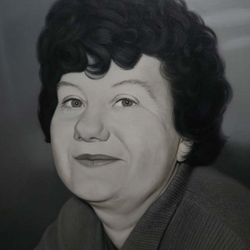 (Portrait reproduced by kind permission of Elizabeth Tooth, 2018).
Olive Banks became the first female professor at Leicester in 1973. She had been appointed reader in the Sociology Department in 1970.
An LSE graduate who had left school at 16, Professor Banks concentrated on the new field of sociology of education, publishing her first book in 1955. Her 1965 textbook, The Sociology of Education, cemented her position as an expert.
In 1975, Professor Banks decided to concentrate on the history of feminism, which led to her acclaimed 1981 work Faces of Feminism.
She took early retirement the following year – she was still our only female professor – and produced works including the two-volume Biographical Dictionary of British Feminists 1800-1945.
Dr Mary Swainson (1908-2008)
A pioneer and global authority on student counselling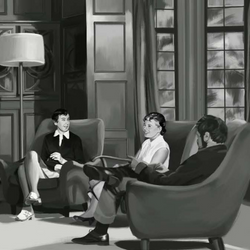 Leicester was home to one of the country's first student counselling services, set up by Mary Swainson.
While lecturing in Education, Swainson began counselling students in 1948. This service grew and, in 1967, joined the Student Health Service.
Swainson was driven by various experiences including caring for 19 Second World War evacuees in her parents' home.
Her papers on student counselling services, including for UNESCO, attracted enquiries from colleges around the globe.
In a copy of her autobiography that she gave to the library – The Spirit of Counsel: The Story of a Pioneer in Student Counselling – she inscribed: "Obstacles can be overcome with patience and determination."
Esuantsiwa Jane Goldsmith
Student activist to Ghanaian princess and global influence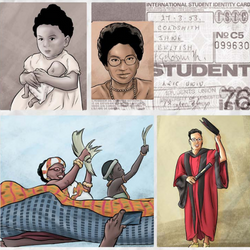 Esua (Jane) Goldsmith was the first Black female student to be elected President of the Students' Union back in 1975.
Admitting to being "your number one dungareed, dangly ear-ringed activist", she was President of the Anti-Apartheid and Women's Liberation Groups as well as Union Vice-Chair.
The first minority ethnic woman to chair the Fawcett Society, Goldsmith is a consultant to voluntary organisations nationally and internationally. She was awarded an Honorary Doctorate of Laws in 2015.
She now uses her Ghanaian name Esuantsiwa, (Esua for short). Her recently-published memoir, The Space Between Black and White looks back at her time in Leicester and charts her journey to discover her African Roots, where she was astonished to discover she was Ghanaian Royalty.
Mary McIntosh (1936-2013)
Campaigner who pioneered sociological studies of homosexuality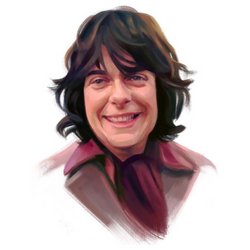 Mary McIntosh, a lecturer and influential sociologist, was a founding member of the Leicester Campaign for Racial Equality and involved in setting up the Gay Liberation Front.
In 1967, male homosexuality was partly decriminalised. That year, Mary McIntosh wrote 'What is a homosexual?' for student newspaper The Ripple.
She later wrote a pioneering sociological study called 'The homosexual role', in which she objected to homosexuality being regarded as a set of 'symptoms'.
"This was a significant leap forward that empowered the possibilities of and for the sociological study of homosexuality," says Professor John Goodwin of the Sociology Department.
McIntosh also played a crucial role campaigning to get the local Sikh community registered to vote.
The Wives' Club
The society created by women for companionship and support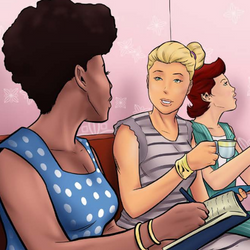 A University wives' club may seem anachronistic now but, in the early days, it provided much-needed support to women in the wider University community.
The Wives' Club – later the Wives' Association then the Women's Society – formed by chance.
It was a Thursday, and the wife of a new staff member had knocked on the door of the home of Mrs Jean Humphreys, who was married to our Professor of English, for some guidance on settling in.
The knock at the door continued each Thursday after, forming a tradition and a social network.
The 'Thursday girls', as they are fondly remembered, met for social and educational activities, and organised events to support the University and each other.

Our 100 artwork was commissioned from Amrit Birdi and AmCo Studio Ltd and is ©AmCo Studio Ltd unless stated.