Power of education
Teaching and learning has always been about more than lectures and seminars for the university throughout our 100 years.
In the Our 100 we celebrate field trips, inspiring academics, ground-breaking courses, and the transformative power of education itself.
Refugees and Sanctuary
A University of Sanctuary, where education transforms lives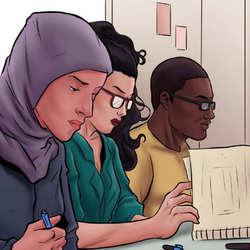 Through our Sanctuary Seekers' Unit, we work with Leicester City of Sanctuary to ensure we are a genuinely welcoming place for people seeking sanctuary in the UK. Our English Language Teaching Unit (pictured) offers free lessons to asylum seekers and refugees, and our Sanctuary Scholarship offers a full fee waiver. This legacy goes back a long way. During the Spanish Civil War, Mary Attenborough helped establish a refuge for 50 Basque children. During the Second World War, refugees here included several students and the eminent Dr Felix Rosenthal from Germany. Rhoda Bennett, an alumna then Librarian, helped to resettle many Jewish German refugees in the USA and UK. The Attenboroughs 'adopted' two refugee girls. In the 1950s, we took five Hungarian students and, after the 1973 coup in Chile, made refugee academic Mr A Munoz a Visiting Fellow.
Learning technologies
From magic lanterns and punched cards to online learning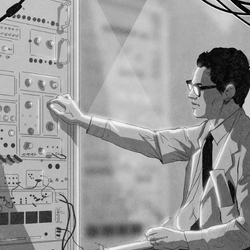 We could not have got through the COVID-19 pandemic without our Ignite online learning systems, and it's hard to imagine University life without computers. Back in the 1920s, typewriters, carbon paper stylography and magic lanterns were our technology. The Geography Department pioneered the use of photography and was making colour videos of field trips by the 1950s. The Computer Laboratory, set up in 1962-63, featured an Elliott 803 and CCTV broadcast it to lectures. Former postgraduate student John Poston was paid "a nominal fee" to operate the computer on night shifts in 1970: "It had one card input, one printer and eight tape drives. How things have changed."
Nursing and Midwifery
Our unique health care teaching and research history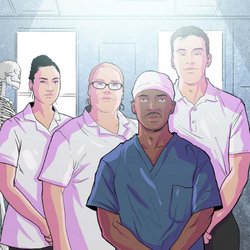 When our first Nursing and Midwifery Professors were appointed in 2017, this formally acknowledged teaching and research – and our history – in these areas. Since then, the academic team has grown and new degree programmes have been established.
Back in 1928, the University provided a "centralised lecture course for pupil midwives", going on to become responsible for local midwife examinations by 1939, when the first Tutor in Midwifery was appointed. We were running courses for Queen's Nurses from 1937 and started nurse training in 1969. The School of Healthcare has drawn on the expertise of the School of Business to offer unique MSc qualifications that combine nursing or midwifery with leadership.
Museum Studies
The unique and globally renowned School of Museum Studies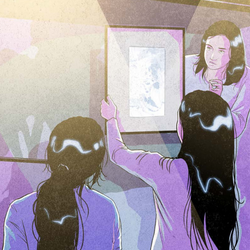 For over 50 years, researchers, practitioners and postgraduate students have come to Leicester to think creatively and critically about museums, galleries and heritage. Beginning in 1966 as a small team offering a graduate certificate, Leicester's School of Museum Studies is the largest academic unit of its kind in the world. It remains the only UK university department devoted to this discipline. Through its interdisciplinary approach, extensive international partnerships and dynamic teaching, it shapes its field. At the heart of its collaborative work is the Research Centre for Museums and Galleries, which focuses on developing museums as research-led, socially impactful and inclusive institutions.
Inspiring teaching
Lecturers who make an impression and make a difference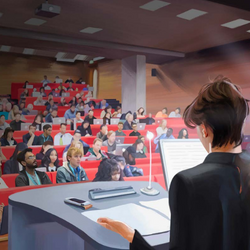 Teaching is the lifeblood of the University. Staff who teach at Leicester are remembered for mentoring, advising and listening, supporting students with dedication and commitment, while demonstrating an infectious enthusiasm for their disciplines. "Inspirational" and "generous" and showing "kindness, friendship and professionalism" are just a few ways in which alumni describe them. They have adapted to changing academic, technological and societal environments and helped students to navigate the same.
Many lecturers, some deceased and many still teaching today, were nominated – far more than we could include. This entry celebrates their excellence in teaching that is remembered by thousands of students.
Professor Brian Simon (1915-2002) and the School of Education
Learning to teach and the start of comprehensive education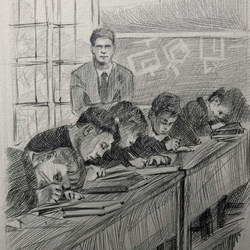 Although Education courses started in 1928, it was the post-war influence of the first Chair of Education, Billy Tibble, that set the School of Education's tone. From 1950, left-wing Brian Simon and right-wing Geoffrey Bantock brought strong, opposing opinions that created a challenging, dynamic environment. Simon was a proponent of comprehensive schools alongside Robin Pedley, whose ideas for the 'Leicestershire Experiment' were applied across the country. Simon became a world expert in the history of education before retiring after 30 years. Charlotte Murphy recalls: "My PGCE was led by some inspiring lecturers and experts. I'm now a confident teacher with the ambition to inspire children and young people in the same way the School of Education inspired me."
Pioneering fieldwork
Seeing real life in the field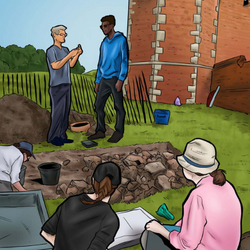 Working in the field to experience a discipline, in reality, has long been a core activity. The young Attenborough boys joined Botany and Zoology field trips to the coast in the 1930s. Colour films survive of 1950s Geology field trips. Our students work around the world. Education and research staff toured West Africa in 1977, and geologists carry out long-term research on the African Rift. Closer to home, our School of Archaeology and Ancient History holds annual field schools at Abbey Park and Bradgate Park (shown). Alumnus Tim Brown was part of a "magic" 1961 expedition to East Greenland: "Beautiful, beautiful fjords. We did mountain climbing, a lot of specimen collecting [and] helped the scientific programme."
University Challenge
Starter for ten, the first Indian woman to compete on University Challenge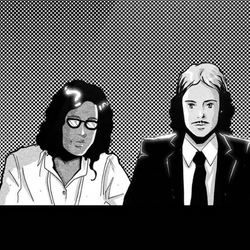 Leicester beat Balliol College, Oxford, to win the first series of University Challenge in 1963. Then, in 1974, Sandya Narayanswami became the first Indian woman to compete on the show – her team beat St John's College, Oxford. "We made the quarter- or semi-final, so did well. I received a lot of fan mail, including three proposals," she writes. "Bamber Gascoigne said I had 'exceptionally broad general knowledge for a science major'. I replied: 'That's because I spent all my time in libraries'. What I didn't tell him was that the racism in my school was so bad I spent all my time in the library. I read extensively and retained what I read. At Leicester, I was treated like an intelligent human being and graduated with a first-class degree at the top of my year."

Our 100 artwork was commissioned from Amrit Birdi and AmCo Studio Ltd and is ©AmCo Studio Ltd unless stated.