The arts at Leicester
The University has been a launchpad for stellar careers in the arts, the home to world class sculpture and the archives play host to the works of many literary Leicesterians.
The arts have played a central role in student, academic and community life here at the University and we are delighted to be able to celebrate them.
Art on campus: The Henry Moore Sculptures
Henry Moore sculptures once hosted by Leicester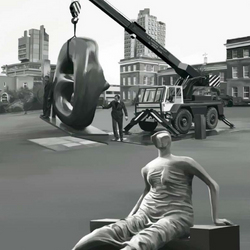 Two works by renowned sculptor Henry Moore were once on show in our grounds.
Draped Seated Woman, one of the seven original editions, sat in front of the Fielding Johnson Building, a site chosen by Moore, in 1970. The University celebrated this by awarding him an honorary degree.
This was replaced by Oval With Two Points, a loan we think Moore intended to be permanent – unfortunately this was not put in writing.
In 1977, Moore transferred ownership of his works to the Henry Moore Foundation. After his death in 1986, the foundation borrowed Oval With Two Points for an exhibition then decided to keep it.
We are proud that Moore chose us to host these great sculptures
Leicester's literary legacy
Literary Leicester, with novelists, poets, playwrights and book illustrators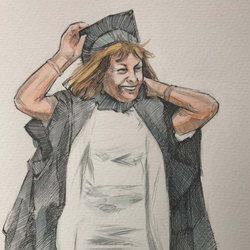 Delve into our literary history and you will discover many a famous name.
We hold the literary archives of Sue Townsend (shown here accepting her Honorary Degree in 1991) and Joe Orton, as well as the Reg and Ann Cartwright children's book illustration collection.
Poets connected to the University in the 1940s-1960s include Philip Larkin, GS Fraser, US-born Paris Leary and Lyman Andrews.
Novelist alumni include CP Snow (one of our first students), Malcolm Bradbury, who wrote Eating People is Wrong while he was here, Graham Joyce and Adele Parks. Non-fiction writers include Jeffrey Boakye.
Among our staff are novelist Jonathan Taylor and, from 1959-62, Richard Hoggart, who penned the influential The Uses of Literacy.
Student arts festivals
Jubilee year for arts festival with work by high-profile names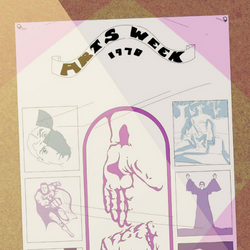 Arts Week has shown work by inspirational artists since 1961 and gained support from Paul McCartney along the way.
The festival, run by the Students' Union, started with an exhibition by local artists. Later, it included James Stirling lecturing on his Engineering Building, and textile designs by Trinidad-born artist Althea McNish.
McCartney argued for more funding in 1968: "If a big public relations firm had asked me to take part, I would have told them what they could do, but I really think these students need some help."
That year, exhibits included Henry Moore and Barbara Hepworth sculptures, a Goya sketch, Lichtenstein cartoon, Renoir engraving, and Polish posters.
In 1975, students organised a Black Cultural Event, showcasing Black artists, to recognise the cultural inheritance of Black students and to engage Leicester's Black population.
'Building a University': the 1982 radio play
BBC radio broadcasts our double jubilee drama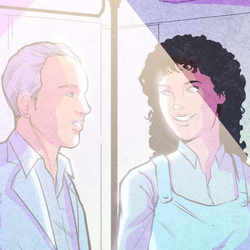 A double jubilee for the University was celebrated in 1981-82 – silver for 25 years with full University status was added to diamond for 60 years as a University College.
A packed programme included a play on the University's life being broadcast on BBC Radio Leicester. Written by Lois Potter of the English Department, 'Building a University' was performed by staff and students, with music and sound effects, including noises of construction and printing presses.
Among the voices of student actors can be heard Professors Arthur Humphreys and Jack Simmons playing themselves.
A cassette tape and script were recently rediscovered in the archives, and the tape has been digitised to ensure its preservation.
Marat/Sade at the Leicester Phoenix Theatre, 1971
Ambitious performance provided stage for future stars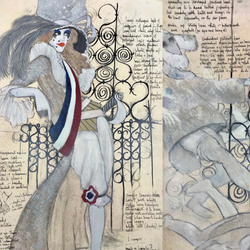 Students staged one of the most ambitious projects ever undertaken by an amateur theatre group – Peter Weiss's play Marat/Sade – in 1971 at the Phoenix Theatre.
Written in 1963, it was considered very demanding. It was staged in the round, in one act, all actors on stage at all times.
The Leicester University Theatre production received "great critical acclaim – even from the Leicester Mercury. Many of those involved went into professional theatre, myself included," says actor Keith Guest.
David Burrows, who designed the costumes (whose artwork is shown here), agrees, noting that Ken Drury, who played the Herald and later appeared in Four Weddings and a Funeral, "went on to have a pretty decent screen career as an actor".
(Artwork reproduced by kind permission of David Burrows, 1971).
Archives and Special Collections
A wonderful resource covering 900 years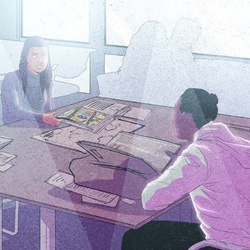 From medieval manuscripts to modern literature, our Archives and Special Collections span over 900 years and include books, manuscripts and items of regional, national and international significance. Many were donated, including a 12th century manuscript.
The Sue Townsend Collection contains literary, personal and business papers. Townsend was the author of the Adrian Mole series, and wrote plays, novels and for TV and radio.
The Orton Collection holds scripts, correspondence, photographs, ephemera and diaries of Joe Orton, and gives an insight into his life as a dramatist and his experiences of life as a gay man in the 1960s.
In our rare 'Wicked Bible' from 1631, the fourth commandment reads: "Thou shalt commit adultery."
Sir Malcolm Sargent (1895-1967)
Proms leader and head of the first Music Department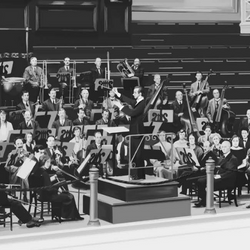 Leicester, Leicestershire and Rutland College was fortunate to secure 26-year-old Dr Malcolm Sargent to head its Music Department in 1921.
He went on to conduct the BBC Promenade Concerts in the 1960s, his sense of theatre, elegant dress and panache winning him followers around the world.
When he started at Leicester, Sargent was already a local household name. He enthralled capacity audiences conducting the Leicester Symphony Orchestra at De Montfort Hall (pictured) and, with local operatic societies, brought colour, light and fun to post-war life.
Academically, he gained a doctorate by the age of 24 after less than a year's study on a course that would normally take five years. As a teacher, he offered something very special.
Digital heritage and culture
Research institute looks at heritage and culture through a digital prism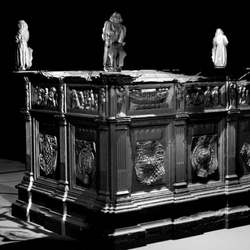 Our research has generated new ways of understanding heritage and culture in a digital age.
The origins of this work date back to 1966, when Leicester established the UK's first centre for studying mass communication, and offered its first media and communications masters degree shortly after.
Since then, we have broken disciplinary boundaries, not least with our landmark 'Representing Re-Formation' project, which used space technology to help crack a Tudor art history mystery.
The inter-disciplinary work of our CAMEo Research Institute has explored (and challenged) dynamic relations between culture, media and economy.
And today, building on this legacy, our 'One by One' research initiative, brings together practitioners, policy-makers and technologies to help build digitally confident cultural industries around the world.
(Digital artwork reproduced by kind permission of Andrew Williams, 2012)
Attenborough Arts Centre
Inclusive arts centre created for all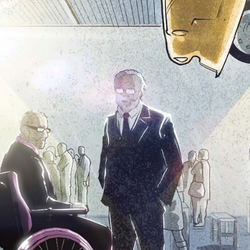 The Richard Attenborough Centre for Disability and the Arts (now called Attenborough Arts Centre) was designed for all creatives, audiences and art admirers, disabled and non-disabled alike. It was opened by Diana, Princess of Wales in 1997, accompanied by Lord Richard Attenborough. Today, it is supported by his son, theatre director Michael (shown centre). Diana said: "In this beautiful building, I have met students in wheelchairs who were dancing, [visually impaired] artists creating superb sculptures and a painter who has been blind since birth."

Our 100 artwork was commissioned from Amrit Birdi and AmCo Studio Ltd and is ©AmCo Studio Ltd unless stated.