Leicester firsts
From the first students, professors, medical school and our coat of arms the University's 100 years have been made of many firsts. Not to mention our first mascot, the remnants of a stuffed fox.
Our motto and coat of arms
Life with learning after the war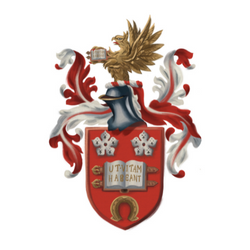 Our motto is Ut vitam habeant – 'That they may have life'.
This reflects the University's establishment as a memorial to the First World War, and was suggested by Principal Dr Robert F Rattray. Other ideas included 'Learning by doing' and 'Dare to be wise'.
The 'heraldic achievement' of Leicester, Leicestershire and Rutland College was granted by the College of Arms in 1922.
The shield, designed by sculptor Joseph Morcom, has two cinquefoils (flowers) representing Leicester and Leicestershire, and a horseshoe for Rutland. Above is a demi-gryphon holding a book, from benefactor Thomas Fielding Johnson's coat of arms. Centre is a book, symbolising learning.
Becoming a university, 1957
Becoming a university: a royal charter and a new law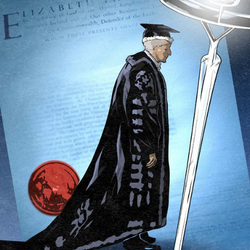 Becoming an independent university required royal approval and this took several years to attain.
The first important step was taken after the Second World War, when we were granted a Royal Charter by King George VI in December 1950. Then, in 1956, a petition to Queen Elizabeth II requested university status.
The royal seal was added to the charter on 1 May 1957 and, from that day, we were the University of Leicester and could award our own degrees, rather than those of the University of London. Our first Chancellor, Lord Adrian, and the first full Senate were installed. We had new ceremonial silverware and ceremonial robes, a gift from the City.
In 1958, when an Act of Parliament finalised the process, there were only 15 other universities in England.
College colours
Wearing our colours with pride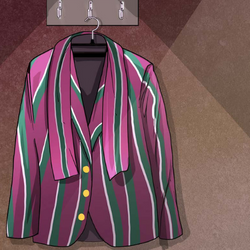 The University's colours, green and maroon, were chosen in its first year.
A varsity colour shared with Nottingham was desired, as an East Midlands University was being discussed.
The green was partly inspired by the shade used by the Sherwood Foresters. Women got blazers with the College badge before men.
Reginald Brown, a technical chemist in London, gave advice and ran trials to determine colours that would harmonise and to find the right shades and dyes for various textiles.
Local companies were approached about producing ties, badges, straw hats with the College badge on the hatband, sweaters, scarves and more. You can still buy the distinctive maroon-and-green scarf today.
Arts and Crafts gifts
Arts and Crafts furniture set a spectacular scene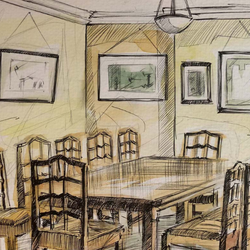 Two remarkable sets of Arts and Crafts furniture, the Gimson and Cholerton suites, were given to the University in the 1920s.
The Gimson Room in the Fielding Johnson Building contains an inlaid English walnut table and 13 chairs designed by Ernest Gimson, made by his head craftsman Peter Waals and donated by Gimson's family in his memory.
Three ceremonial chairs for the Council Chamber, designed by Waals, were donated by Mr and Mrs AF Cholerton. The presidential chair is ebony, inlaid with ivory, with the University's motto carved into an ivory plaque.
The local press at the time compared Gimson furniture to "that of Chippendale… having quite special qualities of individuality".
Our first staff and students, 1921-22
The first students, in gowns and on campus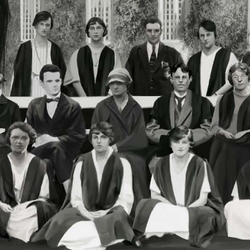 In its first year, Leicester had 11 full-time students – ten women and one man (the picture imagines them all in summer 1922). Full-time students paid £20 a year. Academic posts were temporary to begin with.
We are unsure how many students crossed Leicester's threshold on its first day. The new University College was very much a work in progress – only 19 rooms in the Fielding Johnson Building were ready for teaching and there was no central heating.
Students had to wear academic gowns while on campus, in the style of the gown of Trinity Hall, Cambridge, which was dark blue with black facings. They studied English, French, Latin, Geography and Botany.
When the first Principal, Robert Rattray, moved to Cambridge in 1931, his wife Mary recalled 11 undergraduates visiting their home for a Christmas party in 1921. There were nearly 300 students by the time he left.
Opening of the Medical School, 1975
The rise of medicine at Leicester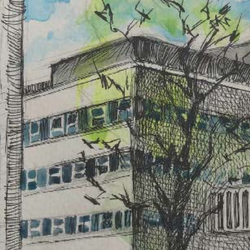 The Medical School admitted its first students in 1975. This realised the vision of one of our founders, Dr Astley Clarke, who had championed a medical school for Leicester from the beginning.
It was part of the Leicester-Warwick Medical School between 2000 and 2007 and expanded into the purpose-built George Davies Centre in 2016.
"I started as a medical student in 1986 having chosen Leicester for a number of reasons, full cadaveric dissection being one. Gerald Charles Tresidder, a retired urologist, was our tutor. He made everything clinically relevant, clear and fun," says Suzanne Dawson.
"I hadn't thought about surgery as a career, but I will never forget the day Mr T lightly tapped me on my knuckles and said "Please hold the forceps like a surgeon, not like you're gardening."
Our founders
The founders who made the University happen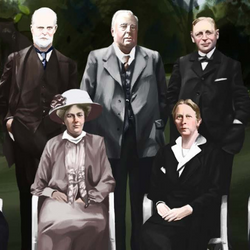 The University owes its existence to the generosity of local people who gave their time, money and energy.
On Armistice Day 1918, local physician Dr Astley Clarke made the first donation to the fund that founded Leicester, Leicestershire and Rutland College.
Shown here are (back, left-right) Dr Robert Rattray (Unitarian Minister and first Principal), Jonathan North (Mayor), Thomas Fielding Johnson (benefactor), Dr Astley Clarke (principal founder) and Walter Gibbs (Leicester Daily Post editor, first Secretary), and (front, left-right) Gertrude Vincent (philanthropist), 'Poppy' Clarke (social worker, married to Dr Clarke), Sarah Heron (Headmistress of Wyggeston Girls' School) and Isabel Ellis (philanthropist, and health and social worker).
Founding gifts includes arts and crafts furniture, books for the Library, laboratory equipment, a sports field and pianos.
Leicester University Press
University publisher took scholarship into the wider world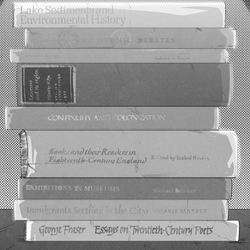 Leicester University Press illustrates the innovation of the postwar period well.
Founded as the Publications Board in 1952, it started by making the texts of inaugural lectures available outside the University but soon began to publish monographs and scholarly editions.
It became Leicester University Press in 1957.
Herbert Finberg, the first Professor of English Local History, had been a typographer and publisher, and provided advice and contacts.
The Press had strong relationships with new disciplines, such as Victorian Studies, Local History and Urban History. Its publication of JD Halloran's The Effects of Mass Communication in 1964 signalled the birth of media studies.
It published over 250 titles before being sold in 1988.
The fox mascot
Was the fox a fake to fool Rag raiders?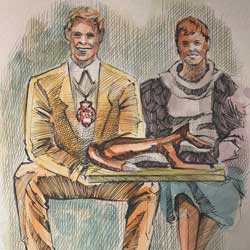 The plaster fox, shown here on the laps of the Students' Union President and Vice-President in 1956, may have been a decoy to trick Rag raiders from other universities.
The University had been presented with a mascot – the mask, pads and brush of a fox – by the Fernie Hunt in the 1950s. Although our first Principal, Robert Rattray, was opposed to hunting, it was accepted.
However, no Rag raid was complete without stealing a mascot and the students feared capture would damage the "extremely fragile" item. The story is that this plaster model was a faux fox, cast as a decoy.
The fox is a symbol of Leicestershire and appears on the new county flag.

Our 100 artwork was commissioned from Amrit Birdi and AmCo Studio Ltd and is ©AmCo Studio Ltd unless stated.