Diversity and inclusion
An arts centre with accessibility at its heart, a pioneering blind switch-board operator and fighting for racial equality through University Challenge and academic research.
The values of diversity and inclusion run through everything we do, and not least around the necks of our staff who wear our LGBT+ lanyards with pride.
Attenborough Arts Centre
Inclusive arts centre created for all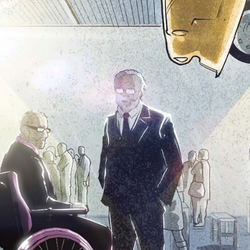 The Richard Attenborough Centre for Disability and the Arts (now called Attenborough Arts Centre) was designed for all creatives, audiences and art admirers, disabled and non-disabled alike. It was opened by Diana, Princess of Wales in 1997, accompanied by Lord Richard Attenborough. Today, it is supported by his son, theatre director Michael (shown centre). Diana said: "In this beautiful building, I have met students in wheelchairs who were dancing, [visually impaired] artists creating superb sculptures and a painter who has been blind since birth."
University Challenge
Starter for ten, the first Indian woman to compete on University Challenge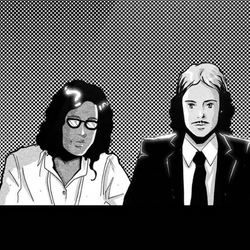 Leicester beat Balliol College, Oxford, to win the first series of University Challenge in 1963. Then, in 1974, Sandya Narayanswami became the first Indian woman to compete on the show – her team beat St John's College, Oxford. "We made the quarter- or semi-final, so did well. I received a lot of fan mail, including three proposals," she writes. "Bamber Gascoigne said I had 'exceptionally broad general knowledge for a science major'. I replied: 'That's because I spent all my time in libraries'. What I didn't tell him was that the racism in my school was so bad I spent all my time in the library. I read extensively and retained what I read. At Leicester, I was treated like an intelligent human being and graduated with a first-class degree at the top of my year."
Albert Kinder (and his dogs)
Operating an adapted switchboard for 25 years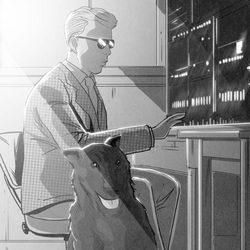 After wartime service and facing blindness from disease, Albert Kinder trained as a switchboard operator. "I found it very difficult to get a job. I had to advertise for this job, and they all said it would be too big for me," Kinder told the Leicester Mercury when he retired in 1975. The University gave him the opportunity to prove them wrong, by employing him from the late 1950s to run our switchboard. It was the largest one in the country worked by a blind man. He applied homemade markers to the plugs and sockets so he could identify them. With guide dogs Sheba and Eliza at his side, he routed millions of calls to and from every department in the University.
Professor Sir Geoff Palmer
A great of global grain and racial equality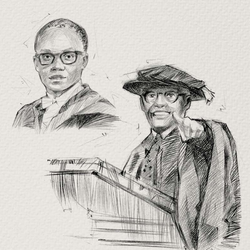 Sir Godfrey (Geoff) Palmer OBE studied Botany at Leicester and graduated in 1964. Shortly after, he discovered the barley abrasion process that has revolutionised the world of brewing. Instrumental in the development of sorghum as brewing material and food in Africa, he also helped to secure Britain's first exports of barley to China. Geoff became Scotland's first Black University Professor in 1989 and is a prominent campaigner for racial equality. He was knighted in the 2014 New Year Honours for services to human rights, science and charity. After a distinguished academic career there, he is now Chancellor of Heriot-Watt University. He was awarded an Honorary Doctorate from Leicester in 2016 and returned to speak at our 'Silences in the Archives' event in 2021 about statues and slavery.
Our LGBT+ Lanyard
Lanyard shows Pride in our diversity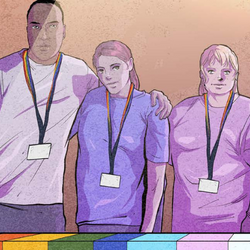 Since 2019 staff on campus have been proud to wear Pride Lanyards around their necks to celebrate diversity and inclusion and to signal to staff, students and the public that all are welcome here. As LGBT+ Action Group Chair Manish Masuria says, "The Pride Lanyard serves as a reminder that the diversity of both staff and students within the University community is something to be recognised and celebrated. Despite featuring a rainbow, the Pride Lanyard is a visible display of allyship of all EDI characteristics, rendering wearers as advocates of equality and the readiness of learning about oneself and the realities and lived experiences of others. Wearing my Pride Lanyard makes me feel proud of who I am and what I represent to others at work, and my willingness to help others and advance the EDI agenda across the community."
The AccessAbility Centre
Goes the extra mile to support disabled students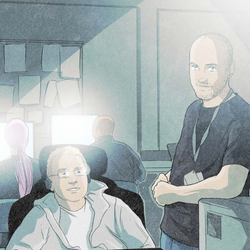 The AccessAbility Centre offers support and help with study skills to nearly 2,000 students with disabilities every year. When it was founded in 1993 as the Study Support Centre, it assisted fewer than 50 students with a third of today's staff numbers. Its development reflects changes in legislation and higher education that are helping thousands of disabled students reach their fullest potential in both education and employment. Shown above is alumnus Alex Squire (graduated 2015) with his PA, Charlie. "My favourite part of the University is the AccessAbility Team because they always go the extra mile to make sure we're all accommodated," says Casey Barrett-Gibson.

Our 100 artwork was commissioned from Amrit Birdi and AmCo Studio Ltd and is ©AmCo Studio Ltd unless stated.