Reframing difference and disability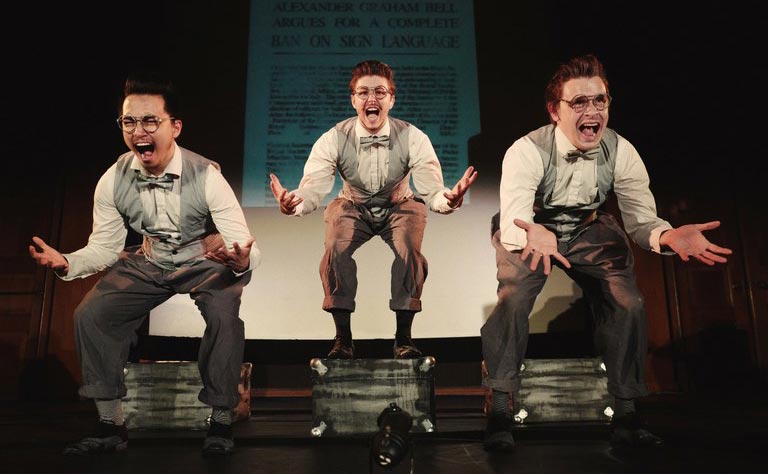 A suite of collaborative research projects spanning two decades have built on and extended insights and innovation around societal attitudes towards disability and difference. The lives of disabled people – sometimes referred to as the world's largest minority – remain underrepresented, sometimes entirely invisible, within most museums' exhibitions, displays and public programmes. Where they do appear, they are often portrayed in ways that reflect deeply held negative attitudes towards physical and mental difference; that sit uncomfortably with 21st century approaches to disability rights, equality and respect. With a range of museum partners, the research projects have stimulated public and professional debate around the implications of a society that values some lives more than others. This incremental and enduring approach to research has significantly advanced and shaped museum practice internationally.
The research has resulted in numerous new displays, exhibitions, performances and public programmes that have challenged deeply entrenched negative public attitudes towards disabled people and encouraged audiences to think differently. The contribution of our research was recognised through an Observer Ethical Award for Arts and Culture in 2014. Most recently, and on the basis of this research over the past 20 years, RCMG was invited by the Wellcome Collection to assist them in creating new, ethically-grounded narratives of disability and difference in their new permanent gallery exploring contemporary health and medicine.
(Code: R: = Research, E: = Event, P: = Publication)
P: Advancing disability equality through cultural institutions (.docx, 6.88MB), Spring 2020
R: Disorder, dissent and disruption, June 2018 - December 2019
R: Exceptional and Extraordinary, December 2014 - December 2016
P: Exceptional and Extraordinary: Unruly bodies and minds in the medical museum (RCMG 2017)
R: Cabinet of Curiosities, 2013 - 2014
R: Stories of a Different Kind, July 2012 - February 2014
P: Rethinking Disability Representation in Museums and Galleries: Supporting Papers (PDF, 817kb) (RCMG 2013)
R: Rethinking Disability Representation in Museums and Galleries, May 2006-December 2008
P: Rethinking Disability Representation in Museums and Galleries (PDF format, 3329kb) (Word format, 623kb) (2008)
R: "In the past we would just be invisible": Research into the attitudes of disabled people to museums and heritage for Colchester Museums, January 2005 - August 2006
P: "In the past we would just be invisible": Research into the attitudes of disabled people to museums and heritage for Colchester Museums (PDF, 1119kb) (2006)
R: Buried in the Footnotes: The representation of disabled people in museum and gallery collections, June 2003-June 2004
P: Buried in the Footnotes: The representation of disabled people in museum and gallery collections (PDF, 415kb) (2004)