News
New Event - The Activist Museum Award 2023
Wednesday 15 November 2023, 3.00pm–4.30pm, Online
The Research Centre for Museums and Galleries (RCMG) in the School of Museum Studies at the University of Leicester is delighted to invite you to the annual Activist Museum Award event.
The event brings together projects which, although addressing hugely different injustices and crises, share a concern for democratic practice, opening up space for multiple voices and creating more equitable museums. Will Tregaskes and the Itinerant Museum of Memory and Identity of Montes de María are recipients of the Activist Museum Award 2023 and will partner up to share reflections on activist museum practice.
The Activist Museum Award was launched to celebrate the 20th anniversary of the Research Centre for Museums and Galleries (RCMG) in the School of Museum Studies at the University of Leicester. The projects reflect the ideas presented by Robert Janes and Richard Sandell in their recent book, Museum Activism (2019). Museum activism refers to, 'museum practice, shaped out of ethically-informed values, that is intended to bring about political, social and environmental change.' Together, the projects encourage, inspire and support similarly activist museum work throughout the museum community.
This award was made possible by a gift from Robert R. Janes.
Presentations
The event, chaired by RCMG Co-Director, Professor Suzanne MacLeod, will include three presentations by Robert Janes and the two awardee project teams:
Will Tregaskes
Museums in Wales are increasingly working to reflect the experiences of people in their communities, recognising their position and responsibility as agents for social change. Government legislation such as the Well-being of Future Generations Act and the Anti-Racist Wales Action Plan provide both support and a foundation for work that addresses the legacy of colonialism and the preservation of the Welsh language. The Activist Museum Award will enable Will Tregaskes to contribute to this ongoing work by enabling conversations which don't centre on museums but on the people who form our communities, people who have a right to ask difficult questions about museums today and what they need to do to become more relevant to our communities and society as a whole. The work supported by the Award will contribute to a wider discourse on the future role of museums in Wales. It will demonstrate the continued need to have an active and equal dialogue, recognising that our vision of what museums can do is ever changing and reflecting the needs of the communities museums are part of.
Itinerant Museum of Memory and Identity of Montes de María
The Itinerant Museum of Memory and Identity of Montes de María is a travelling museum which visits all 15 municipalities of the Montes de María region in Colombia. Led by the Corporacion Colectiva de Comunicaciones Montes de María 21, the museum is known by the name "El Mochuelo," a reference to our traditional bird whose tweet is one of the most beautiful and traditional sounds of our area. The late composer Adolfo Pacheco Anillo paid tribute to the bird with a song that has become our museum's anthem. At the core of our mission to preserve the collective memory of our territory are the "Mochuelos Cantores", a devoted group of memory narrators that travel with the museum listening to and telling those stories that the people want and need to share. We are delighted that this award will provide them with the resources they need to carry out their work, ensure that our memories remain alive for generations to come and that we can continue to have a significant and impact in our territory.
Guidance on trans inclusive practice
The Research Centre for Museums and Galleries is developing guidance on trans inclusive practice in museums, galleries and heritage organisations. To ensure that the guidance is as useful as possible, we are inviting anyone working with or in cultural organisations (staff, volunteers, freelancers) to let us know where they need support and what specific issues they would like us to include.

People linked to cultural organisations can take part in the process by completing this short survey. Contributions will be confidential and the deadline is 19 June 2023.

More information on the Guidance:
RCMG is developing the guidance to help cultural organisations take forward this work as part of their wider commitments to advance equity and inclusion. The work emerges in the context of growing uncertainty and anxiety surrounding trans inclusive practice across heritage, arts and cultural organisations.

Richard Sandell, co-director of RCMG, said: "Although more and more museums, galleries and heritage organisations are keen to develop their trans-inclusive practice – to work with communities to improve representation, to welcome trans visitors and support trans colleagues – recent months have seen increasing uncertainty and sometimes anxiety about how to take this forward. The guidance we are developing will support organisations to be ambitious and confident in their work to advance trans-inclusion and equality."

The guidance, developed with legal scholars from the University of Edinburgh, will be issued this summer and will be free to download. It will include an ethical framework to guide work that seeks to advance equality for trans staff and visitors and fosters approaches that harness the capacity for cultural organisations to build public understanding and support for trans inclusion.

Suzanne MacLeod, co-director at RCMG, said: "We are asking people working in cultural organisations of all kinds to feed into this important initiative by sharing the challenges they are experiencing and the areas they would like the guidance to cover. We are excited to bring together a team with the mix of expertise needed to work at pace to respond to the needs of the sector with clear advice and support to foster trans inclusive working."
Anyone wanting to be notified by email as soon as the guidance is available can sign up to the RCMG newsletter.
Now recruiting - New Museum School Advanced Programme 3rd Cohort
Can you help us identify eligible applicants for this exciting opportunity to join the New Museum School Advanced Programme? The University of Leicester's School of Museum Studies in collaboration with Culture& is offering fully funded studentships in PGDip and MA pathways in Socially Engaged Practice and Museum Studies.
The New Museum School Advanced Programme aims to open up who makes and enjoys arts and heritage. The Programme will be looking for the most promising diverse talent with leadership potential within the Arts and Heritage workforce.

The course allows professionals to continue full-time employment while attending distance learning. The course has a flexible and modular structure leading to post-graduate qualifications from PGDip to MA level. There will be an accessible recruitment process for applicants with a wide-range of experiences and budget to diversify the Arts and Heritage workforce.
Students can study via distance learning/part time whilst working and be part of a supported movement for change in the sector. Please contact Suzanne (sm100@le.ac.uk) and Richard (rps6@le.ac.uk) if you have any queries about the programme and the light touch application process.

Applications for nomination to be submitted to Culture& by 27 June 2023. To find out more and how to apply visit Culture&'s website.

Spread the news and share this exciting opportunity with your network!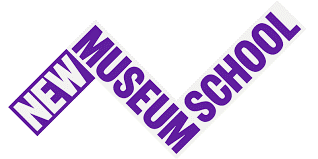 Film Screening and Discussion - Permissible Beauty, Tate Britain
This event will see art historian, David McAlmont, acclaimed portrait photographer, Robert Taylor, and filmmaker, Mark Thomas, in conversation around their collaborative project Permissible Beauty.

This is the first UK public screening of Permissible Beauty, a film that examines how beauty has been defined, hailed and perceived in the past and how this is reflected in – and shaped by – our nation's heritage. Responding to the absence of Black Queer visibility in our national story, the film explores why some forms of beauty are more permissible, more highly valued than others and – through new portraits of six Black Queer Britons – offers up a new chapter of British beauty for the 21st century.

This event on 10 June 2023, 12-1.45pm at Tate Britain, will be introduced by researcher and project producer, Richard Sandell and include a screening of Permissible Beauty.

This event is part of Queer and Now, a festival dedicated to the powerful role of LGBTQIA+ art and culture in the UK. To find out more visit Tate's website.
Networking Event: Queer and Now, Tate Britain
On Saturday 10 June, 11am–12.30pm, Tate Britain will be hosting a free morning tea and queer museums and heritage networking event, as part of this year's Queer and Now Festival. This event is open to Tate Britain LGBTQIA+ Staff Network, Queer Heritage & Collections Network, Queer British Art Network, Queer Britain, Queer Circle, and LGBTQIA+ staff networks at Tate, Wellcome Collection, Bishopsgate Institute and the London Metropolitan Archives (who are all contributing to the festival programme).
If you would like to sign up, please use this form link, select 'Other' and put RCMG when filling it out. The event will take place in the Grand Saloon, Tate Britain, and has a limited capacity of 100 (so please don't share the link on social media).
Design Archive at University of Leicester Archives and Special Collections
University of Leicester Archives and Special Collections are delighted to be working with Professor Suzanne Macleod and Peter Lester to acquire, appraise, catalogue and preserve archives of several design companies who have been instrumental in changing the experience of visitors to museums over the last 40 or so years:
'The collections we have received so far comprise physical and digital material – including models of prospective exhibitions or buildings, pitch and tender documents, correspondence, photographs, publicity material and newscuttings. Peter has catalogued the physical outputs of one company, Land Design, creating over 350 entries describing the documents created in the course of making pitches or successfully carrying out a project. The most well know of Land's work is probably the Playzone at the Millennium Dome, but they have also worked across the UK, in Europe and the Middle East, as have the other companies, giving this collection a real international flavour. We have also received the physical archive of Metaphor, including models which have been a challenge to box and store but are now safely housed – though some of the 'little people' have taken to lying down in the model galleries!
This is a project that we are just at the beginning of, and there is still a lot more work to do, including learning how to process large volume of digital material, which is a new step for the team. We are really grateful for the help we have received from Peter, Suzanne, and the company directors and staff so far, and hope that we will be able to report great progress in cataloguing the digital collections, and giving access to researchers.'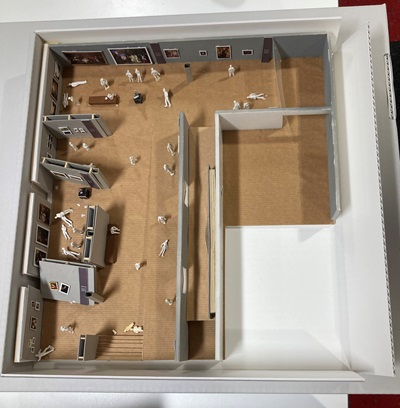 Newsletter archive
Sign up to the RCMG Newsletter.