Roman mosaics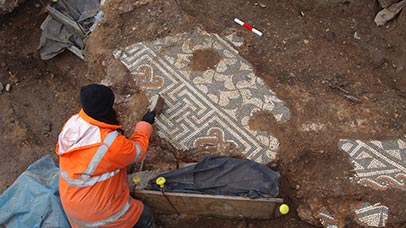 In May 2017 archaeologists from University of Leicester Archaeological Services (ULAS) opened up their latest dig to the public – who flocked in their thousands to see the largest, most complete Roman mosaics uncovered in the city for more than 150 years.
The dig, which began the previous September and was the largest archaeological excavation in the city for more than a decade, took place on a former factory site between Great Central Street and Highcross Street. Two Roman streets were found, along with two high-status Roman houses, some containing extensive parts of well-preserved mosaics. There was also evidence of Anglo-Saxon dwellings built in the same location after the departure of the Romans.
The University of Leicester has a long history of not just fascinating archaeological excavations but also of making these digs open to the public. For several years an Iron Age hill fort at Burrough Hill near Melton Mowbray was the site of an annual field school for Archaeology students, culminating each year in a public event on the site. This has now been superseded by similar work (and a similar open day) in Bradgate Park, home of England's tragic 'Nine Day Queen' Lady Jane Grey.
Management of public access to the Roman mosaics was informed by experience of the huge crowds who flocked to see the grave site of King Richard III, uncovered by ULAS underneath a city centre car park in 2012. What was gratifying about the 2017 open days was that they showed this level of engagement was not specific to King Richard but indicative of massive local interest in viewing Leicester's history in situ.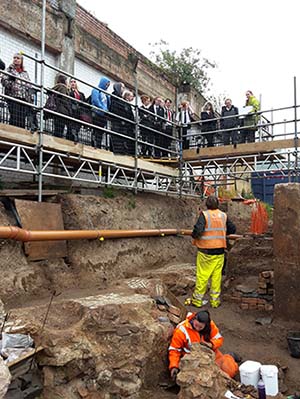 Initial plans were for the dig to be open over 6/7 May, with artefacts on show and archaeologists on hand to provide guided tours, discussing and explaining the work and the finds. Long queues built up and it was evident that further open days were required, with additional mid-week access and a final weekend of free, pre-booked guided tours on 20/21 May – which sold out almost immediately that they were announced. Over the course of the two weeks, more than 5,000 people visited the dig.
Items uncovered included coins, pottery, brooches, hair pins, beads and gaming pieces plus a decorated knife handle cast in copper alloy. These, along with the carefully recreated mosaics, will form part of a major re-fit of Jewry Wall Museum planned for 2019.