Pro Bono
The Pro Bono Society at the University of Leicester offers students the opportunity to apply their legal knowledge in a rewarding and charitable environment to a range of projects. The students gain valuable experience while also helping the community.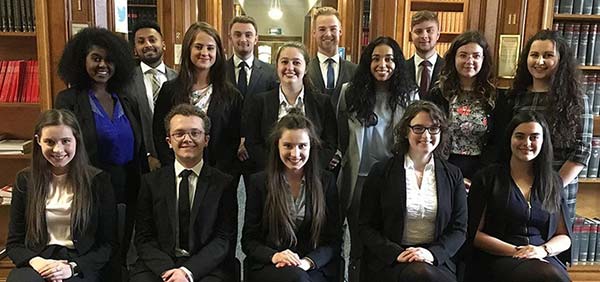 Miscarriages of Justice
This project helps prisoners who have maintained their innocence throughout their trial period and continue to do so now. Lawn students search for discrepancies within prisoners' files that could lead to their conviction being quashed and the prisoner being exonerated.
Street Law
Street Law provides highly-participatory, law-focused education to the residents of Leicester, empowering people with legal and civic knowledge, The team has visited schools, women's empowerment groups, Leicester Rotary Club and other organisations across the city.
Insight
The Insight project inspires and leads young minds to discover their passion for law. The team visit schools in underprivileged areas where they can introduce children to topics pertaining to law and crime through fun and interactive lesson plans.
Litigants in Person
This project helps people who are currently not eligible for legal aid and do not have the financial means to fund their own cases. Student volunteers work in the Leicester County Court assisting litigants with their cases by accompanying them into proceedings to take notes, fill out forms, and prepare legal bundles. Project members have assisted in cases of child arrangements, non-molestation orders and domestic violence.
Project LIGHT
A collaboration between Leicester Law School and Leicester Medical School, Project LIGHT provide healthcare and legal support to homeless people in Leicester, through volunteering opportunities with the City Council and local charities such as The Bridge, Action Homeless and the Y Support Project.
Immigration and Asylum Project
This project supports asylum seekers who lack the funds to make an asylum claim. The project members work with the Red Cross, volunteering with their Refugee Services team and New Evidence Search Team. Students help their allocated clients to find fresh evidence to submit with their new claim, enabling them to hopefully make a successful claim to seek asylum in the UK.
Other projects supported by the Pro Bono Society include the Legal Advice Clinic, Amicus and Lawyers without Borders.