Giving refugees a voice in Leicester
The main role of our English Language Teaching Unit (ELTU) is providing booster courses for students from overseas, bring their written and spoken English language skills up to the level required for our various degrees. Since November 2015 however, the ELTU has had a second role, a role in community engagement and corporate social responsibility.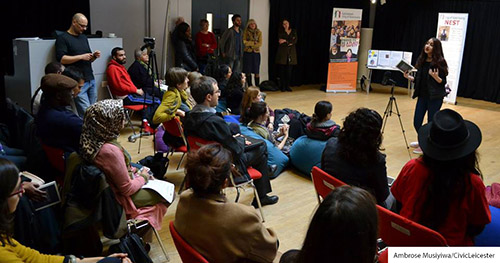 In partnership with Leicester City of Sanctuary, the ELTU offers free English classes to asylum seekers and refugees, run by volunteers and open to people with all levels of English fluency.
"Language is one of the many challenges facing those who leave their country. Here at the ELTU we have the will and expertise to help those for whom English is not their first language. Leicester has for a long time been a city that welcomes refugees, and with the current situation in Europe, is likely to welcome increased numbers in the coming months and years. I believe that helping those in the local community who need support is something that universities ought to do, and I'm delighted that in a small way we can offer our expertise and facilities." - Philip Horspool, Director, ELTU
Leicester City of Sanctuary is a local charity, part of a national movement committed to developing a 'culture of welcome and inclusion' for people seeking sanctuary in the UK. As well as offering teaching expertise and classroom facilities, we provide training for volunteers with less teaching experience.
Alongside this local initiative, we are now working directly with refugee camps in Europe. Aleks Palanac, a tutor from the ELTU, travelled to northern Greece in May 2017 to offer teacher training to volunteers there.
"I'm excited to be part of this initiative, which aims to extend our ongoing work with refugees. We hope that our work there will result not only in more refugees gaining access to good-quality language provision, but that this will, in turn, open new doors in terms of access to other training opportunities." Aleks Palanac, ELTU Tutor
Beyond the short-term benefits, offering support and resources to those teaching in refugee camps, Aleks' visit and others point the way towards further University of Leicester support for refugees, asylum seekers and displaced communities, which forms an integral part of our social responsibility commitment – in Leicester and across the globe.
Find out about the University's plans to become a University of Sanctuary.