Everybody Counts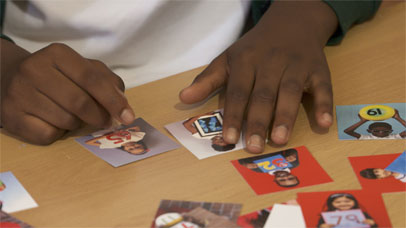 The Everybody Counts project aims to provide children aged 4-12 in the local community with imaginative educational materials to help improve their numeracy skills.
Based on a successful mathematics education project initiated in South Africa, we collected 100 portraits of people, each holding (or wearing!) a number from 1 to 100.
The majority of the hundred photographs have been taken in six schools in Leicester, giving as wide a representation of our city's population as possible.
The poster can be used in many ways; the 'hundred square' of ten rows of ten numbers is feature of every primary classroom. In addition, each portrait is included in a set of 100 matching playing cards, that show (on the reverse) the person's name and age, the language(s) they speak, and their favourite food.
The 'Everybody Counts' poster was launched at a special event held at the University's Fraser Noble Hall on Tuesday 4 July 2017. In attendance were the President and Vice-Chancellor, Professor Paul Boyle, Leicester City Mayor Sir Peter Soulsby and Professor Rose Griffiths from our School of Education who conceived and oversaw the project.
These materials and the accompanying activities provide a focus for raising the profile of mathematics education in Leicester and Leicestershire - and further afield. We are giving two posters and ten packs of cards to each of more than 400 schools in Leicester, Leicestershire and Rutland.