Dynamic DNA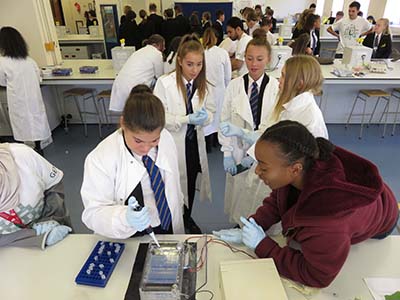 From the invention of DNA fingerprinting to the identification of King Richard III, genetics has always been a strength here at the University of Leicester. Enthusing the next generation of geneticists is the responsibility of GENIE (Genetics Education Networking for Innovation and Excellence), our Centre for Excellence in Teaching and Learning which every year runs a Dynamic DNA event for year nine pupils from local schools.
On each of two days in September, 300 young scientists are led through a series of fun and fascinating activities that open up the world of genetics and hopefully plant a few seeds of interest that will bloom in future years.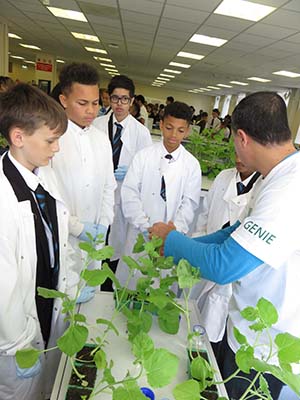 The day starts with a short, entertaining lecture from one of our academics which sets the scene and outline the basics of how genes work. After that, there are up to 25 activities available, exploring every aspect of the subject, including:
DNA Detective: using DNA fingerprinting to solve a riddle and find a murderer
One in a Million: looking for simple genetic traits like tongue-rolling that, taken cumulatively, add up to an individual
Jurassic Genes: finding out whether we could actually get DNA from a fossil
Ready, Set Race: studying disease by racing fruit flies
Go Bananas: extracting DNA from fruit (lab coat required – likely to get messy!)
Over the course of the day, the junior geneticists learn about cloning and chromosomes, the importance of mutations, the double helix structure of DNA and of course how to identify dead monarchs.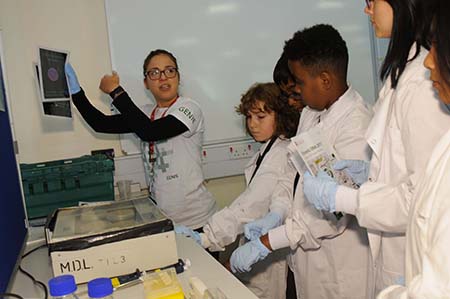 Co-ordinating and running Dynamic DNA is a big task which involves 80 of our staff and students. Not just our academics and lab technicians but also undergraduates and postgraduates who benefit from the day by gaining valuable science communication experience. Some of these University of Leicester students may go on to be science teachers – and some of the pupils who attended the event may go on to be University of Leicester students.
Dynamic DNA, which has been running since 2006, is just one of numerous schools outreach activities which we organise every year, spreading our mission to foster enquiring minds beyond our campus to the young people of Leicester and Leicestershire.