Leicester University Community First Responders
Leicester University Community First Responders (LUCFR) are trained student volunteers who travel around the city – in partnership with the East Midlands Ambulance Service (EMAS) – to provide potentially life-saving medical treatment to 999 emergency patients.

From the moment someone calls 999, every minute counts. Research by the NHS has shown that, in the event of cardiac arrest, for every minute that passes without defibrillation a person's chances of survival can decrease by up to 10%. With this in mind, medical students from the University of Leicester have set up an early intervention scheme modelled after national CFR initiatives which run throughout the UK.
A community first responder (CFR) is a volunteer who gives up their spare time to respond to 999 calls for the ambulance service, in addition to a traditional ambulance being dispatched. The scheme was started to reduce the time taken for life-saving treatment to be initiated for local people suffering from medical emergencies such as cardiac arrests, convulsions and unconsciousness. As community first responders are ordinary people within the local community, they are often much closer to incidents when the initial 999 calls are made, therefore reducing the time taken for life-saving treatment to begin.
The LUCFR scheme, based at the George Davies Centre, is run entirely by a small and dedicated collective of students with about 30 first responders on file, split between two cohorts. Setting this scheme apart from traditional CFR schemes is the bespoke training programme for the volunteers which has been designed in collaboration with EMAS.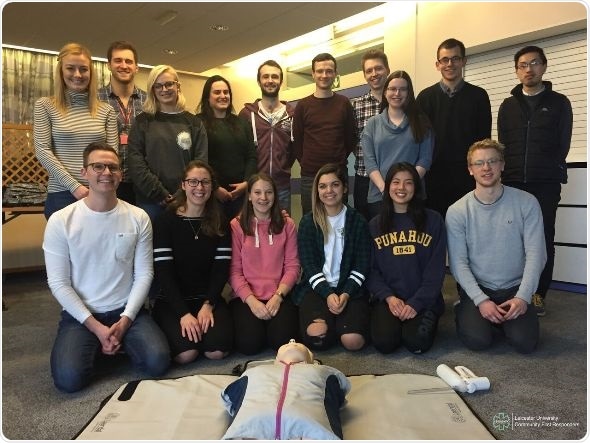 "When I came to University I applied to become a community first responder through the East Midlands Ambulance Service. I applied for the Leicestershire South area but unfortunately there wasn't a scheme for me to join, as my address wasn't covered by a scheme. I thought 'right- how can I work around this?' I spoke to Stuart Evans about it, who I knew was a Critical Care Paramedic and a CFR before that. We decided to see if we could set up a scheme for the University that would also cover the city centre. After meetings with the EMAS in June 2017 we received the all-clear to go ahead and ran with it."
Kieran Duignan, Operations Lead and Group Secretary
"Our primary aim is to improve outcomes for patients in the local community. If we can get early intervention to people then their outcomes, in theory, will be better. We're also intending in the longer term to go out to and provide local community engagement events with the ambulance service to give CPR and first aid training. We're really keen to improve public awareness of how to conduct CPR properly through training and education."
Stuart Evans, Scheme Co-ordinator and LUCFR President
Plans are underway for a third cohort of students- which the team hopes will encompass those from different health-care related subjects, and potentially institutions, to increase and promote multi-disciplinary working.