This University, as the city itself, is notable for its general humanity and support of the community in which it is placed. You have now become a University of Sanctuary, offering scholarships to people who come here for many reasons - to seek safety, sanctuary and learning – and you, the citizens of this city, will be supporting them and I hope will continue to support them.
A University of Sanctuary is an institution that 'Offers good practice in welcoming asylum seekers and refugees into the university community and fostering a culture of welcome and inclusion for all.' In practical terms that means welcoming asylum seekers and refugees onto university courses and providing incentives and routes for them to get involved.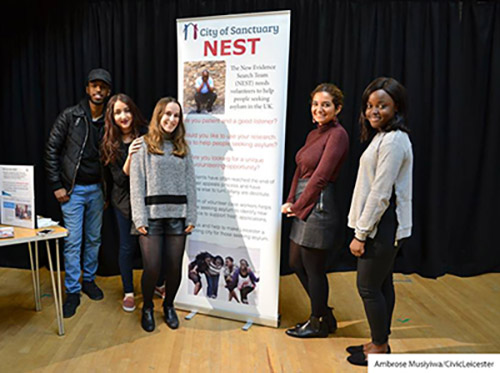 Our initiative to be recognised as a 'University of Sanctuary' was formally launched in October 2017 with an event at Attenborough Arts Centre. Refugees and campaigners shared poetry and music around relevant themes to an audience of more than 100 people.
"This event for me is a great day and we are celebrating University of Sanctuary with this wonderful event. Asylum seekers and refugees face many challenges, including learning English. I cannot believe I got this chance from the University of Leicester and I am so grateful to all the staff from the University and City of Sanctuary to make this happen." - Malka Al-Haddad, refugee
The Leicester University of Sanctuary project will involve colleagues from across the University coming together to find ways that can practically involve students and staff in supporting refugees and asylum speakers as well as actively involving refugees and asylum seekers in University life.
Organisations represented at the launch event included the New Evidence Search Team (NEST), a voluntary group of researchers which tries to help asylum seekers put together a convincing account of what happened to them and search for credible evidence; Growing Points, a charity which helps people from excluded communities to reach positions of leadership within their communities and chosen field; and local charity Leicester City of Sanctuary
"Being a University of Sanctuary is more than a case of being welcoming – it is about embedding in every layer of the University a deep understanding of the need of refugees in order to ensure that lives and talents are not wasted and to harness the fantastic contribution that refugees and asylum seekers can make to our society." - Colleen Molloy, National Development Officer for City of Sanctuary
Find out how our English Language Teaching Unit is helping refugees and asylum seekers with language skills.
We also offer a Sanctuary Scholarship to refugees and asylum seekers applying for our distance learning politics degrees.
Moreover, refugees AND asylum seekers are charged home fees for academic programmes at the University of Leicester. If you are an asylum seeker and have applied for a course with us (or are already studying with us), please contact the Admissions department (admissions@le.ac.uk for undergraduate, pgadmissions@le.ac.uk for postgraduate) including your name, student number and proof of status to make sure you are charged the correct fee amount.