Electronic and Electrical Engineering
Electronic and Electrical Engineering
BEng, 3-4 years
This is for you if... you want to study areas such as power generation and transmission, electrical machines and actuators, power electronics, programmable electronics, communications, software engineering and control systems.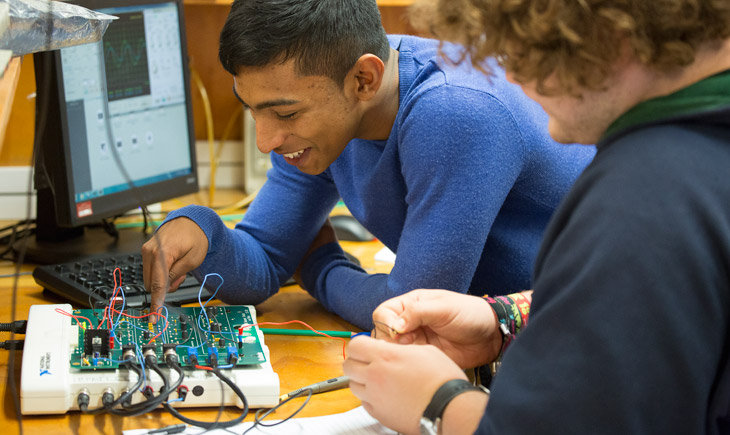 Course Description
As part of the University of Leicester's commitment to being a leading academic institution, we regularly review and update our degrees and modules to ensure that they reflect the most up-to-date research, knowledge, ideas and teaching practices, as well as taking into account student feedback. We also have to take into account the availability of key teaching staff where this will impact on the delivery of the course. As a result, if there are major changes to the course that you have applied for, we will contact you as soon as possible and will ensure that any disruption to your studies is minimised.
Engineers are innovators who bring about change through their ingenuity, experience and curiosity to improve the quality of life for people throughout the world. Their work is central to thriving economies and competitive industries. It is equally important in developing countries where engineers provide appropriate technologies during difficult times of change.
Professional engineers have a high degree of specialist knowledge but increasingly they use a broad approach to problem solving across a range of engineering disciplines. This is coupled with an awareness of environmental, social, legal, economic and regulatory aspects of the problem at hand.
Whether you study for the BEng or the MEng, your Electronic and Electrical Engineering degree will combine a multidisciplinary approach to design with specific skills in electronics and power engineering, communications, control and computer programming..
Electronic and Electrical Engineering is one of the fastest growing branches of engineering, incorporating a whole spectrum of activities and specialisations. The generation, transmission, distribution and utilisation of electrical energy is a huge field, including developments in renewable energy systems such as geothermal, wave, solar, tidal and wind power. Electronic and Electrical Engineering also covers software engineering, microprocessors and embedded microcontrollers, and control systems for manufacturing, aerospace, chemical processes and transportation.
Building on a broad foundation of engineering studies in Year 1, you will develop specific expertise and skills in electrical engineering, communications, semiconductors, electrical machines and microprocessor programming
Successful engineers must be able to analyse and solve complex problems in the industrial context, communicate ideas to others and work effectively in teams and exercise leadership skills. This is why all our Engineering degrees include a selection of management content or specialised modules throughout. Topics covered include business finance, project planning and management, intellectual property, health and safety, motivation theory, marketing, total quality management, ethics and professionalism.
What's the difference?
We offer four different Engineering subjects, each of which is available in six forms:
BEng (3 years); BEng with Industry (4 years), BEng with Year Abroad (4 years)
MEng (4 years); MEng with Industry (5 years), MEng with Year Abroad (5 years)
Each MEng is the three years of the relevant BEng with an extra year of study on the end. An MEng places greater emphasis on industrially related project work, advanced technical content and leadership, and is the academic foundation for Chartered Engineer (CEng) status.
Why Leicester?
The Engineering Society organises trips, social events and sporting activities. Our student motor-racing society, Leicester Racing, competes in Formula Student events.
Our degrees feature guest lectures by leading engineers from local/national companies, such as Rolls-Royce.
The University of Leicester hosts ASDEC, the UK's first laser vibration scanning measurement and modal-analysis centre, serving the automotive, aerospace and space sectors.
Course Structure
Year 1
Year 1
All Engineers require an excellent knowledge of basic engineering principles, which is why 75% of our first year is common for all our subjects. As an Electronic and Electrical Engineering student you will begin to specialise in computer and software engineering topics right from your first year. You will study other core subjects alongside students taking other engineering degrees.
NB. Because this subject includes specialisation in the first year, it is not possible to switch to the Aerospace, General or Mechanical Engineering degrees.
Modules
Electrical and Electronic Engineering
Engineering Design and Experimentation
Engineering Mathematics
Computer Engineering
This is the same as the first year of the MEng.
Modules shown represent choices available to current students. The range of modules available and the content of any individual module may change in future years.
Year 2
Year 2
In your second year you will specialise further in the field of electronic and electrical engineering while continuing to develop fundamental engineering principles. You will also take an integrated design project in which you will work in a team with students from other engineering disciplines – vital experience for the modern world of engineering.
Modules
Analogue and Digital Electronics
Communications
Electrical Engineering
Embedded Systems
System Dynamics and Control
Integrated Engineering Design
Engineering Experimentation and Analysis
This is the same as the second year of the MEng.
If you achieve at least 55% in your second year (equivalent to a 2:1) you can, if you wish, transfer to the MEng.
Modules shown represent choices available to current students. The range of modules available and the content of any individual module may change in future years.
Year Abroad or in Industry (optional)
Year Abroad or in Industry (optional)
If you want to, you can spend your third year studying abroad at one of our partner institutions or working in an industrial placement (eligibility is dependent on your academic performance in Years 1 and 2). Alternatively, you can opt to continue studying at the University and complete your degree in three years.
NB. A year spent abroad or on an industrial placement still incurs a tuition fee, but this is much lower than for a normal year at Leicester. See our Fees and Funding section for details.
Spend a year abroad
The Department of Engineering at Leicester has links with the University of Stuttgart, Germany, administered through the European Erasmus scheme. If you are eligible for a loan from Student Finance you can apply for a travel grant from them. During your second year at Leicester you will receive appropriate language training.
We also have links with some universities outside Europe. If you are receiving financial assistance from Student Finance your support will continue and you may also be eligible to apply for additional travel grants or scholarships.
For the latest information on the future of the Erasmus scheme at UK universities please see our Brexit microsite.
We have links with the following universities:
While studying in the USA or Australia, you will have a personal tutor there and also a tutor back at Leicester to look after you and answer queries. You will be expected to maintain a good academic performance whilst at the partner institution and will take their exams.
Studying abroad is not just for people who are interested in travelling and meeting new people. It is about acquiring life skills that are becoming increasingly significant for a wide range of jobs in our modern globalised society. Whether you go on to work in the private sector, the state sector, a non-governmental organisation or are self-employed you will find the experience invaluable. Find out more from our International Office.
Spend a year working
If you choose a 'With Industry' degree you will spend a year on an industrial placement with a sponsoring company between your second and third years at Leicester. You will undertake a programme of training and practical experience that is agreed between the sponsoring company and the University. Recent placements have included: Rolls Royce, Force India F1 Team, Ford Motors, Intel UK, Network Rail, Porsche Engineering Services, Aero Engine Controls, Babcock International, Auto Electrical Services and Jaguar Land Rover.
A member of staff will be individually assigned to you as your industrial placement tutor, who will visit you at the sponsoring company and deal with any academic concerns. Later during your placement year you will return to Leicester to present details of your placement to other students studying for 'With industry' degrees.
A year in industry is a great opportunity which can give you first-hand experience of working in an engineering-related career while also enhancing your employability skills and allowing you to network with people in industry.
Modules shown represent choices available to current students. The range of modules available and the content of any individual module may change in future years.
Final Year
Final Year
In your third year (or fourth year if you take a year out) you have the opportunity to specialise in different aspects of electronic and electrical engineering by choosing modules within the themes of control engineering, power electrics, communications and microcontrollers/embedded systems. Your individual project is a significant part of this year, giving you the opportunity to investigate an area of electrical and electronic engineering that interests you.
Modules
Plus three option modules from:
State Variable Control
Power Electronics
Introduction to Radio Systems
Digital Design
Plus two option modules from:
Digital Control and Actuators
Power Systems
Signal Processing for Radio Communications
Parallel Processing and Concurrency
Plus your Third Year Project
This is the same as the third year of the MEng.
Examples of recent Third Year Projects include:
Load balancer for hydro-turbine generator
Analysis of sleep state from EEG
Electronic signature recognition
Analysis of valve spring surge in a racing engine
Micro controller for electrical drives
Microwave Doppler system
Modules shown represent choices available to current students. The range of modules available and the content of any individual module may change in future years.
Teaching and Assessment
You will be assigned a personal tutor who will be on hand throughout your course to offer advice and support on personal matters, provide guidance on course choices and help you appraise your own work.
For the practical aspects of the course you will work, with a partner or as part of a small team, in our well-equipped engineering labs. On your third year project you will work individually with an academic member of staff.
Continuous assessment of your experimentation, computing, design and project work will contribute about 30-50% of your overall mark, with the rest based on your performance in exams for each module. You will also be expected to give presentations about your work.
Entry Requirements
A/AS-levels: ABB including Maths and a Physical Science. Two AS-levels considered in place of one A-level. General Studies accepted.
EPQ with A-levels: BBB + EPQ at grade B. A-level subjects to include Maths and a Physical Science at grade B. Two AS-levels considered in place of one A-level. General Studies accepted.
GCSEs: English grade C.
BTEC Nationals: DDD in Engineering.
International Baccalaureate: Pass Diploma with 30 points including Maths and Physics at HL5.
Access to HE Diploma: Pass Engineering diploma with 45 credits at level 3 including some at distinction.
Please note: If you do not have Grade B at Maths A-level, you will need to take an additional Maths assessment test.
Other national and international qualifications considered.
If you do not meet the entry requirements for this course, you can apply for the International Foundation Year run by our dedicated International Study Centre. The ISC
provides academic and English language support to help you progress to your chosen undergraduate degree at the University of Leicester.
Second year entry may be possible with suitable qualifications.
Selection Process
When considering your application, we will look for evidence that you will be able to fulfil the objectives of the course and achieve the standards required. We will take into account a range of factors including previous exam results.
Interview and maths assessment test may be required. If you receive an offer you will be invited to visit the department.
English Language Requirements
IELTS 6.0 or equivalent. If your first language is not English, you may need to provide evidence of your English language ability. If you do not yet meet our requirements, our English Language Teaching Unit (ELTU) offers a range of courses to help you to improve your English to the necessary standard.
International Qualifications
Find your country in this list to check equivalent qualifications, scholarships and additional requirements.
Countries list
Fees and Funding
Starting in 2017

£9,250 in your first year. After 2017/18, the tuition fee you pay may increase annually in line with inflation (RPIX) and is subject to government regulations. (RPIX is a measure of inflation in the UK, equivalent to all items in the Retail Price Index (RPI) excluding mortgage interest payments.)
Year Abroad: your fee will be £1,250 for that year.
Year in Industry: your fee will be 15% of the full-time tuition fee that applies in that year.

Starting in 2018

Find out more about scholarships and funding.

Starting in 2017

£18,855 per year
Year Abroad: your fee will be £4,713.75 which is 25% of the full-time tuition fee.
Year in Industry: your fee will be £2,828.25 which is 15% of the full-time tuition fee.

Starting in 2018

Find out more about scholarships and funding.

Career Opportunities
All our Engineering degrees are influenced by the needs of industry. Visiting engineers from industry deliver teaching in lectures, seminars and the laboratory. You will learn how to conceive, design and implement solutions, working in teams and presenting your ideas to professors from engineering industries. Our excellent links with industry means your project work may include visits from industrial partners and working with engineers in these companies.
Careers
Our Career Development Service is here to support you, with advice on interviews, CVs, work experience, volunteering and more. From Freshers' Week to Graduation and beyond, they are here to help you reach your professional goals.
| Course | Qualification | UCAS Code | Start Dates | Availability |
| --- | --- | --- | --- | --- |
| Electronic and Electrical Engineering | BEng | H604 | October 2016 | Apply Now |
| Electronic and Electrical Engineering with Year Abroad | BEng | H600 | October 2016 | Apply Now |
| Electronic and Electrical Engineering with Year in Industry | BEng | H609 | October 2016 | Apply Now |
Course
Electronic and Electrical Engineering
Qualification
BEng
UCAS Code
H604
Start Dates
October 2016
Availability
Course
Electronic and Electrical Engineering with Year Abroad
Qualification
BEng
UCAS Code
H600
Start Dates
October 2016
Availability
Course
Electronic and Electrical Engineering with Year in Industry
Qualification
BEng
UCAS Code
H609
Start Dates
October 2016
Availability