Current research and news
Information about all of RCMG's current research projects and events can be found below. Past RCMG research projects can be found in the Research Archive.
Research
Partnerships
AHRC Collaborative Doctoral Partnership (CDP) studentship - Addressing legacies of slavery and Empire in the art museum
The University of Leicester and Tate are pleased to announce the availability of a fully-funded Collaborative doctoral studentship from October 2021 under the AHRC's Collaborative Doctoral Partnership Scheme. In light of the ongoing under-representation of scholars and professionals from Black, Asian and non-white minority ethnic backgrounds within both UK museums and universities, this award is offered as a positive action studentship for a UK student. For more details on eligibility, please download the CDP studentship description (.docx, 104KB). To apply, please fill out the application form (.docx, 129KB).
This collaborative award aims to develop and test new approaches towards an ethical, inclusive and effective curation of Empire at Tate Britain. It will support a student to research the connections between Tate's collection and the history of the British Empire and British involvement in the transatlantic Slave Trade, and to critically examine how these connections have been surfaced and interpreted over the last two decades within Tate's curatorial practice and programming. The research will lead to new knowledge and approaches that can support Tate to enhance their work in this area.
This project will be jointly supervised by Dr. James Finch at Tate Britain, and Dr. Katy Bunning and Professor Richard Sandell at the Research Centre for Museums and Galleries, School of Museum Studies, University of Leicester.
The New Museum School Advanced Programme 2021-2023
The School of Museum Studies, University of Leicester is delighted to be working in partnership with Culture& on the New Museum School Advanced Programme, a new initiative to foster inclusive transformation in the museums, arts and heritage sector. The partnership brings together Culture&'s track record in nurturing diverse talent through sector collaborations with Leicester's experience of supporting creative and critical thinking amongst museums, arts and heritage practitioners and a long-standing commitment to positive action.
Find out more about the partnership in the new 2021-2023 programme: The New Museum School Advanced Programme 2021-2023 (PDF, 4.03MB). The new deadline for organisations interested in joining this initiative is Friday 29 January 2021.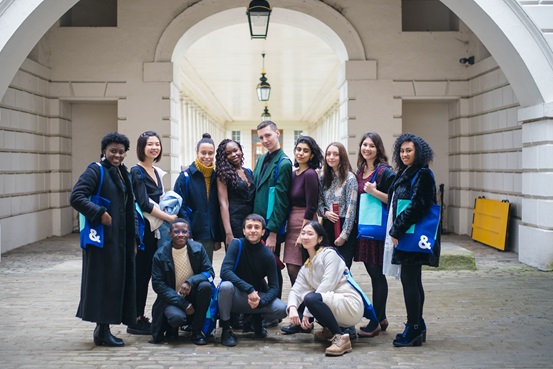 The National Trust
RCMG has worked closely with the National Trust on a suite of socially engaged projects since 2016.
The Queer Heritage and Collections Network
RCMG is delighted to be one of the founding members of the Queer Heritage and Collections Network alongside the National Trust, English Heritage, Historic England and Historic Royal Palaces. The Network, supported by a grant from The Art Fund will provide peer support for people in the UK working with LGBTQ+ collections and histories.
Find out more about the project and its outcomes by downloading Building a network for queer heritage (PDF, 383KB)
Download a copy of the programme for the QHCN Symposium 2021 (PDF, 27.2MB), including links to recorded sessions.
QHCN was awarded Best Partnership 2021 by the Museums + Heritage Awards, find out more by following the link.
FIHRM-AP
In September 2019, Taiwan's National Human Rights Museum launched The Federation of International Human Rights Museums AsiaPacific (FIHRM-AP), dedicating itself to becoming not only a bridge that brings together museums, cultural institutions, and organizations who are interested in human rights but also a platform through which these organisations can work together to support the advancement of rights in the Asia-Pacific region. The Project is led by University of Leicester Museum Studies alumna, assistant professor of Fu Jen Catholic University Museum Studies, Dr Lin, Wen-Ling and supported by the Research Centre for Museums and Galleries (RCMG) at the University of Leicester, UK as its international partner.
As a first step towards building a hub through which human rights advocates can collaborate, FIHRM-AP has started the 'Asia-Pacific Human Rights Cultural Institutions Resource Directory Research Project (PDF, 178KB), inviting museums and institutions with an ambition to advance human rights to collaborate and grow as a community.
News
The Activist Museum Event – November 2021
The Research Centre for Museums and Galleries (RCMG) in the School of Museum Studies at the University of Leicester is delighted to invite you to 'The Activist Museum' on 10 November 2021, 3:00pm (UK time).
The event brings together projects which, although addressing hugely different injustices and crises, share a concern for democratic practice, opening up space for multiple voices and creating more equitable museums. The Museum of Transology, Journey to Justice and 100 Histories of 100 Worlds in 1 Object partner up to share reflections on activist museum practice.
This event is open to students, museum professionals and researchers. Free tickets are available through Eventbrite.
The Activist Museum Award – September 2021
RCMG has now announced the third round of the Activist Museum Award. This award is for an individual or group working in/with museums to support the research and development of an activist project that reflects the ideas presented by Robert R. Janes and Richard Sandell in their recent book, Museum Activism (Routledge, 2019). The Activist Museum Award is the vision of Robert R. Janes in recognition of the pioneering work of Richard Sandell in the field of museums and social justice. It is intended to encourage, inspire and support similarly activist museum work throughout the UK museum community and the world.
Find out how to apply.
The Queer Heritage and Collections Network named Partnership of the Year at the Museum + Heritage Awards.
The Queer Heritage and Collections Network, led by five founding partners – the Research Centre for Museums and Galleries (RCMG), Historic Royal Palaces, Historic England, English Heritage and the National Trust – was named Partnership of the Year at the 2021 Museums + Heritage Awards.
The Network, project-managed by Rachael Lennon and Dan Vo and financially supported by the Art Fund and National Lottery Heritage Fund, provides peer support for people working with LGBTQ+ collections and histories and now has 75 member organisations across the UK.
Find out more about the award here. You can also visit this page to read about the Queer Heritage and Collections Network and its outcomes.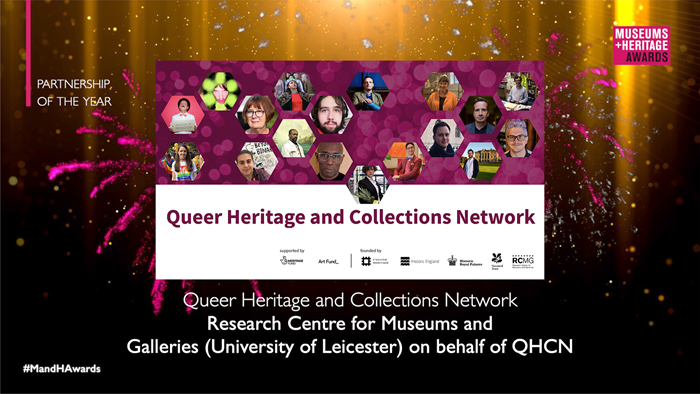 RCMG establishes ESRC collaborative studentship with Oxford Galleries, Libraries, Museums and Archives to explore culture-led wellbeing
The School of Museum Studies (SMS), University of Leicester, as part of Midlands Graduate School is now inviting applications for an ESRC Doctoral Studentship in association with our collaborative partner the University of Oxford Gardens, Libraries and Museums (GLAM), to commence in October 2021. The project will examine the emerging professional practice of culture-led wellbeing.
For full information about the application process and eligibility, please visit the Midlands Graduate School ESRC DTP website. Application deadline: Friday 5th March 2021, noon.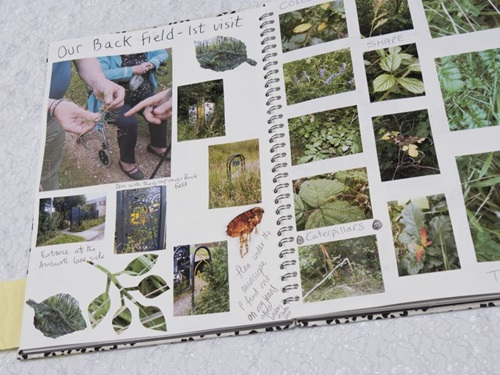 Designing for Creative Lives – September 2020
Suzanne MacLeod's newly released volume Museums and Design for Creative Lives (Routledge 2020) draws on and feeds into an array of RCMG projects. The book questions what we sacrifice when we allow economic imperatives to shape public museums, whilst also considering the implications of these new museum realities. It also asks: how might we instead design for creative lives?
Drawing together 28 case studies of museum design spanning 70 years, the book explores the spatial and social forms that comprise these successful examples, as well as the design methodologies through which they were produced. Re-activating a well-trodden history of progressive museum design and raising awareness of the involvement of the built forms in how we feel, think and act, MacLeod provides strategies and methods to actively counter the economisation of museums and a call to museum makers to work beyond the economic and advance this deeply human history of museum making.
Museums and Design for Creative Lives will be of great interest to academics and students in museum studies, gallery studies, heritage studies, arts management, communication and architecture and design departments, as well as those interested in understanding more about design as a resource in museums. The book provides a valuable resource for museum leaders and practitioners.