Why Leicester?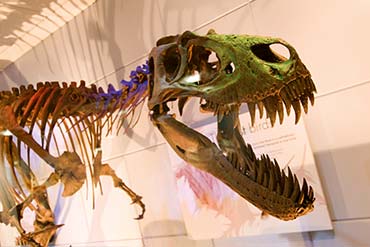 Choosing a degree (and a university to study at) is a difficult task, and is a major life decision. If you need further advice, please do not hesitate to contact our admissions team.
Benefits of studying Geology at Leicester
A thriving environment where you will be taught by internationally-recognised geoscientists at the cutting edge of their field
Excellent student-staff relations with high student satisfaction levels
Enthusiastic staff using innovative teaching methods to inspire you to achieve your full potential
Small group teaching and tutorials providing individually tailored academic and pastoral support
An excellent fieldwork programme giving you opportunities for visits to Tenerife, Spain, Scotland and Wales
Flexible courses that allow you to follow your own interests and career aspirations
A wide variety of specialist modules, such as Physical Volcanology or Diversity and Evolution of Vertebrates
Opportunities to study abroad - current options include New Zealand
The chance to spend a year working in industry
Unparalleled opportunities for vacation work experience resulting from our excellent links with employers
Excellent career prospects
Numerous scholarships and bursaries available to support your studies
Active student geological societies who organise talks, field trips and social activities
We are looking for students who
Have an enthusiasm for scientific study and an enquiring mind.
Are willing to embrace new ideas and challenge existing views.
Enjoy problem solving and developing new skills.
Are looking for a challenging degree course.
We encourage you to visit us on a pre-application Open Day. You are guaranteed a warm welcome and will be able to talk to staff, as well as to our current geoscience students. We look forward to meeting you.
Mature students
We have extensive experience of dealing with the particular needs that being an adult learner brings. We aim to make returning to study an enjoyable and rewarding experience. You are welcome to arrange a visit to see what we have to offer, to meet some of our present mature students, and discuss your qualifications in more detail.
Every mature applicant comes with a unique set of qualifications and skills and we deal with each case on an individual basis. We therefore encourage you to contact us as early as possible, preferably before making an official application, with a detailed listing of all your qualifications and experience so that we can advise you on the best route into Higher Education.
International Students
International students are an important part of our campus life. In Geology, we have graduated many international students who have gone on to successful professional careers. Our past students have come from all over the world including Botswana, Brazil, Brunei, Canada, China, Egypt, France, Gabon, Indonesia, Italy, Malaysia, Oman, Spain, Sweden, Tanzania, Trinidad, and the USA.