BSc or MGeol?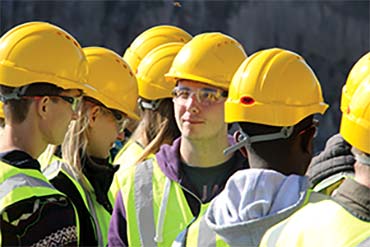 Alongside the flexibility to change between the different degree programmes, we also ensure that it is possible to transfer between the three-year (BSc) and the four-year (MGeol) degree, so that you can graduate with the qualification most appropriate for your future career.
About the BSc
Our BSc degrees offer an ideal three-year route if you are contemplating becoming a professional geologist or simply want to pursue your interest in geoscience. The variety of modules will provide you with all the knowledge and skills required for entry into a wide range of graduate jobs, or to pursue further studies through specialist MSc courses. Recent examples include students who have gone on to do an MSc in areas such as Geographical Information Science (GIS), Geological and Environmental Hazards or Petroleum Geoscience.
About the MGeol
Our four-year MGeol degrees include a major cutting-edge independent research project on a topic chosen by you. During these projects you will have the opportunity to work with specialist analytical facilities and the chance to learn the skills required to succeed in a research environment. There is also a possibility that your research could be published in an international peer-reviewed journal.
MGeol degrees also include an additional field course, a module designed to enhance your communication and debating skills, and the opportunity to specialise further in your favourite subjects. These programmes are ideal if you aspire to fast-track your professional geological employment or to continue on to PhD research after graduation.
Students on the MGeol degree programme also have the option of a year abroad in the third year.
Changing between courses
MGeol to BSc
You can change from the MGeol to the BSc at any time until spring of the third year.
BSc to MGeol
Subject to satisfactory performance in the second year you can transfer on to the MGeol right up until spring of your third year.
Changing subject
A unique characteristic of Geology at Leicester is the flexibility of our degree options. All our degrees include common modules in the first year, which means that you can switch between any of our BSc degrees - or between any of our MGeol degrees - at the end of your first year (subject to any specific A-level requirements).