Study abroad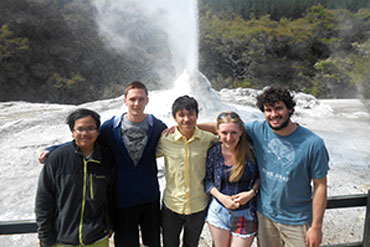 MGeol students have the option of spending the third year of their degree studying at our overseas partner university.
University of Canterbury, Christchurch, New Zealand
New Zealand is a beautiful and geologically-diverse country and the University of Canterbury provides excellent educational facilities for geology students.
Choosing to go to New Zealand was the best decision I've ever made. There were so many interesting modules and everyone was super friendly. The field trips were great, from climbing up volcanoes to mapping active faults - I even experienced a few earthquakes!
How to apply
To apply for the year abroad in New Zealand please apply for Geology MGeol. You can register your interest in the year abroad programme in the first year.
To be considered for the year abroad, you will need to have a 65% average by the middle of the second year. Places are limited, and selection is based on academic thresholds determined by the School of Geography, Geology and the Environment.