Study at the University of Canterbury in Christchurch, New Zealand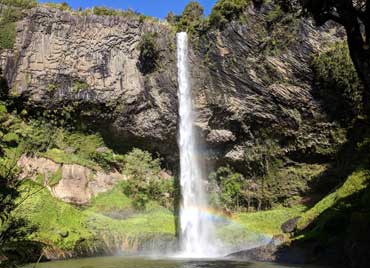 We are now accepting students for our New Zealand exchange degree which involves spending the third year of a four-year MGeol degree at the University of Canterbury in Christchurch, New Zealand. This option is for the following degree course:
New Zealand offers immense geological interest, set within world-renowned magnificent scenery, including the stunning Southern Alps, geothermal sites, mud pools and geysers, and the active volcanoes of the Taupo volcanic zone. The country also has active mining and geothermal industries.
The University of Canterbury has an excellent geology department, and is situated within Christchurch, a small, leafy, English-style coastal city in sight of vast snow-capped mountains. It provides a wide range of exciting modules to study that will complement the curriculum at Leicester. The academic programme is challenging, and offers a diverse range of modules, including Antarctic Studies, Geoarchaeology, Hazards and Disaster Management, and New Zealand tectonics.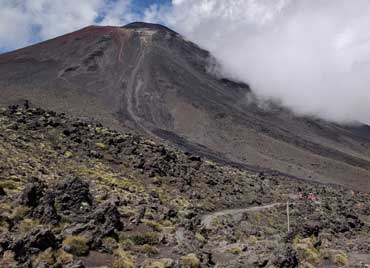 In particular, there will be opportunities to study New Zealand geology first-hand during field classes, to both North and South Islands. The university has superb sports facilities and numerous student clubs that get students into the great outdoors - whether boating, trekking, climbing or biking.
Students who take this programme will broaden their geological knowledge and experience, which will benefit them in their educational development and career prospects. Entry requirements are the same as for all of our MGeol courses. To be considered for the year abroad requires you to have a 65% average by the middle of your second year. Places are limited, and selection is based on academic thresholds as determined by the School.
The programme is coordinated in Leicester by Professor Mike Branney who has links with the University of Canterbury through his research in volcanology there. He can answer any queries you might have concerning entry, modules that can be taken, etc.
Sam's Year Abroad
MGeol Geology with a year abroad in New Zealand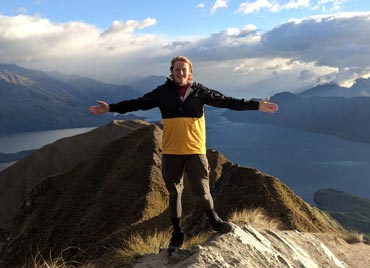 "Words can't actually even begin to describe the time I had in New Zealand. It's an amazing, beautiful country where you can leave a morning lecture and jump on a hopper bus east and spend the rest of your day surfing on Sumner beach or at Taylor's Mistake, or jump in a car and head west and you're in the fastest growing mountain range on the planet. South is a little French town inside an extinct volcano, and north is a Fur Seal colony. These are all in the immediate vicinity of Christchurch, and more amazing things and places are beyond them: the steampunk museum in Oamaru, Stewart Island, the Fiordland with the Kepler Track, Milford and Doubtful Sounds, Franz Josef and Fox glaciers, Queenstown and Wanaka, Lake Tekapo, Nelson and Abel Tasman – and that's just South Island. Where South Island is stunning, North Island creams culture and history (and hot springs). Wellington, Auckland, Taupō and the Tongariro Crossing, Huka Falls and Kerosene Creek, Northlands, Piha, Raglan, Taranaki, Waitomo Glowworm Caves, Coromandel and, of course, Hobbiton. New Zealand has more than something for everybody. The cheap links to Fiji, Bali and Australia are a bonus, but you won't need them; you'll be in New Zealand for a year, but you'll barely break the surface of what this amazing, hospitable, gorgeous country has to offer. My best memory? Sitting on a surfboard in a 30°C November, watching seals pop up less than three meters away."