What our students say
Our students talk about their experiences as undergraduate students in Geology.
George
MGeol Geology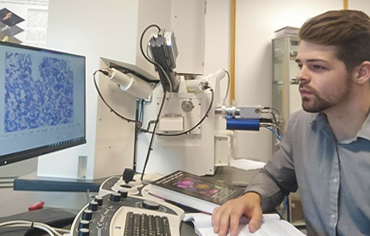 "I've not had a single regret since choosing Leicester. The past four years have challenged me in many ways whilst being extremely fulfilling and rewarding. Leicester students benefit from an extremely friendly geology community that provides fantastic support to students both in and out of academia."
"I am currently involved with a multinational research collaboration between the University of Leicester, the Geological Survey of Finland (GTK) and Carl Zeiss Microscopy. My MGeol Independent research project has provided me with unrivalled opportunity to get first hand experience working for a multinational company. Last summer, I was fortunate enough to have a 10-week paid placement at Carl Zeiss Microscopy's Development Laboratory in Cambridge as part of the research project. This allowed me to gain experience in the application of scanning electron microscopy within geoscience research. Knowledge and experience I obtained from this placement have been priceless in the successful pursuit of a PhD. This project also gave me the opportunity to spend a week in Finland conducting research with the GTK. I received tuition in core logging, mineral processing, optical mineralogy and geochemical sampling adding to the list of skills I can now transfer to industry or further academia."
"My MGeol degree has also given me the chance to present at regional and international conferences and have been invited to speak at an international conference this summer, a great privilege for an undergraduate."
Gina
BSc Geology 2017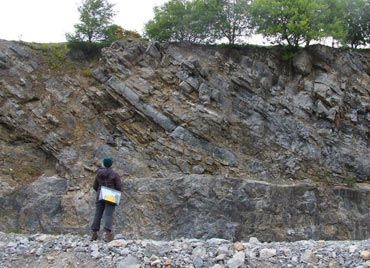 "I graduated from Leicester with a BSc in Geology in 2017, marking the end of a fantastic three years."

"By the end of the Geology Welcome Week I had made a solid group of friends. Over the next few years we would get to go on field trips to Anglesey, Southern Spain and Tenerife. There is a real sense of community in Geology, created by the willingness of academic staff to provide help with any problem, as well as the sociability of the subject throughout all course years."

"The student-run societies play a massive role in Geology, putting on academic talks, socials and residential field trips throughout the year as well as a ball. Getting involved and becoming President of the student run Geology Society (PCSB Society) was one of the most challenging but enjoyable aspects of my time at Leicester. I would recommend being a committee member to anyone."

"After doing a Masters degree, I'm now working as a Geo-Environmental Consultant at Mott MacDonald, working on a variety of contaminated land sites around the UK. The friends I made at Leicester are now scattered around the country, but we still see each other and are still doing geology, whether it be contaminated land, volcanology or gold exploration!"
Cara
MGeol Geology 2018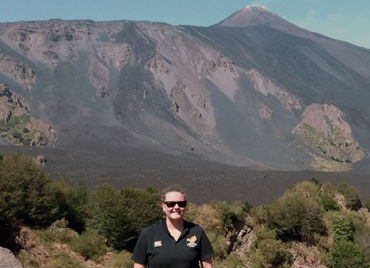 "I graduated with the MGeol Geology degree in 2018, after previously undertaking a BSc in Psychology which, I realised a bit late, wasn't for me! Due to this I was a bit apprehensive about starting another degree, but I had an amazing time over the course of the four years and the people in Geology are incredibly friendly! I particularly enjoyed the various field trips over the years, both abroad and in the UK. These trips were not only a great opportunity to consolidate what was learnt in lectures but an amazing way to get to know everyone on the course! By far the best experience was being able to visit Mount Etna and the INGV on the fourth year advanced field course!
"In my fourth year I undertook an independent research project, which was a fantastic opportunity to do some research in a field I was interested in. My project involved studying small glassy particles in a rock called suevite which forms during meteorite impacts. I focussed on a crater in Germany and was lucky to be able to go out and conduct some fieldwork to collect samples during the summer of 2017.
"Throughout my undergraduate degree I was also actively involved in the women's rugby team which gave me a great focus outside of geology, and I would definitely recommend taking up a sport/joining a society to anyone!
"I am now researching for a PhD at Leicester, expanding upon the project I did for my MGeol and will be heading back to Germany in 2019 as well as hopefully Canada for fieldwork and a variety of other places for conferences!"
Simon
BSc Geology 2018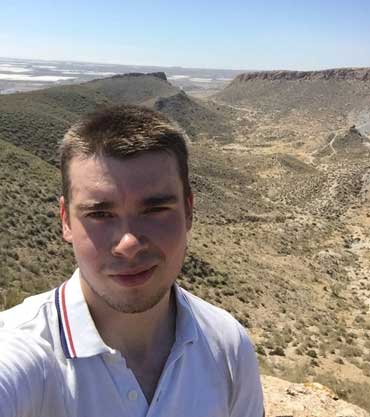 "Studying Geology at the University of Leicester was a challenging but immensely enjoyable experience. The highlights of the course for me were the field trips and the camaraderie these and the whole course created. Not only did the field trips forge and reinforce friendships with peers, but they also founded good relationships with lecturers. There was a very open and supportive atmosphere in Geology. Any issues either with the course or with life outside of university could be discussed and support provided. Both the student welfare team and staff in Geology provided me with support and resolved several issues I encountered during my time at university and I was incredibly impressed with the assistance I received. The career skills that I was taught, both by staff in Geology and from the University careers team have helped me vastly in post-graduate job seeking and I started a new job two months after graduation. The networking opportunities, especially the Geology careers day, allowed me to gain knowledge and confidence. For me, studying Geology at Leicester means the passionate, supportive and hard-working lecturers and a practical learning experience via an incredible specimen collection and field trips. The city of Leicester is also a very student friendly city and with the Welford Road Stadium and the King Power Stadium nearby it's also great for sports fans!"
Angharad
BSc Geology with Palaeontology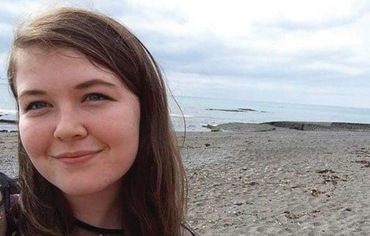 "From the moment I read the prospectus for Geology here at Leicester I knew that this was the right course for me. So far, my first year has exceeded any previous expectations. From a field trip in the first week to studying structures and processes I hadn't even heard of before, I can honestly say that this has been the best experience of my life and I've not only made lasting memories, but also loving friends along the way."
Tom
MGeol Geology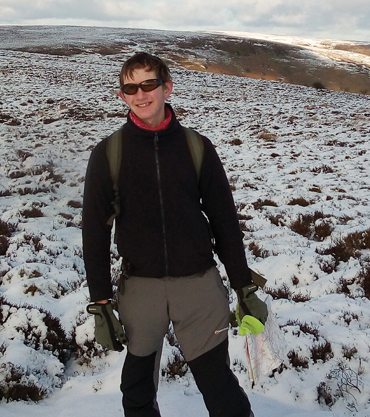 "A geology degree is a huge step and the School of Geology, Geography and the Environment at the University of Leicester has been the best place to make it. Lecturers are infectiously passionate about what they do and are always happy to impart knowledge. The practical sessions are the best environments for learning, being informal and allowing ideas to be shared and discussed. A mix of challenging material with just the right amount of push in the right direction means that learning has been engaging and self-driven, without feeling lost in more complex concepts. So far, the field courses (to Western Scotland and Southern Spain) have been both entertaining and enlightening."