Fieldwork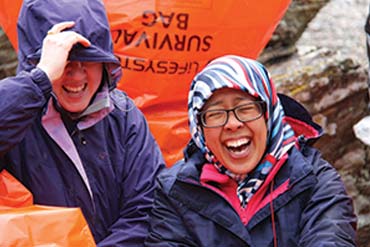 Fieldwork can be one of the most stimulating and enjoyable experiences of your time at the University of Leicester. Our staff are involved in field-based research worldwide, ensuring that our teaching draws on active field experience, and our carefully-designed field programme ensures that you will progress from undertaking basic field observations to synthesising complex geological histories, using both your own observations and the broad-based geological knowledge you gain in your university studies.
Costs for taught field courses that are a core part of the course are heavily subsidised by the University so that costs to you are minimal, and optional field courses and project modules involving fieldwork will have varying costs (dependent on your time away and the location you choose).
First year
An introductory module forms the foundation of your future field experience. This is based on Arran, a Scottish island with more geological variety per square kilometre than virtually anywhere else in the world (if you have already visited on a field trip, there is plenty more to see!). You will rapidly acquire the necessary observational and recording skills through active participation in scientific discovery.
Second year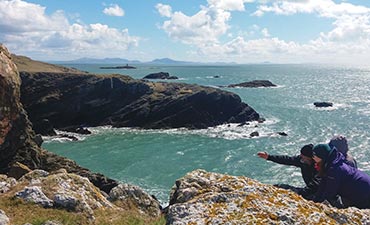 Our training focuses on developing the skills and knowledge that will enable you to carry out your own geological fieldwork in a variety of terrains. You will learn how to make your own advanced observations and interpretations in the field, and you will develop a practical understanding of how landscapes have evolved through deep time.
In Spain you will carry out field mapping and sedimentary logging exercises in an arid terrain and examine a range of sedimentary environments, whilst expertise in examining and interpreting structurally complex rocks is developed in Anglesey.
Your field methods module is completed with a field camp in Snowdonia, with a focus on inland mapping techniques.
"Fieldwork gives you a chance to put into practice the skills you learn in lectures and practicals, expand on them and ultimately to become a better geologist. It gives you a chance to meet other people on the course and develop close friendships, as well as gaining new ideas by sharing knowledge."
Third year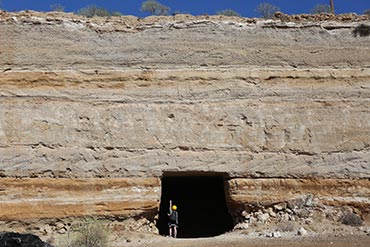 Following preparation in the second year field courses, you will undertake an independent field-based project. This is an exercise in practical, deductive geology and forms an important part of your degree. You choose the field area, allowing you to develop your geological interests. This project demonstrates determination, motivation and an ability to solve problems based on your own observations, as well as developing your self-confidence and organisational skills.
Our advanced field training will develop your ability to evaluate interpretations.
The style is that of professional field courses, with active debate between students and leaders to analyse the significance of your observations.
In Tenerife you can study pyroclastic rocks on the third largest volcano in the world. In the northwest Highlands you can examine classic areas of British geology such as the Moine Thrust zone. In Cornwall you can examine a classic area of economic mineralisation and the environmental consequences of mining. Geophysics students will gain hands-on experience of near-surface geophysics through fieldwork in the Midlands. Palaeontology students will examine the geology, palaeontology and evolution of the Welsh Basin.
Fourth year
Fourth-year students have the option of an overseas field course, where you will use multidisciplinary data to unravel complex geologic relationships and the evolution of a region. You can also further your understanding of the Anthropocene (The Age of Humans) through the study of urban geology.
Different combinations of field modules are available for students on each degree course - you should check the listing on each degree page to see modules available for that degree. Current field locations are listed, but changes occasionally occur, in which case courses will be replaced by another of similar quality.