First year fieldwork
Your field training begins in your first week of studies with a day investigating local geology. Your residential field trip takes you to Arran towards the end of your first year.
Beacon Hill and Bardon Quarry
In your first week of your course you'll get to see some of the oldest rocks in Britain which we are lucky enough to have on our doorstep here in Leicester. You'll also get to visit a working quarry. We've been lucky enough to experience a blast at the quarry and you'll be able to find out just what happens at a busy working quarry.
Arran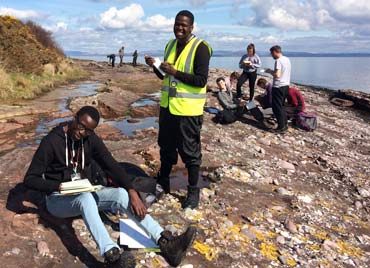 Your first residential field course is based on Arran, a Scottish island with more geological variety per square kilometre than virtually anywhere else in the world (if you have already visited on a field trip, there is plenty more to see!). You will rapidly acquire the necessary observational and recording skills through active participation in scientific discovery.
Different combinations of field modules are available for students on each degree course - you should check the listing on each degree page to see modules available for that degree. Current field locations are listed, but changes occasionally occur, in which case courses will be replaced by another of similar quality.