Second year fieldwork
Our training focuses on developing the skills and knowledge that will enable you to carry out your own geological fieldwork in a variety of terrains. You will learn how to make your own advanced observations and interpretations in the field, and you will develop a practical understanding of how landscapes have evolved through deep time.
Spain
In Spain you will carry out field mapping and sedimentary logging exercises in an arid terrain and examine a range of sedimentary environments.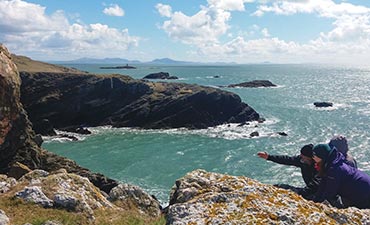 Anglesey
You will build on the additional skills learnt in Spain and will gain expertise in examining and interpreting structurally complex rocks on Anglesey.
Lake District
Prior to conducting your own individual field based project in the summer between your second and third years, you will complete your second year training with a field camp in the Lake District, with a particular focus on inland mapping techniques.
Different combinations of field modules are available for students on each degree course - you should check the listing on each degree page to see modules available for that degree. Current field locations are listed, but changes occasionally occur, in which case courses will be replaced by another of similar quality.