Rishi Madlani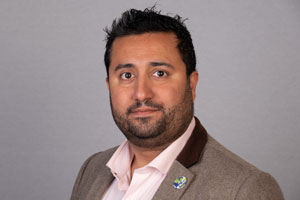 Rishi is head of Climate and Sustainable Finance for NatWest Group which encompasses the bank's activities supporting the bank and its customers transition to a lower carbon economy. The bank has announced a target of £100bn of funding and financing to support climate and sustainable finance.
Outside the bank Rishi serves as an elected local Councillor and chairs the Pensions Committee. The fund is a Local Government Pension Scheme and won a LAPF Award for its innovative approach to ESG. He is also Shareholder Chair of the LCIV, representing c. £45bn of Local Government Pensions. He also is the Camden LGBT+ Champion.
In this voluntary work, Rishi helped establish Foxes Pride, the LGBT+ supporters association for Leicester City Football Club and is the Co-Chair of Pride in Football the umbrella group of LGBT+ fan groups which seeks to improve LGBT experiences around football. He is also a trustee of Opening Doors, the older people's LGBT+ charity.