Mehmooda Duke
Mehmooda's membership of Council is currently in suspense from 2022-23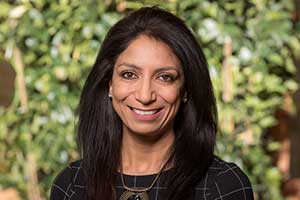 Mehmooda graduated from Cambridge in 1989; She is the founder and CEO of Moosa – Duke Solicitors specialising in medical negligence claims. Having trained in London and worked for 3 national law firms, the MDU and an East Midlands Hospital Trust, she spent the first 10 years defending health professionals. For the last 17 years she has acted for victims of the NHS and GPs. She specialises in complex spinal injury claims attracting multi million pound awards and leads a team of 18 legal professionals.
Mehmooda was President of Leicestershire Law Society from 2015-2016, the first Asian female in the Society's 155 year history; reviewed and re-worked the financial and strategic direction of the Society restoring financial stability at a time of uncertainty; She increased the profile and membership by circa 10% and increased Patronage by 120%; She developed the concept of Business Partnerships and built effective relationships with existing and new stakeholders; She set up the Women in Business and Law event and inspired new members onto the Board and committees of the Society; She built relationships with key politicians and effectively lobbied parliament with their help, on issues affecting access to justice; She successfully delivered a 12 month programme of events culminating in one of the largest Awards dinners in the Society's history; Appointed Chair in May 2017.
Nationally, a founder member and Executive Board member of the Society of Clinical Injury Lawyers ( SCIL); responsible for the development, organisation and running of the 1st SCIL exhibition making a profit of over £50,000.00 from one event; the Society continues to use the model annually raising similar profits; is now on its Public Affairs Group representing Clinical Injury Lawyers at national level.
Mehmooda became the first female Board Advisor to the Leicestershire County Cricket Club in 2017; the first female Director in March 2019 and elected unopposed as Chairman in May 2019 - the first female in the history of English Cricket to become a Chairman of a First Class County Cricket Club.
Mehmooda was appointed Deputy Lieutenant for Leicestershire and Rutland in 2017; ( 2nd Asian female in the history of Leicestershire) and will hold the position to age 75.
Mehmooda was a founder member and Co-President of the Fosse Business Breakfast club a local organisation of small businesses for 7 years;
Mehmooda was awarded an MBE in the New Year Honours List 2019 for services to the Legal Profession and female entrepreneurship; Awarded Leicester Mercury Business Woman of the Year 2017;Awarded Leicestershire Law Society Solicitor of the Year 2018
Mehmooda has organised six 10 mile charity walks for local lawyers and business people, done two 10K runs and climbed Kilimanjaro raising over £130,000 for charity. She is the founder and Chair of 'Leading Ladies' a membership organisation made up of professional and non professional women of all generations. The aim is to inspire, mentor, coach and support one another to 'dream big and fly high'. In June 2019, with the support of the LCCC community team brought 180 women from the local and business community to a health and well being event to play Bolly Cric-Hit at Grace Road.
Mehmooda frequently delivers lectures and talks and speeches to various professionals including (doctors, lawyers, sports physiotherapists, sports doctors and police) schools and universities; appears on various discussion panels; has developed manuals, policies and procedures and run training programmes, on subjects including how to run high value brain injury claims, consent, confidentiality and compliance; Presenter on Radio Ramadan Leicester - Programme called Leading Ladies (2016, 2018 and 2019); Frequently appears on BBC East Midlands News and on BBC Radio Leicester – most recently in November 2019; Worked with Radio 4 on a programme about mental health issues.