George Acquah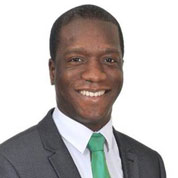 George joined Council at the end of 2021. George is a Leicester graduate, having read Physics and graduating in 2008. George credits his decision to follow the path of Chartered Accountancy to a chance decision to attend a careers talk by a visiting Big-4 employee during his second year of studies. After a year working as an assistant treasurer in a charitable organisation, George joined PriceWaterhouseCoopers in 2009 at their East Midlands office in Castle Donnington, qualifying in 2012.
George joined Rolls-Royce plc in 2015, and has worked in several roles in several countries. George is currently a Finance Business Partner in Civil Aerospace, supporting Operations Procurement activity. George is also an active member of the Institute for Chartered Accountants in England and Wales (ICAEW), serving as a Council member.
George is motivated to give back to the University he feels gave him a running start in life. He has fond memories of his time in Leicester, still maintains friendships with many of his classmates, and continues to have an active relationship with the city, including with a local church which is active in the local community. George also serves on the Audit Committee.
George has also enjoyed a career working as a professional keyboardist, playing for the likes of Jamie Foxx and Roger Waters amongst others.