Professor Hillman Collaborates on Knife Research Paper
Professor Robert Hillman has collaborated on a significant research paper into round-tipped knife blades, which has the high impact potential to aid the reduction of knife crime and prevention of serious injuries.
The project was led by De Montfort University's Leisa Nichols-Drew, herself a University of Leicester Distance Learning graduate in MSc Forensic Science, alongside colleagues Dr Rachel Armitage and Dr Kevin Farrugia, in collaboration with the University of Leicester and Dr Kelly Sheridan from Northumbria University.
For the paper, titled 'On a knife edge: A preliminary investigation of clothing damage using round-tipped knives', the team conducted 300 'tests' using a single downward stabbing motion on four garments, including a t-shirt, a pair of denim jeans, a long-sleeved jumper and a faux leather skirt – all made from different materials. The five knives used for the experiment included: a blade with an 'r-shaped' tip; a blade with a rounded tip; a blade with an asymmetric tapered tip known as a 'sheepsfoot'; a traditional pointed-tip blade; and a serrated-edged blade with pointed tip.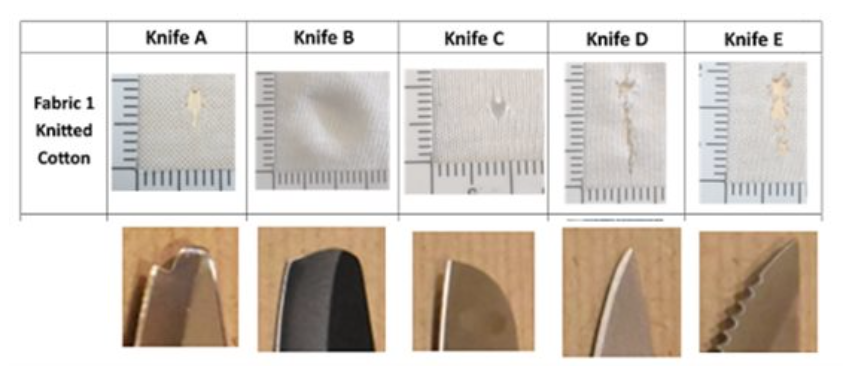 The results revealed significant differences between the stab hole size and shape, depending on the design of the knife, with all but the rounded tip causing some form of damage. The rounded blade did not pierce any of the four fabrics whatsoever, leading researchers to call for conventional pointed-tip knives to be replaced with rounded-tips to minimise the risk of kitchen knives resulting in injuries.
The research has the potential to assist in the future design of kitchen blades, as well as being of great interest to crime-reduction units, and has already garnered media attention with the findings being reported in an online news article by the BBC, as well as featuring on BBC Radio Leicester and a TV interview with BBC East Midlands.

You can read the full BBC interview here: Round tipped kitchen blades "could help reduce knife crime".