Policy Commission Review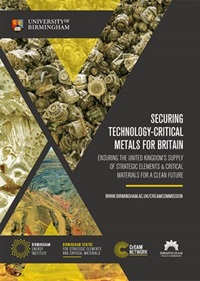 Professor Andy Abbott took part in a recent Policy Commission Review of Technology Critical Metals, which was presented to Parliament in March 2021.
As the Government commits to creating a carbon-neutral society the demand for materials that are vital to clean energy technologies has increased. However, geological, political, technological and economic restrictions have posed challenges to the supply of these critical materials. In order to address these issues, Prof Abbott joined a panel of experts assembled by the Birmingham Centre for Strategic Elements and Critical Materials and the Critical Elements and Materials (CrEAM) Network.
The panel informed the Policy Commission, 'Securing Technology-Critical Materials for Britain', which identified the emergence of these materials in the recycling market over the next 10 years and the importance of developing fast and economically viable methods of retaining value and purity into these important material streams.
You can access the full Policy Commission Report here.