AMAPOLA paper features on the cover of ChemComm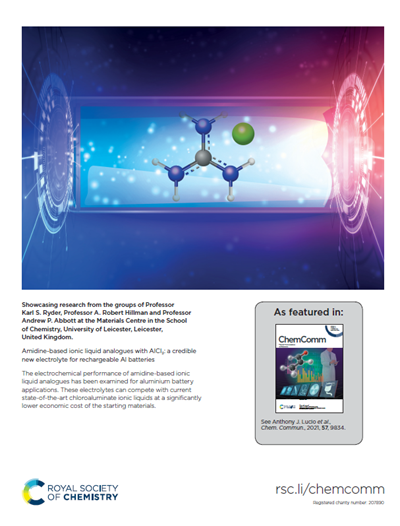 Professor Karl Ryder and the AMAPOLA research team has had a paper published in ChemComm titled 'Amidine-based ionic liquid analogues with AlCl3: a credible new electrolyte for rechargeable Al batteries'.
The paper centres on the exploration of new and novel electrolytes based on the HCl salts of a range of amidine species, which has been the focus of the EU H2020 research projects, SAlBAGE and AMAPOLA.
The paper also has the prestigious honour of being featured on the back cover of the ChemComm journal Issue 77.
DOI: 10.1039/D1CC02680A
You can read the full paper here.