Materials Researchers reflect on Postgraduate Internships
Materials Centre Postgraduate Researchers, Dana Thompson and Sarah Key, have written about their experiences of completing internships earlier this year.
Dana undertook a 3 month internship at Jaguar Land Rover and writes: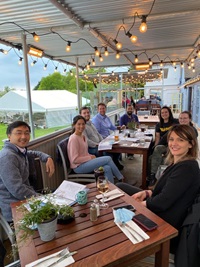 'My experience working at Jaguar Land Rover has been invaluable, as I've had an insight as to how the battery industry works and how important it is working as part of a big team. I've really enjoyed my time here and have learned about the thought processes behind setting up a new lab and commissioning new equipment. The team I worked in has been really friendly and welcoming, and have given me lots of insight into the business and their future plans for the company. I'm really thankful for the opportunity and hope to work with them again in the future.'
Sarah completed her 3 month internship at WRAP, and she had the following to say about her time there:
"Around 2 years ago I applied for a UKRI Policy internship, and sadly it kept being delayed due to COVID, but I finally got to go and do it earlier this year. My 3-month internship was at WRAP (Waste & Resources Action Programme) who are a charity that work with government, businesses and communities to reduce waste, develop sustainable products and use resources efficiently. I was based within the Policy & Insights team and worked on a number of interesting projects during my time there. I worked on analysing UK household food waste yields over time and how this can be affected by rurality, social deprivation and funding for bin collections. I also worked on research and a report for BEIS on hazardous substances in recycled plastics. I contributed to a similar body of work for DEFRA on the waste hierarchy for recycling plastics based on environmental impact of various waste management scenarios for specific polymers. Finally, I worked on calculations of carbon emission statistics for Recycle Week 2021, so please keep your eye out for this from 20th – 26th September! I really enjoyed the combination of research and direct impact through working with the government to make real changes, and I would definitely recommend applying to anyone interested in working in sustainability within a non-profit organisation."
For anyone interested in doing a UKRI Policy internship, applications are still open for internships next year.
For more information on WRAP and their work: https://wrap.org.uk/