Solving Critical Challenges In The Recovery Of Electric Vehicle Battery Materials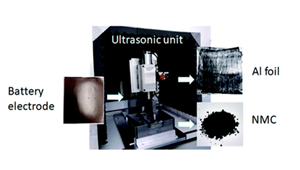 Professor Andy Abbott and the Recycling Lithium-Ion Batteries group have solved a critical challenge in the recovery of materials used in electric vehicle batteries at the end of their life, enabling their re-use in the manufacture of new batteries. Working alongside colleagues at the University of Birmingham, the team developed a new method, which uses ultrasonic waves to separate out valuable material from the electrodes, is 100 times quicker, greener and leads to a higher purity of recovered materials relative to current separation methods.
The research has been published in a paper titled 'Lithium ion battery recycling using high-intensity ultrasonication' in Green Chemistry. The team have also applied for a patent for the technique.
Find out more about the ReLiB project here.