Locating the church within the friary
North of the chapter house, the space between C and B appeared to lie outside the friary buildings. However, the patch of disturbed ground at B contained lots of loose building rubble and may have been a large robbed wall, possibly the southern wall of the church. Damage caused by modern cellars made it difficult to interpret the remains.
Friday 31 August
ULAS applied to the Ministry of Justice, under the 1857 Burials Act, for permission to exhume up to six sets of human remains. The plan was to investigate only burials which were potential candidates to be Richard III: i.e. males in their 30s, buried within the eastern half of the church, ideally with potentially fatal battle injuries.
Saturday 1 September (Week 2)
The discovery of the chapter house and eastern cloister walk in the first two trenches meant that parts of the church were likely be present in the car park or the school playground, but where to look next? Richard Buckley made the decision to look in the school playground because of the evidence (A-B) at the northern end of Trench 1.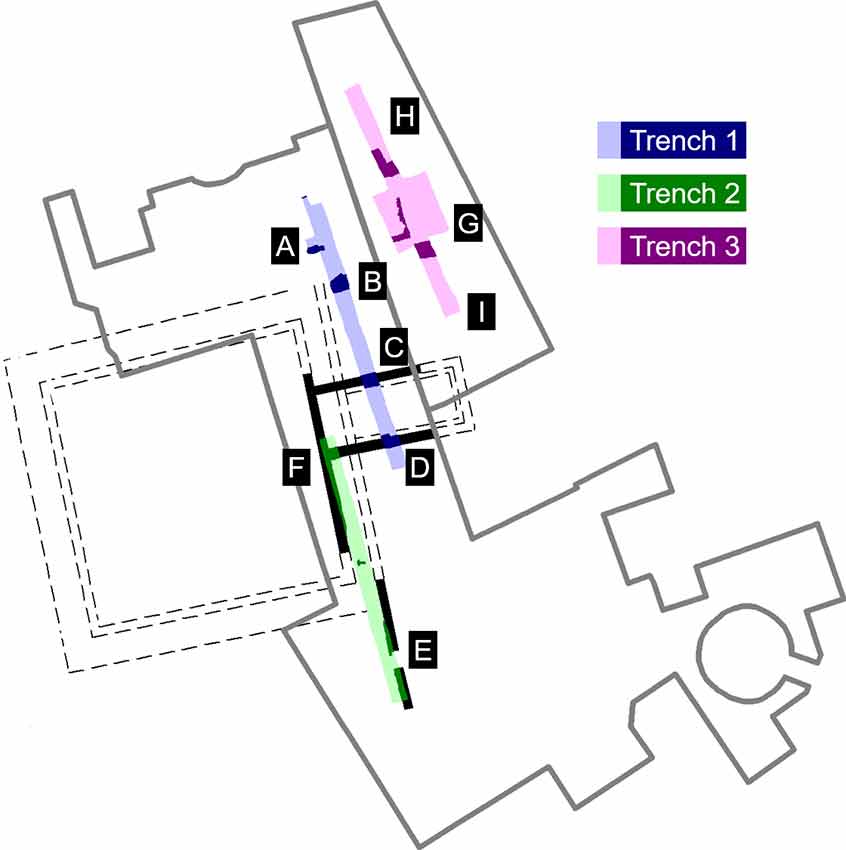 Plan of excavation
Trench 3, also 30m long, would look for a continuation of wall B and confirmation of whether it might be the south wall of the church. Broadly parallel to, and overlapping with, Trench 1, this new trench would hopefully be shallower and less disturbed than the others. Two substantial east–west robbed walls (G and H) were found, about 7.4m apart, of a thickness and separation consistent with a church, along with large areas of flooring and hints of further graves. The trench also revealed an area of paving made from medieval tiles (I).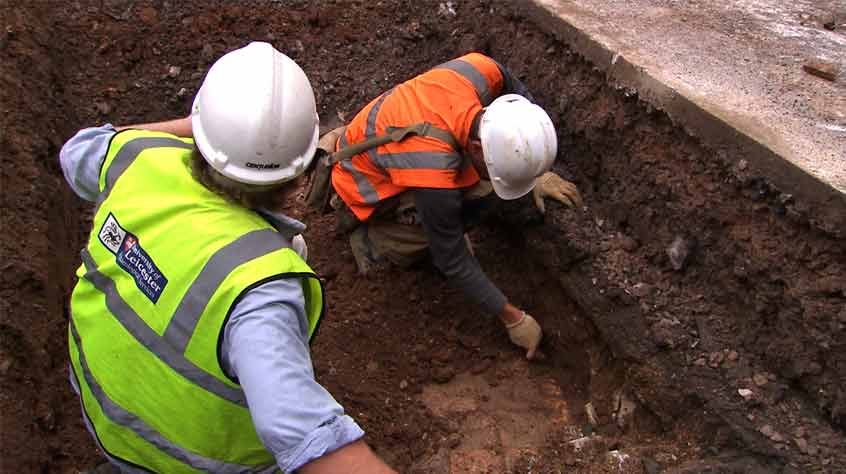 Archaeologists find an area of paving made from medieval tiles as they begin to dig Trench 3 (I).
Objective 3 achieved: the church located. Our next task was to locate the choir within the church.
See the next steps in the excavation to find the remains of Richard III