Glynis Wright MBE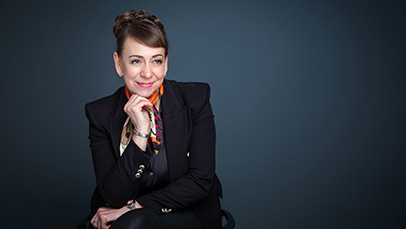 Dr Glynis Wright MBE is an alumna of the University of Leicester and a well-known businesswoman and lawyer who made a career U-turn at the age of 40 to train for the legal profession. Prior to that, Glynis had enjoyed a career in economic development as a senior officer within local government. Her experience therefore straddles local government as well as professional services.
Glynis took the PGDL and LPC at DMU and qualified with Distinctions. She was taken on by a Leicester based law firm who promoted her to Partner level within 2 years of qualifying. After 3 years, Glynis made the entrepreneurial decision to resign from her safe partnership position to single handedly run her own law firm: Glynis Wright &Co Family Solicitors and Mediators.
Glynis' firm grew rapidly and went on to win multiple awards including Law Firm of the Year in the national Law Society
Excellence Awards. Glynis also received personal recognition and was awarded Entrepreneurial Female Leader of the Year in the East Midlands Women's Awards and Highly Commended Woman Lawyer of the Year in the national Law Society Excellence Awards, making her an inspirational and well-known female role model in the fields of law and business alike.
After 10 years of running her law firm, Glynis sold the shares in her company to East Midlands-based law firm Nelsons LLP. On the same day, Glynis received notification from the Cabinet Office that she had been awarded an MBE in the Queen's New Year Honours List for services to female entrepreneurship.
Glynis was President of the Leicestershire Law Society from July 2019 to September 2020, having previously served on the Society's Executive Committee for five years. In 2021, Glynis was elected to Chair the Advisory Board to the Faculties of Business and Law at De Montfort University which she continues to hold, and in September 2022 she was elected to the Board of the Leicester and Leicestershire Enterprise Partnership (LLEP). In July 2023, Glynis was admitted as a Freeman of the Company of Entrepreneurs in London and on the 20 July 2023 Glynis received an Honorary Doctorate of Laws from the University of Leicester in recognition of her services to business and law and the community.
Glynis took the decision to leave her Partnership at Nelsons LLP in March 2023 to once again run her own business. She incorporated GW Growth Consultancy on 3 March 2023, a company specialising in business development and personal growth consultancy.