Gau Naik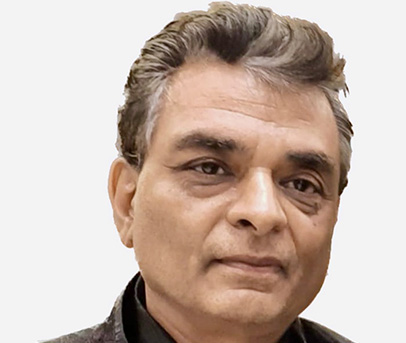 Gau Naik is a highly accomplished professional with a wide-ranging background in business, marketing, and technology. As a member of the Chartered Institute of Marketing, a qualified Business Adviser, and a Trustee of the Sir Thomas White Loan Charity, Gau brings a wealth of expertise to his role as Entrepreneur In Residence.

Gau holds a bachelor's degree in Electronics, Computer, and Systems Engineering from Loughborough University, complemented by a Masters in Microelectronics Systems Design from Brunel University. His educational background has equipped him with a strong technical foundation and a deep understanding of advanced technology systems.

During the early stages of his career, Gau gained valuable experience as a microelectronics chip designer, contributing to the development of cutting-edge telecoms systems. He then transitioned into the realm of high-technology market planning, where he honed his strategic skills. Additionally, Gau completed his executive MBA at Loughborough University, further expanding his business acumen alongside his professional marketing qualifications from the Chartered Institute of Marketing.

In his professional journey, Gau served as an International Pricing Strategy Manager for a multinational telecoms equipment manufacturing company. In this role, he played a key part in transforming a cost-plus pricing culture into a value-proposition-focused approach, contributing to the company's growth and success. Gau has also co-founded two businesses, and worked in an early stage start-up.

For the last 15 years, Gau has been providing business advice and coaching services to a wide range of businesses across diverse sectors. His expertise spans pre-start, start-up, and existing businesses, with a particular emphasis on high-growth and innovative ventures.

Gau's areas of interest include:
Business start-up and scale-up
Lean start-up methods
Business strategy and planning
Market planning
Sales forecasting
Pricing strategy
Access to grants, debt and equity finance
His primary focus lies in providing invaluable mentorship in business strategy and planning to start-ups and scale-ups, helping them navigate the complexities of the business landscape. Gau's extensive network and expertise in access to finance further enhance his ability to support entrepreneurs in securing the necessary resources for their ventures.

His role as an Entrepreneur in Residence at the University of Leicester provides him with a platform to share his knowledge, experience, and entrepreneurial spirit, inspiring and guiding the next wave of visionary leaders.
Read about our other entrepreneurs