Professor Surinder Birring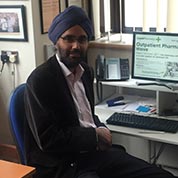 Surinder Birring is Consultant Respiratory Physician and Professor of Respiratory Medicine at King's College Hospital and King's College London. Professor Birring trained in Respiratory Medicine at Glenfield Hospital, Leicester and under the supervision of Professors Andrew Wardlaw and Ian Pavord obtained his research MD investigating the immunopathology of chronic cough from the University of Leicester.
Following his appointment to King's, Professor Birring set up a specialist cough clinic and research team, serving Southern England. Professor Birring is leading research into the mechanisms, monitoring and treatment of cough. He has led the development of a number of widely used patient reported outcome measures for Interstitial Lung Disease, Sarcoidosis, Bronchiectasis and Cough. Professor Birring has also led a number of clinical trials of antitussive therapies that include Cromolyn (PA101), Diphenhydramine, Physiotherapy/Speech Therapy, and as co-investigator for Gabapentin, Pregabalin and P2X3 inhibitor MK7264. Professor Birring has contributed to the American College of Chest Physicians, European Respiratory Society and British Thoracic Society Cough clinical guidelines.